Greetings!
Welcome to the July Newsletter from the Southwest Florida Chapter of ASTD. We have two events this month.
July 20th Monthly Meeting - Managing the Learning Function
July 27th CPLP Study Group - More details on Managing the Learning Function
We are looking for a Board Member volunteer to become our Chapter Secretary.
Please contact Lorna Kibbey if your are interested. Thank you in advance!
We will recap what you may have missed last month and give you the details for July's activities.
Our Chapter Events will help you to train, coach, and facilitate others to make substantive change within any organization.
Charlie Carpenter
ASTD Southwest Florida Chapter
VP of Communications
What's Coming Up Next!

BOGO Coupons available at the next chapter Meeting.
Any member can invite a guest by giving them one of the business card invites.
The member is expected to attend with their guest (thus the term BOGO - "Buy one get one.")
The guest will turn in their invite for free admission to our monthly meeting and free lunch!
The guest must RSVP at www.ASTDSWFL.org so that lunch can be provided for them.
The offer can be extended only one time to any one individual.
Members should limit their free invites to two per month.
HRMA - ASTD Networking Function on September 15th at The Club at Grandezza. 4:30-6:30 pm, Networking plus 1 CEU. Stay tuned for more details!
Employee Learning Week - December 5-9 more details to come.
Meet this Month's Meeting Speaker

Dora Krauss currently serves NCH as the Director of Education overseeing general and clinical education, the infusion nursing program, medial library, and the CME program. Dora has been a registered nurse for 25 years and was a nursing assistant prior to becoming a professional nurse. Dora has been with the NCH System for nearly 14 years.
She serves in several positions outside of the hospital setting. She has been a certification test item writer with the Oncology Nursing Society. Dora is a fellow with the ONS Leadership Institute. She serves on several advisory boards including the Collier Public School Medical Academy and Edison State College nursing program. She is currently serving at the state level as a board member for the Florida Center for Nursing after being appointed by Governor Bush in 2006.
In addition to FONE, she is a member of the National Nurses in Staff Development Organization, the Academy of Healthcare Executives, AONE, and Oncology Nursing Society. Dora has a passion for education. She holds a certificate in Health Service Administration through FGCU and is also certified in oncology. She is continuing her education in pursuit of a post graduate degree.
She recently presented at the HealthStream Summit in Nashville. Her presentation highlighted the importance of performing learning needs assessment and accountability.
Feedback from June Monthly Meeting

Our June meeting focused on Improving Human Performance. Meeting attendees had a chance to see first hand how Pall
Corporation has embraced the processes to successfully lead, evaluate, and grow their organization's employees.
The enlightening and interactive session was led by Simonne Johnson and Chris Rachwal. We all gained an understanding of how the improvement cycle PDCA, namely Plan Do Check Act, can be applied within an organization.
Then Chris and Simonne turned the tables on us. We conducted an
interactive Brainstorming and Cause & Effect Analysis to pinpoint, "How can our chapter grow membership?"
It was fun and here are the results. Now it is up to the Chapter to plan, do, check, and act!
Thank You Mike Fischer, our former Chapter Treasurer!

In June, the Board approved Kathy Choquette to take over the position as Treasurer for the Chapter. Mike Fischer has been the Treasurer for many years and we extend our thanks for all the exceptional work he has done. The Southwest Florida Chapter of ASTD truly appreciates the contribution that Mike has made to help our chapter be successful.
Kathy is looking forward to working with our Chapter as our new Treasurer and can be contacted at the following:
Kathy Choquette
239-454-4817
1265 Cold Stream Drive
Fort Myers, FL 33912
CPLP Study Group

This Month's Topic is
Managing the Learning Function
Mark your calendars Everyone!
Our next CPLP Study Group is scheduled for Wednesday, July 27th at 5:30 p.m. You can come right after work. We will meet at Books-a-Million at the Forum. Click on the link for directions.
Since our members indicated an interest in learning more about the nine AOEs in the CPLP Certification, we invite everyone to attend-whether or not you are interested in the certification exam. Over the course of the year the study group will review all nine AOEs. The CPLP AOEs comprise the following topics.
1. Designing Learning
2. Delivering Training
3. Improving Human Performance
4. Measuring and Evaluating
5. Facilitating Organizational Change
6. Managing the Learning Function
7. Coaching
8. Managing Organizational Knowledge
9. Career Planning and Talent Management
When: Wednesday, July 27th
Topic: Facilitating Organizational Change Schedule: Every 4th Wednesday to study the topic presented at the ASTD Monthly Member meeting.
Time: 5:30 - 7:00 pm
Location: Books-a-Million at the Forum on Colonial off of I-75
Approach: Guided discussions following the ASTD CPLP handbook.
Please RSVP and we will provide any details you may need.
President's Message

Hello fellow members!
This morning - bright and early - I met with your Board of Directors for our Southwest Florida Chapter. We talked about new ideas, old ideas, and can you believe it - 2012?!
The year so far has marked some firsts for our Chapter and some unprecedented success! In 2011 so far: we've won recognition from National for three initiatives; we had six representatives at the ASTD International Conference and Exposition; we've increased membership in numbers and in depth; we have completely restructured and drastically improved our website and our administrative system for our Chapter; we have adopted a communication system that effectively keeps us in touch with members and fans; we have accumulated "followers" on social media sites; we conducted a Master Class for training professionals; we've successfully hosted monthly study social groups; and we've introduced our members to five of the nine ASTD Areas of Expertise.
And there's more to come! In September, we'll be co-hosting a networking/education event with HRMA, at the Grandezza (September 15 at 5:30). We're working on other collaborations with related associations. We're also working on a second master class on the subject of e-learning. We'll finish our year-long look at the ASTD Areas of Expertise and we'll wrap that project in November with a CPLP guest speaker who is an ASTD National Advisor for Chapters. Our final event in 2011 will be a grand celebration of our year combined with festivities surrounding Employee Learning Week (December 5 - 9).
That, my loyal members, will take us to 2012. What greatness awaits us? What can we possibly do to keep our momentum? How can we make your membership so valuable that you look forward to every ASTD event and contact? I would love to hear your ideas and opinions. Hopefully you know by now that I am always open to input and feedback.
We will soon be scheduling our annual retreat. I anticipate it will be on a lovely Saturday Fall morning in September. I hope you all will attend! For now, we have an opening on our Board for a secretary and for a director-at-large. If you're thinking of being more involved, we could use your help!
I'm very proud and thankful for the folks who are now actively serving on our Board of Directors and doing so much to fulfill our mission. Reminds me of the wise words of Margaret Mead: "Never doubt that a small group of thoughtful, committed citizens can change the world; indeed, it's the only thing that ever has."
Thanks to everyone! Now let's change the world!
You can call or write anytime - or, you can use our blog at www.astdswfl.org.
Thanks to everyone!
Lorna Kibbey
Your Southwest FL ASTD Chapter President
Visit our Website
Online Event Registration
Online Membership Enrollment and Renewal
Blog
Forums
Contact the SWFL Leadership Team
What's New
And when you log in Member Only Content



Members Log In with your e-mail and password to access the members only areas. Forgot or lost your password, no problem. Send an e-mail with your name and e-mail address and we will hook you up with a new password.

Thank you for reading and enjoying this month's newsletter. Our chapter is vibrant and growing.

Attend a meeting and you will find it to be value adding.
Sincerely,
Charlie Carpenter
ASTD SW FL - VP of Communications
July 20, 2011 Chapter Meeting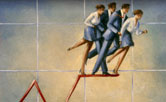 MANAGING THE LEARNING FUNCTION
Our goal is to take the leadership role in developing human capital to execute the organization's objectives. It includes planning, organizing, monitoring, and adjusting activities that ultimately lead to workplace learning and improved performance.
Training is not always the best solution for employee performance issues. It is important to conduct learning needs assessments. Our role as professionals is to know the elements of needs assessment: gap analysis and identification of priorities, causes, solutions, and opportunities.
The training plan should closely relate to the corporate or business strategy and be built into a training policy that demonstrates the value of learning to the organization. Measurements must be included in our programs to demonstrate the ROI.
The two basic building blocks of a course are objectives and content outline. Those basics expand into units of instruction and consist of lessons. Another factor that has become increasingly important is understanding the different technologies available - and their uses - that is critical in our ever-changing work environment and affects our ability to provide value-driven training solutions.
On our ongoing journey to offer sessions based on the ASTD's Areas of Expertise, please join Dora Krauss, Director of Education for NCH Healthcare, for an enlightening session discussing the key ingredients for managing the learning function!
Click on the Links below to Register or RSVP.
You can pay by credit card or choose to pay at the door. We can only accept credit cards online.

MEMBERS: $15 with lunch, $10 without lunch - GUESTS: $20
Lunch is from Jason's Deli Please let us know when you register if you want a lunchbox with sandwich, chips, and cookie or a Vegetarian Lunch.

Ice Cold Water will be provided for everyone.
WHEN:
July 20 from 11:30 to 1:00
WHERE:
The FGCU Florida Institute of Government which is at The Atrium - 8695 College Parkway, Suite 1181, Fort Myers, 33919.
COST:
MEMBERS: $15 with lunch, $10 without lunch - GUESTS: $20
RSVP: CLICK HERE
TOP 10 List, well 6 Actually

Why Some Ideas Survive and Others Die,

"Made to Stick",

by Chip Heath & Dan Heath

copyright 2007


The Six Principles for Sticky Ideas
Simplicity - A one sentence statement so profound that an individual could spend a lifetime learning to follow it.
Unexpectedness - Engage people's curiosity over time by systematically "opening gaps" in their knowledge, then fill those gaps.
Concreteness - In proverbs, abstract truths are encoded in concrete language: "A bird in the hand is worth two in the bush."
Credibility - We need ways to help people test our ideas for themselves. In 1980 Ronald Reagan asked voters to test for themselves, he said: "Before you vote, ask yourself if you are better off today than you were four years ago."
Emotions - How do we get people to care about ideas? We make them feel something. In the case of movie popcorn, we make them feel disgusted by the unhealthiness. The statistic "37 grams" doesn't elicit any emotions.
Stories - How do we get people to act on our ideas? We tell stories. Hearing stories acts as a kind of mental flight simulator, preparing us to respond more quickly and effectively.

Our Sponsors
SW FL Members advertise
here, only $10 per month. National Members $60 per month. Non-Members $200 per month
For Details.

On Line Training for Continuous Improvement
Summer Time eLearning - Now till August 31st

Take 15% off any of our courses offered via eLearning! Type in the promotion code when you register for a course. The discount applies to as many courses as you want to take.
Promotion Code: EVNL06202005 (Four Capital letters then all numbers)
Our Chapter donates to the Harry Chapin Food Bank at every Monthly Meeting. We can't do it without You!

The

mission

of the Harry Chapin Food Bank is "to overcome hunger in Charlotte, Collier, Glades, Hendry, and Lee counties through education and by working in a cooperative effort with affiliated agencies in the procurement and distribution of food, equitably and without discrimination."
Every dollar donated allows the Food Bank to distribute $6 worth of food!