Greetings!
Welcome to the June Newsletter from the Southwest Florida Chapter of ASTD. We have two events this month.
June 15th Monthly Meeting - Improving Human Performance
June 22nd CPLP Study Group - More details on Improving Human Performance
We are looking for a Board Member volunteer.
We have an urgent opening. Please contact Lorna Kibbey if your are interested. Thank you in advance!
A group of our members attended and participated at the ASTD International Conference and Exposition held in Orlando. Check out what they did and learned!
To quickly navigate our newsletter use the links in our table of contents below.
We will recap what you may have missed last month and give you the details for June's activities.
Our Chapter Events will help you to train, coach, and facilitate others to make substantive change within any organization.
Charlie Carpenter
ASTD Southwest Florida Chapter
VP of Communications
Visit our Website
Online Event Registration
Online Membership Enrollment and Renewal
Blog
Forums
Contact the SWFL Leadership Team
What's New
And when you log in Member Only Content



Members Log In with your e-mail and password to access the members only areas. Forgot or lost your password, no problem. Send an e-mail with your name and e-mail address and we will hook you up with a new password.

Meet this Month's Meeting Speakers

Christine Rachwal, SPHR is a Human Resources Generalist at Pall Corporation in Fort Myers, FL. She has extensive experience in handling a variety of different human resources functions from recruiting and onboarding to employee retention and performance
management. Her specialties include developing and maintaining positive employee relations as well as ensuring compliance. Chris received her B.S. degree in Management from the University of South Florida. She is a certified HR professional earning her PHR (Professional in Human Resources) in 2005 and her SPHR (Senior Professional in Human Resources) in 2008. Chris has been a member of the ASTD Southwest Florida chapter for three years. In addition Chris has been the Director of Certification for the Human Resources Management Association of Southwest Florida (HRMA) where she organized the PHR/SPHR certification training programs which included scheduling, teaching classes, and evaluating for effectiveness. In 2008 Christine was recognized by HRMA as the HR Professional of the Year.
One of Simone Johnson's roles at Pall Corporation in Fort Myers is the Continuous Improvement Specialist within the Pall Enterprise System. This year marks her fifth year as the Filtration and Separation Global Leader. Simone's training subject diversity brings an eclectic array of training and development experience. Born and raised in New York City and prior to moving to Florida, Simonne worked as an Account
Executive for Alkit Digital Imaging, yet her dynamic personally and passion for learning was the catalyst to her career change to a workplace trainer, initiating Alkit's New Employee Training Program. At Pall Corporation she has created, coordinated, conducted and facilitated comprehensive training programs in Human Resource, Safety Compliance, Quality Control, cross -functional Manufacturing Operations and Lean Conversion. As a Lean Conversion practitioner, Simonne has lead and facilitated Kaizen events ranging from Standard Work, Point of Use Inventory, and Value Stream Mapping, in addition to conducting training in multifarious Lean Conversion Tools: Kanban, Daily Management, and 5S to name a few. Simonne has also managed the Quality Assurance Certified Operator and the Pall Enterprise Systems training programs winning Pall the 2009 Organization Employee Development Award.
Graduating with honors from Hodges University with a degree in Interdisciplinary Studies and a minor in Sociology, Simonne's training diversity aligns with her role at Pall Corporation as the trainer /facilitator in the cross-functional development of associates ranging from operations and procurement to planning and maintenance. As the champion of Pall Corporation's culture of learning, Simonne continues to develop, not only her skills and expertise in the field of Workplace Learning and Development, but also thrives on sharing her talents with those of her training audience.
ASTD International Conference and Exposition
May 22 - 25
Ava Fluty and Joanne Hartke
Having attended several annual ASTD international conferences over the years,and paying the full registration fee to attend, we have to tell you that volunteering a day and getting a day free is the best offer out there!
Four of us from our chapter took advantage of this opportunity and the benefits were many.
Not only did we save money, we represented our Chapter,
heard some great (and a few not so great) speakers, networked with other volunteers and attendees, visited the Expo, and got to know each other better in the process.
There were a couple of things in particular we took away from this experience that we would like to share with you:
Just do it! All 4 of us have signed up to do this again next year already. Volunteering at the conference and service learning in general, is a great way to try out new skills, make connections, benchmark with peers, and keep you immersed in current issues/trends.
Social media in learning was the buzz phrase of the conference. The Expo overflowed with exhibitors in everything from webinars, blended learning, smart phones as hardware, etc. I-pads were everywhere; the emphasis was on the cost-savings, mobility, and accessibility. We already know that future learners/employees/leaders will expect (and be well-versed in) technology - so training professionals will need to be prepared to keep them learning and engaged.
True leadership always involves other people; this is Lorna Kibbey's style.From the planning stages to the last day we were there Lorna shared what she knew about the process and the four of use received the benefits.

If a leader thinks they are leading and no one is following, they are walking alone.

In Lorna's case she had all of us following and asking what's next!
Lee Knapp
Every time a Conference comes around I always ask myself, "why should I take the time, spend the money, and make the effort to attend?" This is exactly what I was asking myself in determining if I wanted to attend the recent ASTD Conference in Orlando. What helped my decision to attend was the opportunity of being a volunteer and earning a free day into the Conference.
Being a volunteer was really a joy. I was an "Ask Me" volunteer, which meant I provided directions to the over 8,000 attendees who were looking for help. Now, if you know me, you know that I have a very poor sense of direction. So for me to have this role was worth some fun laughs. I must say, however, I took my role seriously and studied all the maps for the Orlando Convention Center. As far as I know, I didn't give anyone bum directions.
For me, the real value of the Conference came through networking and attending all the exhibitions in the exposition hall. The amount of new information that was being offered by all the vendors was amazing. We have such a changing marketplace with all of our technology. If you are serious about your business you have to be up to date on all this knowledge. It was totally overwhelming but "awesome."
I met an amazing woman from Egypt who is starting a training business in Egypt and another woman from The Harvard Business Review who was a "hoot." I hope to have further contact and build a relationship with both of these women. Every bone ached in my body by the time I got back to Ft. Myers but it was all worth it. I plan to attend the 2012 Conference in Denver for a repeat performance as a volunteer. Thank you Lorna Kibbey.
Lorna Kibbey, ASTD SW FL Chapter President
I personally thank all members of our chapter who joined me in attending the ASTD International Conference and Exposition (ICE) in Orlando. Their personal investment of time, money, and effort is appreciated!
A big thank you to Bobbi Jo Cusimano, Ava Fluty, Joanne Hartke, and Lee Knapp for serving as volunteers and to Christine Davlin for her participation. It was great to see our chapter so well represented!
Feedback from May Monthly Meeting

Carol Marlow led an interactive session at the May Monthly meeting that focused on Facilitating Organizational Change. There was Group Work, Discussions, and Participation to get buy in. The session was hands on and informative. The time went by way to fast!
A key group break out session used to bring home Peter Senge's Systems Thinking approach was the application of Force Field Analysis to increasing our chapter's membership by 20%. Attendees were divided into small groups and they brainstormed the Driving Forces and the Restraining Forces and developed an action plan that could boost membership.
Carol focused on the key ingredients that set the stage for Successful Organizational Change.
Total employee involvement and participation.

Organizational involvement and participation.
If you missed the meeting we have the handouts here for download.
Creating an Environment for Change
CPLP Study Group

This Month's Topic is
Improving Human Performance
Mark your calendars Everyone!
Our next CPLP Study Group is scheduled for Wednesday, June 22 at 5:30 p.m. You can come right after work. We will meet at Books-a-Million at the Forum. Click on the link for directions.
The Study Group will discuss Improving Human Performance.
Since our members indicated an interest in learning more about the nine AOEs in the CPLP Certification, we invite everyone to attend-whether or not you are interested in the certification exam. Over the course of the year the study group will review all nine AOEs. The CPLP AOEs comprise the following topics.
1. Designing Learning
2. Delivering Training
3. Improving Human Performance
4. Measuring and Evaluating
5. Facilitating Organizational Change
6. Managing the Learning Function
7. Coaching
8. Managing Organizational Knowledge
9. Career Planning and Talent Management
When: Wednesday, June 22
Topic: Facilitating Organizational Change Schedule: Every 4th Wednesday to study the topic presented at the ASTD Monthly Member meeting.
Time: 5:30 - 7:00 pm
Location: Books-a-Million at the Forum on Colonial off of I-75
Approach: Guided discussions following the ASTD CPLP handbook. Please RSVP and we will provide any details you may need.
President's Message

Hello fellow members!
I am writing this article from a hotel on Clearwater Beach. I am staring at the ocean and reflecting on what an amazing week I just had at the ASTD International Conference and Exposition (ICE) in Orlando. I must have walked a hundred miles (okay slight exaggeration) and now - a day off.
This was my first time at ICE. I started my adventure at 8 a.m. Sunday morning meeting with other chapter leaders. We spent the morning talking about many issues that chapters face. It was interesting to hear stories from other leaders - and to share ours. Sunday afternoon, I was delighted to meet up with some other SW FL chapter members - Ava Fluty, Joanne Hartke, and Lee Knapp.
Monday morning at 6:30 a.m., Ava, Joanne, and Lee met me in the lobby of our hotel. We walked to the convention center to report for volunteer duty. I had an amazing day. I sat in on the opening session with the keynote delivered by Marcus Buckingham. As a volunteer session monitor, my job was to make sure that the 9000 people registered for the convention were seated orderly in 6000 chairs! Fortunately, a few thousand people decided to sleep in on Monday so - no problem. The day included a visit to the expo (unbelievably huge) and fulfilling my duties as a session monitor.
The rest of my conference experience included more sessions, networking, attendance at the National ASTD Awards, a visit to the bookstore (okay three times) and of course, more expo time! I really enjoyed the experience - the atmosphere was charged with enthusiasm!
I am thankful for the opportunity to attend ICE and really glad I took time to go. It was all amazing but what was especially wonderful was taking time to really connect with some of my own chapter members. I think that I learned as much from them, as from the sessions!
The lesson in all this? If you ever spend time pondering the true benefit and value of your ASTD membership, force yourself to make a connection with another member - and you don't have to travel to Orlando to do it! Our Chapter gives two opportunities each month to meet with other members - and I'm sure almost anyone would be happy to meet you for lunch or coffee!
Now that I've done some reflection - beach time!!
I'm always open for your input. You can call or write anytime - or, you can use our blog at www.astdswfl.org.
Thanks to everyone!
Lorna Kibbey
Your Southwest FL ASTD Chapter President
Thank you for reading and enjoying this month's newsletter. Our chapter is vibrant and growing.

Attend a meeting and you will find it to be value adding.
Sincerely,
Charlie Carpenter
ASTD SW FL - VP of Communications
June 15, 2011 Chapter Meeting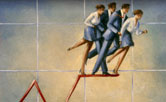 Improving Human Performance
On our ongoing journey to offer sessions based on the ASTD's Areas of Expertise, please join Simonne Johnson and Chris Rachwal from the Pall Corporation for an enlightening session discussing the key ingredients for IMPROVING HUMAN PERFORMANCE!
Let's be honest, "Human Performance" is at the root of any company's success. This month's Area of Expertise will look at the processes we need to know to evaluate, lead, and grow our employees.
You need to discover and analyze where the human performance gaps are, plan for future improvements, and design and develop cost-effective solutions to close performance gaps.
By partnering with the customer we can identify the opportunity and the solutions, implement the solutions, monitor the change, and evaluate the results.
Click on the Links below to Register or RSVP.
You can pay by credit card or choose to pay at the door. We can only accept credit cards online.

MEMBERS: $15 with lunch, $10 without lunch - GUESTS: $20
Lunch is from Jason's Deli Please let us know when you register if you want a lunchbox with sandwich, chips, and cookie or a Vegetarian Lunch.

Ice Cold Water will be provided for everyone.
WHEN:
June 15 from 11:30 to 1:00
WHERE:
The FGCU Florida Institute of Government which is at The Atrium - 8695 College Parkway, Suite 1181, Fort Myers, 33919.
COST:
MEMBERS: $15 with lunch, $10 without lunch - GUESTS: $20
RSVP: CLICK HERE
Take Our Survey
on
Courses for Members
Just Click on It!
Thank You for Participating
Our Chapter donates to the Harry Chapin Food Bank at every Monthly Meeting. We can't do it without You!

The

mission

of the Harry Chapin Food Bank is "to overcome hunger in Charlotte, Collier, Glades, Hendry, and Lee counties through education and by working in a cooperative effort with affiliated agencies in the procurement and distribution of food, equitably and without discrimination."
Every dollar donated allows the Food Bank to distribute $6 worth of food!
TOP 10 List

The Top Ten Questions Trainers Are Asked
(Information compiled through ASTD Surveys)
10. Are we going to finish on time?
9. When is the coffee break?
8. Will there be a vegetarian lunch entrée available?
7. Where are the rest rooms?
6. Can I get extra copies of the handouts?
5. Is it OK if I make a few phone calls?
4. Is dinner included in the registration?
3. Shouldn't my boss be attending?
2. How are you qualified to train us?
1. Are you going to cover anything important in the next hour?
Our Sponsors
SW FL Members advertise
here, only $10 per month. National Members $60 per month. Non-Members $200 per month
For Details.