Greetings!
Welcome to the February Newsletter from the Southwest Florida Chapter of ASTD. The Chapter's February meeting will kick off an informative series of learning about the Areas of Expertise (AOE) that comprise the Certified Professional in Learning and Performance (CPLP) base of knowledge.

Our plan this year is to engage you with informative, fun, and exciting programs. Whether you are new to the profession, would like to learn more about AOEs in the world of training, are interested in pursuing certification, or somewhere in between there will be something for everyone!

We will share industry knowledge that is leading edge. Join us as we grow our member's skills and our membership as well.


Charlie Carpenter
ASTD Southwest Florida Chapter
VP of Communications

January Meeting Feedback

For those that attended the January 19th meeting and those that couldn't make it we all had fun. Sherry Kessel gave the group an overview of CPLP Certification (Certified Professional in Learning and Performance). Then we spiced it up by breaking into teams and playing the "Are you Smarter than a CPLP?" game.
The winning team won Smarties. We learned and laughed a lot.
At the end of it all, a question was raised by many of the attendees.
Is the chapter going to have study groups for CPLP Certification Exam preparation? If we did, would you be interested?
Please let us know your thoughts. Thankyou.
Meet this Month's Meeting Speaker

Teresa Hiatt is the current president of the Professional Society of Sales and Marketing Training (www.smt.org). She was most recently the Director of Sales Education at Ricoh Americas Corporation, where she spent 10 years directing sales training teams and conducting research. She also spent 5 years at Sony Corporation developing launch training for the VAIO computer launches.
As a Six Sigma Black Belt, she has conducted process improvement projects on training effectiveness and has published Return on Investment projects certified by the ROI Institute for Training.
Hiatt has served on Industry Panel discussions at national conferences with Gartner Research Group and CompTIA. She has delivered breakout sessions on sales training at the InfoTrends Office Document Technology Forum, SMT Sales Training conferences and the BTA Channel Partner seminars.
She is a regular contributor for Office Technology Magazine and contributing author to "Fortify Your Sales Force", a ground-breaking handbook for building productive sales team. She can be reached at teresa@hiattaviation.com.
President's Message

Hello fellow members!
We have kicked off 2011 with one of the most fun and enlightening programs I've ever attended! Sherry Kessell and Charlie Carpenter worked together to produce a great program for us. Using content provided through ASTD National resources, Sherry and Charlie put together a trivia game centered on questions that might be asked on the Certified Professional in Learning and Performance (CPLP) exam. It was so interesting to see the depth of the questions and the excitement of the teams as we worked to come up with the right answers! I learned a lot - and had a great time!
In February, we begin our focus on the core areas of the profession - called areas of expertise by ASTD. Each month this year, we'll work together to strengthen our knowledge and skills as professionals. Our Chapter Secretary, Jennifer Engleman, is working to coordinate monthly sessions that will be held in addition to our monthly meeting. These evening sessions will be more in depth discussions of the topics introduced at our luncheon meetings.
You should also know that due to the generosity of Florida Gulf Coast University's Florida Institute of Government - and long time chapter member Joanne Hartke (who happens to be the FIOG director) we will hold our meetings at their facility this year. Mark your calendar now for the third Wednesday each month - 11:30 to 1:00. Be sure to mark it as "professional development" time - because this year, that's what we are all about.
I'm always open for your input. You can call or write anytime - or, you can use our blog on www.swflchapter.astd.org (SW FL Blog).
Thanks to everyone!
Lorna Kibbey
Your SW FL ASTD Chapter President
CPLP Study Group

Our members indicated an interest in learning more about the nine Areas of Expertise (AOE) in the CPLP certification. We invite you to attend whether or not you are interested in taking the certification exam.
Over the course of the year the study group will review all nine AOEs. The CPLP AOEs comprise the following topics.
1. Designing Learning
2. Delivering Training
3. Improving Human Performance
4. Measuring and Evaluating
5. Facilitating Organizational Change
6. Managing the Learning Function
7. Coaching
8. Managing Organizational Knowledge
9. Career Planning and Talent Management
When: Wednesday, Feb 23
Schedule: Every 4th Wednesday to study topic presented at the ASTD Member meeting.
Time: 7:00 - 8:30pm
Where: TBD
Approach: Guided discussions following the ASTD CPLP handbook.
Please RSVP and we will let you know where the session will be held.
What is e-Learning?

One of the newer methods for training delivery is called e-Learning. So what is it, actually? The simplest definition, it's a method that delivers training to learners through the internet or a company's intranet in a self paced user controlled environment. The delivery environment is a Learning Management System, or LMS.
ASTD embraces the methods of e-Learning as one of the essential tools to be employed for training delivery and knowledge management. This method incorporates instructorless interactivity by utilizing software tools to engage the learners in ways that even instructor led training can't duplicate. Enhancing instructor led training (ILT) with e-Learning is called blended learning and has also proven to be quite effective.
Just because we delivered it in the classroom live a certain way doesn't mean it will translate directly into effective e-Learning. Obviously, some things we can do in a live session with learners can't be replicated, but that becomes the new challenge for training design and development. Training Design for e-Learning requires chunking of courses into 30 to 190 minute sessions, with 60 minute or less sessions being most desirable.
Because the training can be delivered on demand, 24/7, it offers great flexibility for the learner. A best practice is to assure that a learning screen within the LMS doesn't require the student to scroll to view the content. Average student seat time decreases when you move from ILT to web based. A six hour ILT class becomes 4 hours of e-Learning.
Course Design incorporates many of the following software tools to build the components of the e-Learning course.
iSpring Presenter for animation, voice over, and interactive quizzes using the PowerPoint materials you already have.
ADOBE software such as Captivate, to create interactive presentations with branching, quizzes, and software simulations.

A complete suite of software for developing courses is called ADOBE E-Learning Suite 2.
Filming movies is a great way to replicate some classroom activities and even chalk talks.

These movies are then converted in flash (flv) movies for the web.
Tools and templates for the learners to apply what they have learned are also a way to get them engaged.
You can still do breakout sessions, but it is up to the learners to actually complete them.
Testing, Testing, and Testing with interactivity and feedback also engages the learners.
The components of a course become shockwave movies, flv movies, and html web pages.
Once a course is designed and created with all the new technology the question becomes how do we package the course for delivery? That is where SCORM (Sharable Content Object Reference Model) comes into play. OK, so what is that? SCORM is like a DVD, it can play on any DVD player. SCORM is a standard that Learning Management Systems (LMS) use to present the course. The elements of the course once converted into a SCORM package are uploaded into the LMS, actually any LMS for delivery to learners.
One of our fellow ASTD members, Brian Caudill, JCA Solutions, has developed a software package that simplifies the packaging of the e-Learning course components into SCORM Compliant packages. Once packaged, a course can be delivered to learners via any LMS. A free testing ground for courses is the SCORM Cloud, which becomes your personal LMS to review, revise, test, and validate e-Learning courses.
We have help within our chapter to get you started, just send us an email.

Our New Website is under Construction

ASTD SWFL is launching a new website. It is currently under construction. The features for members, events, joining ASTD, paying chapter dues, and paying for events online are not yet functional, but soon will be!
We have a BLOG and FORUMS so we can share ideas, thoughts, and best practices. It will be a great way for our chapter's members to collaborate. It is still under construction, but coming soon. To take a closer look just click on the website picture.
Our Southwest Florida chapter has begun its 21st year. Members share a common vision to promote quality, competence, and professional development of all members.
What We Do
Provide resources for professionals.
Bring people together
Offer professional development opportunities.
Sincerely,
Charlie Carpenter
ASTD SW FL - VP Communications

February 16, 2011 Chapter Meeting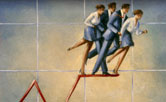 As we move forward with our 2011 goal to learn more about the Areas of Expertise (AOE) in the world of training, and for those interested in pursuing certification, we are pleased to announce our February meeting!
February's topic is "Measuring & Evaluating." Our presenter is Teresa Hiatt, a Six Sigma Black Belt, with a rich background in directing sales training teams, conducting research, and conducting process improvement projects on training effectiveness.

What does the topic of Measuring & Evaluating entail? As training professionals we are often asked, how can we measure the effectiveness of training? It seems we are always looking for ways to prove our ROI.
Statistics help you measure current performance levels, validate program impact, and provide well-grounded feedback. Data is used to answer specific questions regarding the value and impact of individual programs and the overall system of learning within the organization.


Your findings can be used to leverage the effectiveness of your training and if needed, provide the impetus that leads to the acceptance of recommendations for change.
Remember, this is OUR year to learn! So please join us for this often mystifying topic for some much needed clarity!
WHEN:

February 16 from 11:30 to 1:00
WHERE:

The FGCU Florida Institute of Government which is at The Atrium - 8695 College Parkway, Suite 1181, Fort Myers, 33919.
COST:
MEMBERS: $15 with lunch, $10 without lunch - GUESTS: $20
RSVP: Mike Fischer (Members - please specify whether you want lunch!)

TOP 10 List

How to Ensure Team Failure.

10. Ignore the team's ideas and recommendations. They're probably no good since they're new and come from a team.
9. Don't give teams any reason to help them solve problems. They are supposed to save money and make do with less.
8. Consider all the problems as failures, and treat all failures as a reason to disband the team. Teams are supposed to make things better, not cause problems.
7. Require lots of reviews and signatures to OKAY changes, purchases, and new procedures. You can't be too careful!
6. Make it difficult for teams to get information about the business. You don't want them to find out how the firm is actually run.
5. Assign a manager to keep an eye on teams in your area, call him a facilitator, but make sure he or she controls the direction of the team to meet your plan.
4. Don't involve team members in reorganizations or policy changes. This just slows things down.
3. Eliminate training for team members. Problem solving is only common sense anyway, and all the training just makes some consultant rich.
2. Criticize a lot and withhold praise and recognition. Teams need to know where they've screwed up so they can change. If you praise people they will expect some reward.
1. Remember above all that you know best. That's why they pay you the big bucks.
Our Sponsors
SW FL Members advertise
here, only $10 per month. National Members $60 per month. Non-Members $200 per month
For Details.