Greetings!
Welcome to ASTD Southwest Florida Chapter's new Newsletter. We have decided to use Constant Contact to keep you informed and up to date with what is going on with ASTD. We will also be launching a new and improved website, so stay tuned for that.
If your first name on this newsletter is incorrect, or you would prefer us to send this to a different e-mail address than the one we used please feel free to update your contact information. The link to do so is at the bottom of this newsletter.
Our plan this year is to engage you with informative, fun, and exciting programs. Whether you are new to the profession, would like to learn more about the other areas of expertise in the world of training, are interested in pursuing certification, or somewhere in between there will be something for everyone! This will be

OUR

year to learn! Our focus will be to share industry knowledge that is leading edge. Join us as we grow our member's skills and our membership as well.
Welcome to the January 2011 Newsletter,
Charlie Carpenter
ASTD Southwest Florida Chapter
VP of Communications
What's on Training Track for 2011?

ASTD SW FL is excited to announce that our 2011 programs will be structured around the core competencies of the training industry as defined by our national organization. Each month we'll highlight one of the nine topics that form the backbone of a complete education for any training professional.
Our luncheon meetings will be facilitated by experts in each subject area. And, we'll offer more in depth discussion sessions on each topic in the form of supplemental evening meetings. So, plan to come to the luncheon meetings to network and to learn from experts with real-world experience. Then, come to an evening session to really cover the subject area in depth - (with an option to work toward certification as a Certified Professional in Learning and Performance (CPLP), if you wish).
What is CPLP Certification all about?

What is a Certified Professional in Learning and Performance?
One of the things that sets ASTD apart from everyone else is the ASTD Competency Model - created to define the profession and set clear benchmarks for areas of expertise in the field, the ASTD Competency Model is the foundation for the only professional certification in the field - the Certified Professional in Learning and PerformanceŽ (CPLP).
The CPLP is a comprehensive certification which
Requires:
3+ years experience
Knowledge exam
Work product submission
Why CPLP certification?
Sherry Kessel-for me, choosing to sit for the CPLP exam was a personal challenge. I expanded my generalist workplace learning knowledge as well as updated areas where I felt confident. I believe the learning profession needs a benchmarking system and this certification validates that. No matter how many years of experience we have, the CPLP offers an opportunity to remain current through recertification and retain the integrity of the training and development profession.
Here's what other CPLP's say:
"I think credentialing ourselves effectively is important to establish credibility for the work we do. Holding the CPLP has already helped me gain work as an independent consultant."-E. S., Linkedin
"I was looking for a way to validate the experience I had and have a credential. The CPLP did a wonderful job of filling some theoretical gaps in my nearly 20 years of experience."-K. B., Linkedin
"As I studied for the knowledge exam, I found myself re-engaged with my chosen profession in a new way and knew I was where I need to be."-D. M., Linkedin
"In my job, I only dealt in a few of the content areas. I thought that if I committed to the CPLP certification process, it would force me to become more knowledgeable about the other content areas."-L. H., Linkedin
"I really did it for myself. It was a way to represent my 20+ years of learning and development experience without having to spotlight my crows feet."-S. W., Linkedin
"I thought obtaining my CPLP was a good path to take. What I didn't anticipate was how hard I would have to work to get it. Obtaining my CPLP didn't come easy, but the hard work made it so much more worthwhile."-K. W., Linkedin
"The biggest benefit snuck up on me. I found that I had a broad and integrated background in the 9 subject areas but had been thinking in "silos" and single subjects. Now I have 4 new clients - 3 start-ups and a turnaround."-K. S., Linkedin
"I was working in training in a small organization and had no mentors or peers in the same organization to measure myself against and I wanted to have a larger sense of the profession. The CPLP got me more engaged in my profession and it helped me get one job."-M. P., Linkedin
Holiday Meeting Celebrates 20 Years

Our December 15 Holiday Meeting was the Chapter's biggest night of the year.
There were five major events:
1. Celebrating the ending of our 20th Anniversary Year
2. Recognizing ASTD's National Employee Learning Week (Dec. 6-10)
3. Honoring our Past-Presidents who have served us since 1990
4. Conducting our annual silent auction to support our chapter and community projects
5. Installing our Board of Directors for the Year 2011
Meeting attendees whose organizations have acknowledged Employee Learning Week shared how their firms recognized this initiative during the month of December 2010.
Our current president, Lorna Kibbey, provided a recap of our successful 2010 year and announced the "big news" for our chapter in 2011.
President's Message

Hello to all!
2011 promises to be BIG for ASTD SW FL! We are changing and updating - we'll soon be implementing an integrated membership database and website software that will help us to better manage all of your membership needs. We'll also be sending news and updates to you via Constant Contact so that you can have up-to-date information. And, we will encourage you as members, to use these new tools to strengthen your network by being able to easily communicate with other members.
Even more exciting, in 2011 we'll focus on the competencies that serve as the backbone for any training professional. We plan to deliver opportunities for helping everyone in the profession - from the folks just starting out to those who are "old pros."
We are very privileged to have a local chapter of ASTD right here, right now. We must take advantage! As a training professional, I need people around me who do the work I do. I learn from each of you, I enjoy offering ideas to you; I need you to help me succeed. I hope you feel the same. Now is the time for us to take ownership and fully embrace this opportunity for fellowship, education, and service.
Lorna Kibbey
Your 2011 SW FL ASTD Chapter President
Meet the 2011 Board Members

Top Row left to right:
Sherry Kessel (Director at Large), Mike Fischer (Director at Large), Charlie Carpenter (VP Communications), Jennifer Engelman (Secretary), Ken Bodenhamer (VP Membership)
Bottom Row left to right:
Carol Marlow (VP Public Relations), Lorna Kibbey (President), Christine Davlin (VP Programs)

Thank You Jim Jacoby - 13 years

A 13-year veteran with our Southwest Florida ASTD Chapter, Jim Jacoby has continually played a vital role in our communications activities. His first involvement with the chapter began as a writer for our Training Tracks newsletter in 2000; two years later he became newsletter editor and VP of Communications, a role he played ever since, except for a year's service as president in 2005.
He has been our chapter photographer since virtually Day 1, and has been heavily involved in our annual auction, press relations, and keeper of our various mailing lists. Jim has also been a mentor to a number of chapter members. Keith Grossman, chapter president in 2004, said: "Jim's contribution to the level of communications for our chapter is unmatched. He has really raised the bar for all of us."
"Thank you Jim for all that you have done for the chapter. As the new VP of Communications I will strive to maintain the high standards that you have set." Charlie Carpenter

The American Society of Training and Development (ASTD) is a national organization serving the needs of training and education specialists since 1944. Our Southwest Florida chapter was chartered in 1990 and is celebrating its 20th anniversary in 2010! Members share a common vision to promote quality, competence, and professional development of all members.
What We Do
We provide resources for professionals.
We bring people together
We offer professional development opportunities.
Sincerely,
Charlie Carpenter
ASTD SW FL - VP Communication

January 19, 2011 Chapter Meeting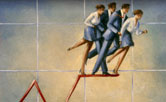 On January 19, we'll be playing a Training Challenge Trivia Game providing you the opportunity to assess how much you already know. It will be a fun and interactive way to introduce you to what's coming in 2011. Please register for our January 19 meeting for a preview of topics we will cover in the coming months of 2011.
We look forward to seeing you at the meeting. There is no doubt that 2011 will be a great year to be a member of ASTD Southwest Florida!
WHEN:

January 19 from 11:30 to 1:00
WHERE:

The FGCU Florida Institute of Government which is at The Atrium - 8695 College Parkway, Suite 1181, Fort Myers, 33919.
COST:
MEMBERS: $15 with lunch, $10 without lunch - GUESTS: $20
RSVP: Mike Fischer (Members - please specify whether you want lunch!)

Why ASTD SWFL?

We polled our members and asked them why do you consider a membership in the Southwest Florida Chapter of ASTD to be important to you? The following are their candid responses.
Our Sponsors
SW FL Members advertise
here, only $10 per month. National Members $60 per month. Non-Members $200 per month
For Details.