set for April 16 at Rices Landing, PA.
Please join us from 9 AM to 4 PM Saturday at the W.A. Young Foundry & Machine Shop at Rices Landing for blacksmithing demonstrations and tours of the historic facility. There will also be a ceremonial "roof raising" at noon to celebrate the replacement of the foundry roof. Refreshments available and nearby pier for the first day of fishing. Info: Sherris Moreira or call 412.423.8687.
The Exhibit
Come check out the latest exhibit at The Bost Building, 623 E. 8th Ave., Homestead, sponsored by Rivers of Steel National Heritage Area. Collections of steel industry enthusiasts include buttons, hats, steel objects, signage, watches and much, much more. The exhibit runs through August.
What's in Store
Turquoise T-shirt features image of Matryoshka or Babushka Russian Nesting Dolls. Matryoshka means "Little Matron" in Russian.
$15
The Carpatho-Rusyn Society's Oral History Research Committee has launched
The Lemko Research Project,
which seeks to preserve the oral histories and artifacts of the Lemko people, and to explore the post-World War II expulsion campaigns that resulted in the destruction of their settlements in Southeast Poland. The committee would like to receive as many leads as possible prior to July 31, 2011 to prepare for fieldwork in Ukraine and Poland this fall.
Info: history@c-rs.org
A special thank you to those who recently donated items, resources or time to the Rivers of Steel National Heritage Area Museum and Archives.
Joan Bicsey
Ken Kobus
Ronald and Irene Niziol
Jack and Jolene Polaritz
Boy Scout Troop #4, Homestead
Pittsburgh Alumni of Baldwin-Wallace College
To learn more,
visit our website
Join today and enjoy tour and museum shop discounts! Info: 412.464.4020, ext. 32
Spring Heritage Market set for April 23 at the Historic Pump House.

Ready to celebrate spring? Then come out to the inaugural Spring Heritage Market 10 AM to 3 PM April 23 at the Historic Pump House, 880 E. Waterfront Drive in Pittsburgh's Waterfront.
Free and open to the public, the event will include authentic, ethnic heritage art, such as Bulgarian-Macedonian pottery, Moroccan purses, Native American beadwork and Irish collectibles. Crafts representing the Pittsburgh region's more recent green heritage include pop industrial art, handcrafted jewelry and baubles made from recycled materials, among others.
The event will also include a taste exploration of our region's diverse culture with foods representing Cuba, Bulgaria-
Macedonia, England and Hungary, among others. Sample soup and tea and purchase other items, such as Easter treats from Dorothy's Candies.
Music will be provided by Global Market Retail of Squirrel Hill in the morning and in the afternoon by Joe Grkman, Jr.
- of the award-winning Slovenian Polka band Grkmania, who play regularly at Hofbrauhaus in Pittsburgh's Southside. Visitors can also take part in a Pick-a-Prize Auction, with chances to win items such as Bulgarian pottery and tickets to next year's Pittsburgh Irish Festival. The Historic Pump House is also a trailhead of the Great Allegheny Passage on the Steel Valley Trail, and Golden Triangle Bike Rentals will be offering free bicycle rentals for brief path explorations.

The market location is the historic site of the 1892 Lockout and Strike. On July 6, 1892 the Amalgamated Association of Iron and Steel Workers and the Pinkerton Guards hired by the Carnegie Steel Company clashed on the banks of the Monongahela River beneath the Pump House - now considered one of the most dramatic conflicts in American Labor history. Today the Pump House is the only brick structure that remains of United States Steel's Homestead Works. The Pump House can be rented for private events. For more information, please contact Sherris Moreira or 412.464.4060, ext. 46.
Buy a Slice; Support Steel Heritage
Rivers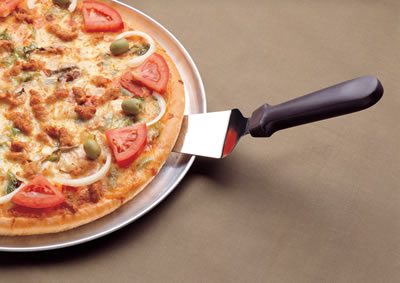 of Steel has partnered with Uno Chicago Grill in The Waterfront. Visit the restaurant April 23 and April 30 and up to 20% of your bill will go toward ROS. Just pick up your vouchers at the Spring Heritage Market on April 23, or the Carrie Furnace Hard Hat Tour April 30 or tell them you want your meal to count toward Rivers of Steel National Heritage Area's fundraiser if you visit on those dates. Enjoy gluten-free and vegan options as well. "It's a tasty way to raise dough!" Info: 412.423.8687 or Sherris Moreira
Carrie Furnace Hard Hat Tours Kick off 2011 With Deer Head Artist Tim Kaulen
The 2011 season of the Carrie Furnace Hard Hat Tours will be kicked off at noon on Saturday, April 30 with guest tour guide Tim Kaulen who was instrumental in creating the well known Deer Head sculpture on the property. Kaulen will offer an artist's perspective of Carrie Furnace and the popular sculpture he helped create with other members of the Industrial Arts Co-Op more than a decade ago. A regional public artist, Kaulen is well-known for his use of recycled materials in projects seen at the Children's Museum of Pittsburgh, Pittsburgh Center for the Arts and Southside Riverfront Park, to name a few.
The Carrie Furnace complex, managed by the Steel Industry Heritage Corporation, used to be part of the U.S. Steel Homestead Works. Public tours of the century old iron-making complex will also be held at 9 AM, 10 AM and 11 AM, April 30, followed by Kaulen's special presentation at noon. Other public tours will be held 9 AM, 10 AM and 11 AM, May 21, June 18, August 20, September 17 and October 15.
At 7 PM, June 17, another special tour guide, Landscape Ethicist Rick Darke will speak at the Historic Pump House on the topic of "Carrie Furnace in Global Context: New Parks and Gardens Forged from Industrial Landscapes." He will also guest tour guide at noon June 18 at the Carrie Furnace complex. His work has been featured on NPR, the New York Times and Garden Design Magazine. The author and photographer is also featured in: "Fallingwater" and "The New American Landscape: Leading Voices on the Future of Sustainable Gardening", both to be published later this year. Info: Stacy Drane or call 412.464.4020, ext. 32
In the News
Have you read a story or written a blog about Carrie Furnace or Rivers of Steel National Heritage Area? Let us know and we may include it in our next newsletter! Email Sherris Moreira
Routes to Roots
Exploring the Rivers of Steel National Heritage Area
(Excerpts from the "Routes to Roots" Driving Guide)
River Road, Rices Landing, Pa
Heritage Area Location: Greene County.
When Rices Landing was incorporated as a borough in 1903, its streets were lined with shops, taverns and trading posts. Its abundant natural resources - clay and coal and lumber - helped local businesses prosper. Its proximity to the Monongahela River made it an ideal industrial and trasportation hub. More than 100 years later, the stores, coal mines and lock and dam that once defined this community are all gone. What remains is a str
ong connection to the river and the land. Rices Landing serves as one of the entry points to the Greene River Trail which runs parallel to the Monongahela River. Some of the historical spots to visit in the riverfront town include the Lock 6 Museum, the Hewitt Cemetery which dates back to the 1870s and the W.A. Young & Sons Foundry and Machine Shop. The machine shop was built in 1900 and the coke-fired foundry in 1908. To see the foundry & machine shop still in action, visit the 23rd annual Hammer-In from 9 a.m. to 4 p.m. Saturday (April 16). For more information, click here.