Straight Shooter Photograph

y
I-Pad Users!
Click on below links to download
PDFs, optimized for I-Pad
Download Studio Portfolio PDF
Download Location Portfolio PDF


let's connect...

Past E-Blasts,
Archived
New marketing alliances note:
Let Dan's 30 years+ of networking in the
Cleveland and New York markets work for you!

We want to hear about your business,
and show you ours
.
Update your e-mailing preferences here.
To pick topics and frequency of your e-mails from us,
click below, enter your e-mail address. You will be sent an e-mail allowing you to
select the promotional list(s) you would like to be included in.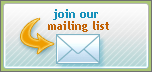 Straight Shooter


Photography by Dan Morgan



Tower Press Group

1900 Superior Ave #307
Cleveland, Ohio 44114
646-621-6434


Visit Our Web Site Here