"I CAN DO small things that matter."
Six days after Kevin W. moved to Colorado to be closer to his father and mother, Kevin's dad collapsed. He was rushed to the hospital and diagnosed with terminal cancer. Kevin dropped everything to care for his father. But despite his best efforts, Kevin's father passed away six months after he moved to Colorado.

Read Kevin's Story
Can Do Programs Consultant

Stay Active and Connected in Winter
For centuries winter has been identified as a time for reflection and replenishment. It's an opportunity to resolve issues, create resolutions and look forward to the prospects of a new year. What better time than winter to focus on your health and lifestyle.
87% of participants used new skills they learned at the program three months after the program
Can Do MS worked with an independent contractor to evaluate its JUMPSTART Program's curriculum to learn the full impact the program has on people with MS and their support partners. Learn why our JUMPSTART Program is a valuable introduction to Can Do MS's philosophy of lifestyle empowerment.

Relationships & Intimacy
Tuesday, February 14, 2012


8:00 - 9:00 p.m. Eastern Standard Time



Join David Rintell, Ed.D, Can Do MS Programs Consultant, for this Valentine's Day special program. We'll offer ways to improve communication, and restore, rebuild and increase intimacy. Dr. David Rintell promises to make this presentation comfortable, enjoyable and informative.
Visit Our Facebook Event Page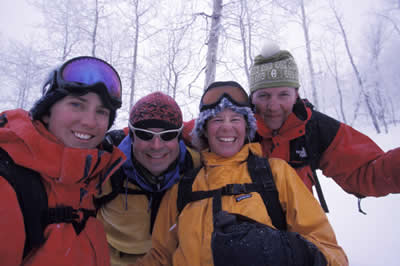 Top Five Reasons to Join Vertical Express for
Can Do MS
Welcome skiers, riders, telemarkers of all ages and abilities.
It feels good to help, meeting people who share your passion for changing the lives of people living with MS.

We have ideas to help you raise $1,000 for your three-person team.

Raise $15,000 or more and earn an expense paid trip to Vail, CO for April Awards!

Don't ski? Sponsor a skier.
Kaiser Permanente Colfax Marathon
The Ultimate Urban Tour
Saturday and Sunday, May 19 - 20, 2012
Denver, CO
Can Do MS is excited to participate as an official Charity Partner with the Colfax Marathon for the second consecutive year.

Are you taking on this marathon challenge? Please choose Can Do MS as the charity in which you fundraise. 100% of your fundraising goes directly to Can Do MS.

Read More
Visit Our Facebook Event Page
The five aspects of
Can Do MS's
whole-person approach are physical, interpersonal, emotional, intellectual and spiritual.
Explosion in Treatment Advances for MS
Rana
Living with MS for
16 years
always looking on the bright side even if I have to invent one.
continue to fight for my ability to move every day.
be grateful for each day, and make a
daily choice to prioritize
Thank you for bringing the
Can Do Spirit to
people like Jonna.