About Gates of Power ®
The Gates of Power® method empowers you to clear away the weeds and water the seeds of the soul.
Using the Gates of Power® method, you master all seven channels of empowerment. These channels are called "Gates."
The Gates are avenues to growth and self-actualization. They are the key to a fulfilling and rich life.
You want an amazing life. We all do. You want a healthy body, a joyful spirit, great relationships, a fabulous career, spiritual connection, abundance, and more. And you deserve it!!! We all deserve to realize our potential and our dreams. We are designed for GREATNESS!
Self Love Rehab: Step VII - Take Yourself on Fun Dates
How many times do you take yourself, just you and yourself, on a fun date? Most of the time we think of fun dates with other people, friends, siblings, mates, children; we associate fun with being with others. It's the same mistake we make in terms of receiving love, support, or compassion. We associate these with the generosity of other people. In reality, we need to be the first ones to be generous with ourselves.
For More Go To:
Self Love Rehab: Step VII
Mastering The Seven Gates Of Power®
"Create the Optimal You and Attain the Life You Envision"
Introduction to Gates of Power® $30
Thursday, April 5th,
7:30 PM -9:30 PM
Level I
$90
Saturday, April 14th,
10:30 AM-5:00 PM
Level II
$105
Sunday, April 22nd,
10:30 AM-6:00 PM
The Gates of Power® method will transform your life, liberate and energize every aspect of your being. Using the Gates of Power® method, you master all seven channels of empowerment. These channels are called "Gates." The Gates are avenues of growth and self-actualization. They are the key to living a fulfilling and rich life. When all the Gates are unblocked and energized you become whole, powerful and balanced. All the Gates are interconnected and complement each other. Their names are:
* Gate of the Body * Gate of Emotions * Gate of Dialogue
* Gate of Creative Expression * Gate of Life Path
* Gate of Silence * Gate of Knowledge
Wainwright House
A Center for Spiritual Healing, Ecology and Retreats
260 Stuyvesant Avenue
Rye, New York 10580
(914) 967-6080
Spring: Transformations In Nature and Ourselves
Every Spring (and I have been around for many of them) I am struck with awe and child like joy when the magic of bare to crown of flowers happen, almost from one day to another. It seems like the trees are celebrating their passion for life with bursting brilliant colors. "Did you ever wonder how does this magic happen?", the total transformation from brittle and gray to glorious and beautiful.
The magic of Spring demonstrates the power to transform, that resides in nature. It takes us from night to day from hatred to love and from sickness to health. The same power resides in the soul of each one of us. The soul yearns to shed its suffocating cloaks and claim its brilliance, a state of freedom, joy and creativity. Our defensiveness, fears, pain and distrust keep us imprisoned. Consciously or unconsciously we know it. We feel like we're not fully alive...something is missing. We feel inner emptiness and a sense of loss and, in a way that is true.
The fact is that we, ourselves, are the roadblock to our transformation, a natural process that moves life in constant cycles of evolution. It takes a choice, a commitment, and a discipline to get ourselves unstuck, to undue our self-imposed stagnation. As strange as it might sound, we are attached to our contraction; it feels safe and familiar, even though they are unpleasant. We hold on to our fears and pain because freedom feels dangerous. We long for it and distrust it for a long time.
We also know intuitively, that if we let go of inner repression we will feel deeply. The streams of feelings might come out gushing. We are terrified of the intensity of our emotions. At a point in my life when I was consciously releasing difficult emotions I remember feeling painfully brittle when sobbing. It felt as if I was shattered into small pieces. I had to find courage and self acceptance again and again, to continue the process of healing.
For More:
Spring: Transformations In Nature And Ourselves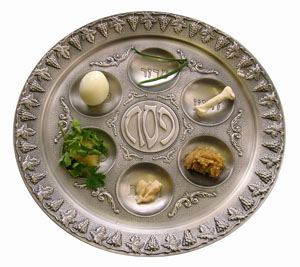 Passover Seder & Celebraton
at Ananda Ashram
Friday April 6th, 2012 at 4:00pm
At: 13 Sapphire Road Monroe NY 10950
You Are invited to a celebration of the personal and collective journey from bondage to freedom. Included wil be the Passover story and its meaning in our loves today, holiday singing, guided meditation, sharing, and reflecations on the relationship of Yoga-Vedanta to the theme of freedom.
A festive and delicious vegetarian meal prepared with love and mindfulness will follow.
Celebration, including festive meal: $20 (included for overnight guests)
To Our Social Media Family
At Gates of Power® we use social media to reach out to you. We post exciting new offers as well as information on upcoming workshops and teleseminars. We aslo take blog request to better address your needs
YOU DON'T WANT TO MISS OUT ON ANY OF IT!
As a member of our family you are entitled to:
-Our Teleseminars
-A compilation of our lauded Self Love Rehab Series with an exclusive conclusion
-In addition once a month 2 members are chosen for a free 1 on 1 session with our founder Nomi
So please go to our respective pages and "like" or "join".
BE INSPIRED!
Send to friends!
Notes of Empowerment from Nomi Bachar
The Gates of Power Blog is going strong, providing alternative discussions on the principles of Gates of Power, as well as excercises and perspectives to add to your daily experience.
Nomi is available to answer your questions and provide feedback on your dialogue. Join the movement. Maximize your life.
Let's get blogging!
Programs at White Cedar
The White Cedar Institute for Expanded Living offers a wide array of programs dedicated to self-actualization and empowerment. Each one can be tailored to meet your specific needs.
Individual Coaching

Couples Counseling

Weekly Group Sessions and Workshops

Gates of Power® Training for Psychotherapists



We also offer lectures, courses, and workshops for nonprofit organizations and corporations.
"...Nomi helped me to create a path from the knowledge of my brain to the experience of heart."
- Jessica Zane
To learn more about what the White Cedar Institute and the Gates of Power® Method can do for you, please visit our website at: