Excerpt from Nomi's much anticipated book, "Gates of Power: Mastering the Channels of Empowerment."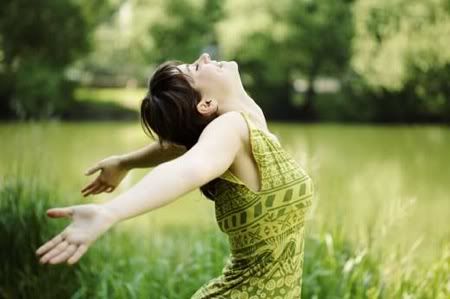 In my teens, before enrolling into the Academy for The Performing Arts, I was the most un-athletic person I knew. A stranger to my body, I hated gym classes. I did my best to avoid them, as well as any movement activity outside of the most necessary ones. Needless to say, I felt awkward and, at times, tortured by the array of out-of-the-box movement classes taught at the academy. For the next three years as I learned to move expressively, I went through an excruciating journey of unearthing deeply buried feelings. I discovered that my feelings are woven into every cell of my body, and my way of avoiding them had been to move as little as possible. Since I couldn't maintain my old formula of no movement and at the same time train to be an actor, the old structure had to go. And so it did. It started shifting and collapsing, revealing some pretty painful inner layers.

These years in the academy (and later, acting) started my transformation. I became extremely passionate about movement and the healing expression that is possible through the body. The Gate of the Body is dedicated to understanding our body as an emotional, spiritual map - an exquisite guide of our personal history and our life lessons. Within the Gate of the Body, we explore ways of regaining aliveness, spontaneous flow, and truer expression.
Welcome to 2011!

Creating and planning your new year can be overwhelming. Your life has many facets; your mind, your body, relationships and your career, are all examples. Gates of Power® is designed to holistically energize the seven facets of your life.
Take time to evaluate the year that has passed-sweet memories, challenges, victories, and unfinished projects. As you say hello to 2011, acknowledge yourself for everything you have done, emotions you experienced, relationships that you deepened and good times that will remain in your memory. Think of all the new things you have learned and all the challenges you bravely faced. After you take it all in, breath and proceed with the exciting job of creating the next year of your life!
--Nomi
New Year Events!
Join the Movement!

Register for new events in
2011! Begin the New Year at the "Introduction to Gate of Power®" lecture on Wednesday, February 9th!
Introduction to Gates of Power®
Introduction to Gates of Power® is a 2-hour lecture and discussion that focuses on the basics of Gates of Power®. Participants are guided through an interactive presentation of the method inspired by the following: Who are we and why are we here? What are our deepest desires as human beings? What are the obstacles that are in our way and how do we remove them? Refreshments will be served.

When: Wednesday, February 9, 2011
Time: 7pm-9pm
Where: SLC Conference Center
352 Seventh Ave. 16th Floor (30th Street)
New York, NY 10001
(212) 244-8888
Cost: FREE for the NEW YEAR!
RSVP to info@gatesofpower.com
RE: FREE EVENT
***
Workshop: The Power of Intimate Communication
This workshop is designed to explore the meaning of intimate relating. It helps participants achieve the ability to relate deeply and authentically. Participants become aware of inner obstacles that prevent them from developing fulfilling relationships with loved ones. They examine their patterns of isolation, dependency, control or rejection (of self and others) as well as the feelings that underline these patterns. They gain practical tools to transform them, and become more available to true relating.Refreshments will be served.
Attendees are encouraged to attend this workshop with their partner or a close relative/friend.
When: Wednesday, February 16, 2011
Time: 7pm-9pm
Where: SLC Conference Center
352 Seventh Ave. 16th Floor (30th Street)
New York, NY 10001
(212) 244-8888
Cost: $25.00
***
Level One: Stepping Into Gates of Power® method
A half day experiential workshop that uses a host of exercises and processes to help participants begin their journey through Gates of Power®. During this workshop, participants will choose and explore a central theme of life that presents a challenge to them. Exercises may include meditation, partnering, and creative expression. For example, if a participant chooses "procrastination" as their theme, this workshop will focus on the root of the problem and demonstrate how you can begin to shift this theme using all seven Gates to tap into your inner power. Refreshments will be served.

When: Saturday, February 26, 2011
Time: 10am-4pm
Where: SLC Conference Center
352 Seventh Ave. 16th Floor (30th Street)
New York, NY 10001
(212) 244-8888
Cost: NEW YEAR SPECIAL--$50.00
Click here to register and RSVP for all events!
Blogging the Movement


The Gates of Power Blog is going strong, providing alternative dicsussions on the principles of Gates of Power, as well as excercises and perspectives to add to your daily experience.

Nomi is available to answer your questions and provide feedback on your dialogue. Join the movement. Maximize your life.
Let's get blogging!
Programs at White Cedar
The White Cedar Institute for Expanded Living offers a wide array of programs dedicated to self actualization and empowerment. Each one can be tailored to meet your specific needs.
Individual Coaching

Couples Counseling

Weekly Group Sessions and Workshops

Gates of Power® training for Psychotherapists



We also offer lectures, courses, and workshops for organizations and corporations.
"...Nomi helped me to create a path from the knowledge of my brain to the experience of heart."
- Jessica Zane
To learn more about what the White Cedar Institute and the Gates of Power® Method can do for you, please visit our website at: