COMMUNICATING WITH YOUR TEEN

~~~~~~~~~~~~~~~~~~~~~~~~~~~~~~~~~~~~~~~~~~~~~~~~~~~

By Clair Mellenthin, LCSW, Director of Child & Adolescent Services

Sometimes it feels like trying to talk to your teenage son or daughter is like hiking through the wilderness...you never know when you are going to trip over a tree root or hit your shin against a rock. Here are some helpful tools to use as you begin your hike through the adolescent years!

How to Maintain Communication

Even though teens need to separate from their parents during adolescence, they also need to know that the safety net of home and family is always there for them. If the lines of communication are shut down, they are not yet capable of surviving emotionally; they need support and input. Let's take a look at a few guidelines for keeping the lines of communication open between parents and teenagers.

1. Pay attention to the small things along with the significant things. If you are generally a good listener, your teen will be more likely to talk to you.

2. When your teen talks to you, pay attention. Don't be doing something else.

3. If you can't pay attention right at the moment, explain why. Ask if you can talk about the issue later, at a specific time.

4. Ask questions for clarification, but watch out for coming across as critical. If your teen sees your questions as disapproval, stop asking them.

5. Expect your teen to change his mind frequently. Avoid commenting on the inconsistencies.

6. Express interest and encouragement in your teen's activities.

7. Accept your teen's opinions, even if you don't agree with them.

8. When you talk with your teens and they tell you something that you feel angry or concerned about, refrain from acting out immediately. Set a time to come back to this topic when you are both calm and can really have a conversation about your concerns.

By following these guidelines, you will have a map even when the terrain is difficult or you think it must be impossible to get through the forest (i.e. grouchy, grumpy, hormonal teens!)

To schedule an appointment with Clair or to join her Friday K.I.D.S. group please call (801)-944-4555 or email
HERE
.
HANDLING RELATIONSHIP CONFRONTATIONS
Featured in Wasatch Woman Magazine & KSL TV's Studio 5
~~~~~~~~~~~~~~~~~~~~~~~~~~~~~~~~~~~~~~~~~~~~~~
by Julie Hanks, LCSW, Owner/Clinical Director

Do you ever find yourself at a loss for words in awkward social situations? Read on to get answers to your relationship questions and discover helpful phrases to add to your relationship repertoire!
Q:
My mother-in-law frequently makes comments about how I can improve as a wife and mother. Though I think she means well, when she recently advised me on how I could finish losing all of my "baby" weight that was the final straw! Should I talk to her directly or should I have my husband say something.
Q:
My neighbor asks me about other neighbors' problems and I don't like it. If I say something to her about my discomfort, I'm afraid I will offend her. What's the best way to handle this without losing the friendship?
Q: What's the best way to handle when my preschooler says, " I hate you Mommy!" It breaks my heart to think that she hates me.
To read Julie's favorite phrases pick up your copy of
Wasatch Woman Magazine
Click
HERE
to read WW online.
Watch Julie's KSL TV's Studio 5 Segment
HERE.
FIND THE VOICE TO SAY "NO"
Featured on KSL TV's Studio 5
~~~~~~~~~~~~~~~~~~~~~~~~~~~~~~~~~~~~~~~~~~~~~~~~
by Julie Hanks, LCSW
I recently surveyed more than 600 Utah women and found that 60 percent say they take on more commitments than they can handle, and 68 percent reported they don't say "no" when asked to do something they don't want to do. There are so many demands on your time and energy that saying "no" is crucial to your emotional well-being.
Why is it hard to say "no"?
In my therapy office and in my workshops I often hear women they don't say "no" because:
· "I don't want to disappoint others."
· "I should be able to do it all."
· "I want to help."
· "If I say 'no' I feel guilty."
· "I want to please others."
· "I feel pressured by others."
Watch
Julie's KSL TV Studio 5 segment HERE to find out why "No" is so important.
LOVE YOUR BODY WITH OUT LOSING A POUND
Featured on KSL TV's Studio 5
~~~~~~~~~~~~~~~~~~~~~~~~~~~~~~~~~~~~~~~~~~~~~~~~
by Julie Hanks, LCSW

I've asked the question "What would you most like to change about yourself?" to hundreds of women and it's not surprising that the most common responses were about changing physical appearance - losing weight, getting in shape. Negative body image plagues the majority of American women and we spend billions of dollars yearly on diet and beauty products attempting to change our bodies.
Let's challenge the "outside in" approach to changing our bodies and approach body image from the "inside out." By changing how you see your body, what you think about your body, you can change how you feel about and feel in your body. It is possible to love the body you have today without losing a pound! There are many reasons why women are so dissatisfied with their physical bodies.
READ MORE & WATCH SEGMENT ONLINE
HERE
NEW! TEEN THERAPY GROUP ~~~~~~~~~~~~~~~~~~~~~~~~~~~~~~~~~~~~~~~~~~~~~~~~~~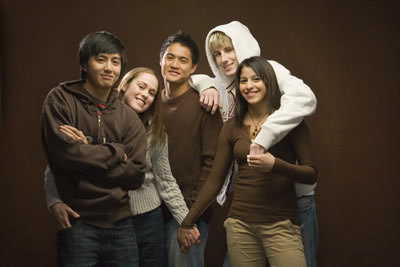 Led by Dr. Todd Dunn, Licensed Psychologist
Adolescence can be a tumultuous time. Our teen group offers a safe, relaxing atmosphere where high school-aged teens can explore and resolve the following issues and more:
Who am I?
How can I feel more confident?
Why do I feel so lonely
How can I feel closer to others?
How can I get along better with friends?
How can I get my parents to understand me?
What do I believe in?
Where am I going in life?
Group will be on-going and starts Tuesday, March 16th.
Meets weekly from 4:00 pm to 5:30 pm
Cost is $50.00 per session.
To register call us at (801) 944-4555 or
email
.
FREE THERAPY?
~~~~~~~~~~~~~~~~~~~~~~~~~~~~~~~~~~~~~~~~~~~~~~~~
Wasatch Family Therapy would love to introduce you to our
Marriage and Family Therapy Intern, Jonathan Harrop.
Jonathan is offering professional counseling services at a significant discount! Right now you can book your
first 50 minute session for FREE.
Each session after is only $50. Evening appointments available.
Click
here
to schedule YOUR FREE appointment or call 801-944-4555.
JOIN A THERAPY GROUP! ~~~~~~~~~~~~~~~~~~~~~~~~~~~~~~~~~~~~~~~~~~~~~~~~

Women's Therapy Group -

Wednesdays 5:00-5:50pm


On-going weekly therapy group for women. Depression, healthy
relationships, family issues, body image.


Abuse Survivor's Group - Thursdays 7:00 - 8:30pm


On-going weekly therapy group for women healing from childhood
sexual and other forms of abuse.


K.I.D.S. Group - Fridays 3:30-5:00pm

Weekly play therapy group to help children ages 8-11. This group will help your child gain skills to manage anxiety and strengthen social skills.

Teen Group - Tuesdays 4:00 - 5:30 pm

Weekly group for high school-aged teens. This group is designed to help teens work through the tumultuous time of adolescence in a safe and relaxing atmosphere.

Starting soon

: Men's Group, Children's Divorce Class!

To join a group please

Email

or call (801) 944-4555.