Visit us on the web:
www.physicaltherapyschdy.com
Search Physical Therapy Associates
Join Our List

Did you know, just 20 minutes of physical activity, including gardening and housework, improves mental health? According to a study of more than 20,000 people that was published in the British Journal of Sports Medicine walking was also beneficial, but the greatest benefit was seen with sports. Playing sports lowered the oddsof mental distress by 33%
Office Locations
Schenectady
1533 Union Street
Schenectady, NY 12309
(518) 381-9166


Scotia/Glenville
42 Saratoga Rd.
Glenville,NY 12302
(518) 399-6861

Rotterdam/Guilderland
3434 Carman Rd.
Schenectady, NY 12303
(518) 356-7445

Clifton Park
17 Halfmoon Executive Park Dr.
Clifton Park, NY 12065
(518) 371-6777

Latham
1182 Troy Schenectady Rd
Suite LL02
Latham, NY 12110
(518)220-9705

Troy
1 Conway Court

Troy, NY 12180
(518) 273-2715

West Sand Lake
43 Mall
West Sand Lake, NY 12196
(518) 674-1744



Amsterdam
178 Clizbe Ave

Amsterdam, NY 12010
(518) 842-1425

Tamarac
Tamarac Plaza
PO Box 118
3991 State Rte. 2
Cropseyville, NY 12052
(518) 279-4610

Ballston Spa
220 Church Ave.
Ballston Spa, NY 12020
(518) 885-1541
Hand Therapy at Guilderland Accepting New Patients
Located within our Rotterdam/Guilderland office is Hand Therapy at Guilderland. Sheryl Sturn OTR/L, CHT is available for all hand therapy needs.
Call 630-6167
to schedule an appointment.
Simple enough question, right? We all have experienced pain of some form or another at some point in our life. Some describe it as sharp, burning, dull, throbbing, aching, or even blinding. Not everyone experiences the same type of pain for the same type of injuries. So what is pain?
Webster defines it as localized physical suffering associated with bodily disorder ( disease or injury); a basic bodily sensation induced by a noxious stimulus, received by naked nerve endings, characterized by physical discomfort and typically leading to evasive action. Basically, we feel pain and our brain tells us to move away from what is hurting us or stop doing the painful activity. Sounds simple. The following video does a good job of explaining response to painful stimuli.
TEDxAdelaide - Lorimer Moseley - Why Things Hurt
What I like best about this video is the concept that memory of previous episodes of pain can influence future pain perception and how the nervous system gets "sensitized" to pain to the point that even normal stimuli causes significant pain. This is what leads to fear avoidance or the idea that the very thought of experiencing pain prevents people from being active. This fear of activity causing pain leads to chronic pain conditions because the nervous system is never given the opportunity to "de-sensitize".
Physical therapists are trained to prescribe exercise and use manual therapy techniques designed to help people manage their pain more effectively and help de-sensitize irritated soft tissue and nerve tissue.
Exercise For Pain Management
Physical therapists often prescribe exercises for pain control. Exercise increases the output of endorphins. Endorphins are chemicals your body produces to fight pain.Exercise also helps to increase the brain's supply of serotonin. Serotonin is a substance that aids the flexibility of blood vessels. This is important because when blood vessels are flexible, they are less likely to cause painful irritation. Serotonin also improves your mood. (When you are in a good mood, pain feels better than when you are i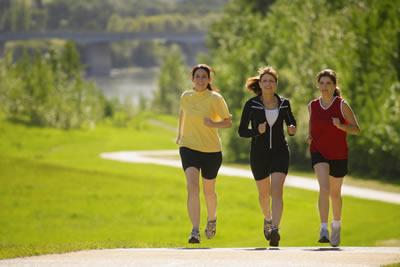 n a bad mood). Serotonin also fights pain in the brain. It fights pain by blocking the brain's perception of pain. Serotonin also helps regulate your sleep cycles. If you are in pain, it is important to get enough sleep so your body can properly combat the pain.
Individuals with chronic pain conditions, like fibromyalgia, are often encouraged to exer
cise regularly, especially low impact aerobic exercise. Pool therapy is often prescribed early on in the treatment program in order to progress the individual to a land based exercise program.
We Want To Hear From You
We want our newsletter to be specific to the needs of our clients. We would like your help to do this. Please feel free to email any requests for specific topics to be addressed or questions you might have regarding physical therapy and we will do our best to address them in upcoming newsletters. Email requests to
ptrotterdam@aol.com
attn. Kevin.