Top Ten Reasons for Going Mobile in 2010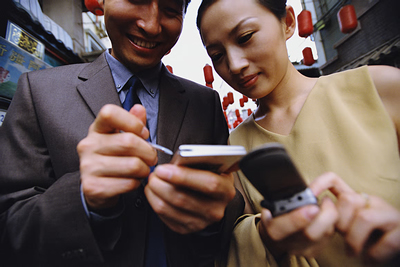 1. We Now Live in a Mobile World
4 billion people - now have a mobile phone. In the United States, mobile phone penetration has reached roughly 75 percent of the country's population, or 232 million individual mobile subscribers. The mobile phone is considered by many to be the most effective channel for direct and indirect marketing and advertising.

2. Customer relations
One word sums up this dimension to the mobile business model - loyalty.
Just as people now expect to interact with businesses directly through wired Internet usage, they are also beginning to expect the same service through their mobile phones. The key metrics of success are service usage and customer retention.


3. Lead generation
Lead generation is one of the most important business models on the Internet. We all engage with it every time we click on a sponsored search engine link. However, applying it to the mobile space is proving a challenge. A mobile alerts club could include an opt-in or click- through to a sponsor or advertiser.

4. Mobile Market Adaptation
Think about other vertical markets where mobile is successful -
Food service (particularly pizza), real estate, electronics, healthcare, automotive and broadcast television content. In all of these industries, companies are using mobile to deliver unique points of access, engagement and relevancy in true best practice form.

5. The Growth of the mobile web
An ABI Research study estimates that the mobile browser market will grow from 76 million in 2007 to almost 700 million in 2013.

6. SMS Marketing
SMS is currently the most widely used medium for mobile advertising due to:
1. Its popularity: 80 percent adoption among mobile users, according to com Score
2. Attractive pricing options: Bucket plans pricing models
3. Simple device requirements: 160-character message

7. Enterprises adaptation of SMS Marketing
The unrivalled global usage of mobile messaging is becoming increasingly attractive to enterprises as a generator for new revenue streams as well as providing value-added services for end-users. More marketers are embracing SMS as a new and effective medium to reach their customers.

8. SMS Revenue Predications
Players, Strategies & Forecasts 2009-2014" report, person-to-person (P2P) SMS is forecasted to generate global revenues of nearly$70 billion in 2009. P2Pmobile email, mobile instant messaging (MIM) and multimedia messaging service (MMS), in comparison, are estimated to generate about $22 billion combined.

9. Mobile Media Campaigns
Mobile rich media ad campaigns have yielded significantly better results than their corresponding wired Web equivalents. Not only does the unit generate 10 percent to 20 percent more traffic on a fraction of the overall Internet media spend, they command 25 percent to 35 percent better click-through rates compared to their wired Web equivalents.

10. The Growth in mobile video
Nielsen's recent A2/M2 Three Screen Report reports that mobile-video-viewing has grown a significant 52 percent in the first quarter of 2009 from the previous year, up to 13.4 million U.S. consumers who watch an average of 3 ½ hours of mobile video each month.