My daughter graduated from high school this past weekend. Relatives from all corners of the US came to celebrate with us - Grandparents from Florida and Montana, aunts and uncles from Iowa and Minneapolis.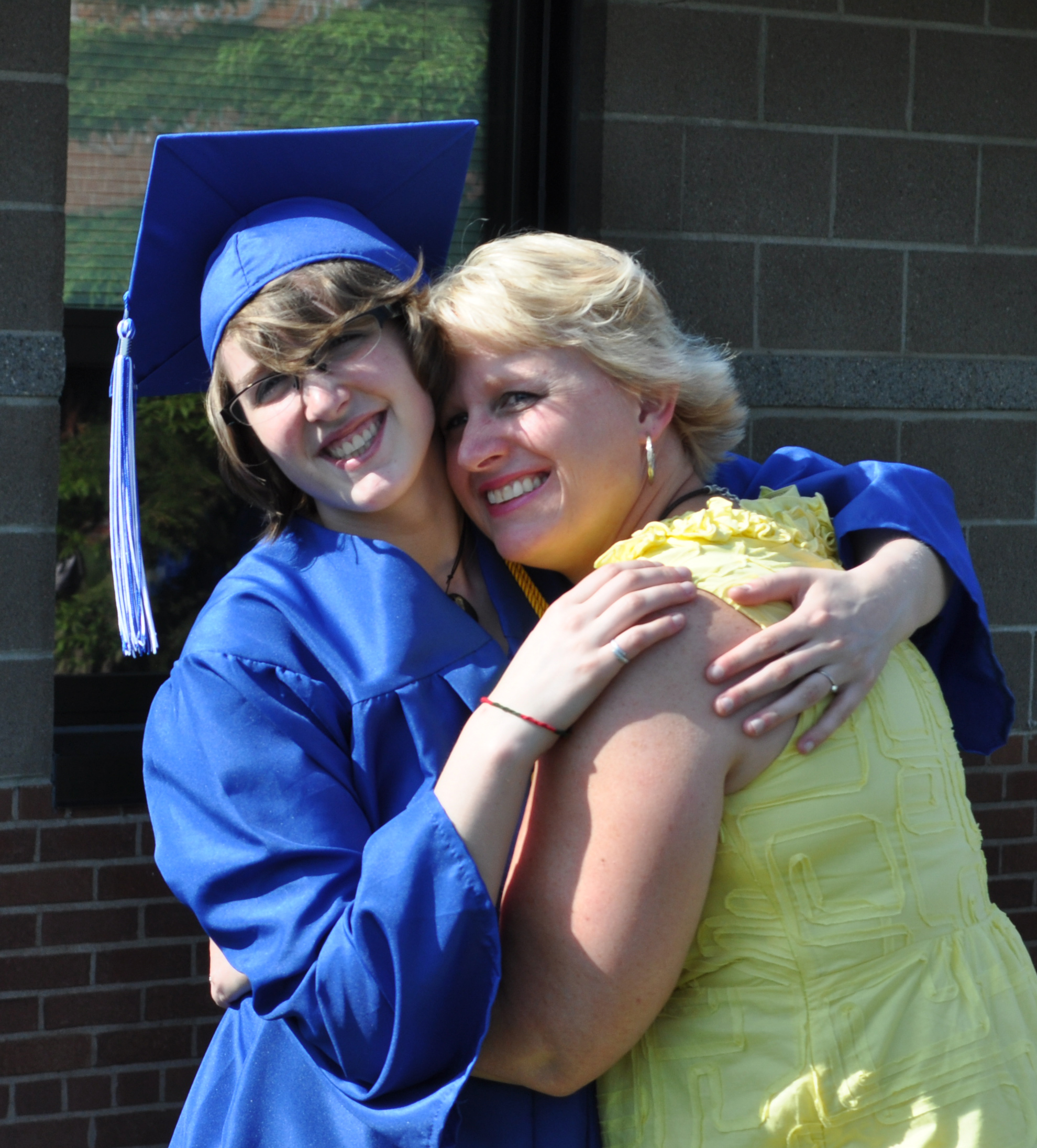 The party in our house reverberated down the street, and we made enough food to feed a football team. I definitely married into the right family because my in-laws cooked and made craft projects for the graduation party, and every time I turned around they were cleaning something.
I want them to move in. At least for a while.
The highlight of the weekend happened on Saturday afternoon around 4pm. Not graduation but the song during graduation.
The song my daughter wrote.
And sang.
Her senior class voted to have her sing it, so she not only felt honored, but with the entire town and then some present, she had a serious case of nerves. And laryngitis. Because her grad party was the night before, she awoke to find her voice had vanished in the night. She couldn't manage even a hum. I could see the panic in her eyes when she came to me and asked me to pray. We prayed for her and doctored her and as she left the house she said, "Well, God has come through for me in the past, I am going to trust Him to come through for me now."
He did. I couldn't believe it when she opened her mouth and out of her issued a sound that brought tears to my eyes, her voice miraculously restored (check out
the music video
I put together). Yet, as I listened to the words of her song, I shouldn't have been surprised.
Here's a snippet of the refrain
Yeah lookin' back on all of thatIt's another memory that will pass And every aspiring today will become yesterdaySo don't you ever forget your name
The song is about cherishing every moment, and not forgetting who you are. Not forgetting your name. Sarah didn't forget.
I love this.
The song brought to my mind Isaiah 49:15-16.
"Can a mother forget the baby at her breast and have no compassion on the child she has borne? Though she may forget, I will not forget you! See, I have engraved you on the palms of my hands..."
God will not forget us! We are written into his flesh...in the scars of the Cross, and He has given us an identity as His beloved. His perfect, whole, completed and without blemish love reached out and gave us a name, His name, and we take that with us wherever we roam. More than that, our identity comes with the assurance of God's love, because it is His love that he offered to us first, before we even realized we needed it.
I wrote about God's perfect love and how this love can impact us right down to our every breath in my new novel,
My Foolish Heart
. I truly believe that life is a quest of understanding how deep and wide and long and high God's love is for us...and the sooner we get that, the sooner we stop searching and live each day knowing who we are.
The sooner we find peace and the abundant life we were meant to live.
So don't you ever forget your name.
This is my prayer for you today.
I'm having a blog tour, GREAT giveaway and a FACEBOOK party this month for
My Foolish Heart
- details are below! And thank you to all who have dropped me a personal note of encouragement about the book (and others!). You bless me with your sweet words.
May each day remind you of your name,
Susie May