Upcoming Events



Become part of the 16th annual "No Ball at All" campaign!

The 3rd Annual Run for Rosanna -Van Nuys, CA -July 24, 2010

5th Annual Ryan Weidler Golf Tournament -Norristown, PA -August 9, 2010

Bowl-A-Thon -Elmwood Park, NJ -August 14, 2010

Windy City Showdown-Chicago, IL -August 15, 2010

4th Annual Christie's Heartoberfest -Ballston Lake, NY -September 18, 2010

Layton Oktoberfest -Colorado Springs, CO -September 18, 2010

Sing it for SADS 2 -Dunmore, PA -September 25, 2010

To add to your special fund-raising event please contact Laura or call 800-786-7723

Get ready for SADS Safe Schools.
Order your materials today!
Follow us now
Greetings!
So many things are happening at the SADS Foundation! Don't miss a thing, and enjoy this month's e-newsletter.
Climb to Conquer SADS
: Best Year Yet!
Kathy Engh for the Allen Family
Thanks to all our wonderful families and their climbers, this year's Climb to Conquer

SADS event was a fantastic success! Our strong team of climbers ascended Mt. Rainier July 8-11 bringing with them family flags from around the world.



Chris Culbertson, Chris Anderson and Roland Lamarche.
Climbers and families raised funds ultimately making this the most financially successful Climb to Conquer SADS in history - nearing $40,000!! Wow!



Brian Hoots for the Kiss Family.
Laura was there to greet the climbers as they returned late Saturday night. It was a successful and safe climb complete with some fabulous photos taken by the climbers.



A special thanks to Anthony and Kathy Lucatuorto - National Climb Chairs, Brian Hoots - Climb Leader and Dr. Chris Anderson - Medical Advisor to the team.




To see the exciting photos and read more about the climb visit our

website

.



Wall Street Journal "When A Heart Risk Runs in the Family"
On July 13, 2010 the Wall Street Journal printed an article "When a Heart Risk Runs in the Family". The article discussed the issue of sudden cardiac death and addressed the need for more suitable screening and surveillance in the United States. Dr. Mike Ackermann,
SADS Board President
and CEO, was featured in the article.
What is most interesting about the article are the new statistics that Dr. Ackermann presents from his laboratory, The Mayo Clinic Windland Smith Rice Sudden Death Genomics Laboratory. The incidence of sudden cardiac arrest has remained the same, about 350,000 people die each year from SCA. What we now know is that of these deaths, approximately 3,000 of these are infants, and another 10,000 are children and young adults between the ages of 1 and 40. Even further, genetic mutations affecting the heart's electrical system, account for about 25% of sudden unexplained deaths in children and young adults and about 10% of infant deaths. These statistics put a greater emphasis on the importance of genetic testing, especially in the event of an unexplained death, and early diagnosis for SADS conditions.
July Quick Poll: Potassium

Take the July Quick Poll Now!
Found in orange juice, avocados, milk, almonds, potatoes and, yes, bananas, potassium is an essential mineral that is critical to heart function. Although it is possible to get plenty of potassium from a healthy diet, most Americans do not get the recommended amount of 4700 milligrams a day. We know that potassium is especially critical for LQTS patients and many physicians prescribe potassium for them. So do you take proscribed potassium or just try to eat high-potassium foods? See a list of high-potassium foods here.

Take the July Quick Poll now to let us know how you get enough potassium.
Note: Do not take any over the counter/non-prescribed supplements without consulting your physician first.

Advocacy News: FDA & Genetic Testing

On June 16, 2010 the FDA announced that it would seek
public input to develop polices to regulate all laboratory
developed tests (LTDs), vastly diminishing current "enforcement
discretion" over LDTs.
It is clear that genetic testing oversight needs to be improved as current regulations do not keep up with continually advancing technology and government regulation is limited under existing regulations (CLIA). CLIA regulates only performance standards and lab processes and
excludes
test quality. CLIA also lacks mechanisms for review and approval of LDTs.
The FDA held public hearings on July 19 & 20 and plans to publish a series of Guidance Documents to establish new pre-market and post-market oversight over genetic tests.
The SADS Foundation and other like organizations agree that the best regulatory system should offer patients timely access to new, clinically important tests, protect them from unsafe and ineffective tests and keep healthcare costs low. Thus, SADS wrote a letter to the commissioner of the FDA, Dr. Margaret Hamburg, in support of this overhaul and stressing key items to be included in the new guidance documents.
Pedigree Project Families win Goody Bags
1. Ahlea Martin Family -Rock Springs, WY

2. Lori Coward Family -Douglasville, GA
3. Trisha Taber Family -Scandinavia, WI
4. Christine Mark Family -Lawrenceville, GA
5. Barbara Copeland Family -Pasadena, MD
6. Darci Prins Family -Holland, MI
7. Eileen Gormley Family -Nashua, NH
8. Yasi Emamian Family -Pasadena, CA
9. Sandra Bufford Family -Hesperia, CA
10. Shawn Jordan Family -Joshua, TX
These ten families were the first after the May E-newsletter to register on the SADS Pedigree Project. Each family has won a special SADS goody bag for taking the initiative to register on the
pedigree project
. For more information about the pedigree project, click
here
.
Keep your eyes out for the next chance to win a special SADS goody bag!
Pre-Existing Condition Insurance Plan
Beginning July 1, 2010, patients affected by a SADS condition may be able to obtain health insurance under the new Pre-Existing Condition Insurance Plan(PCIP).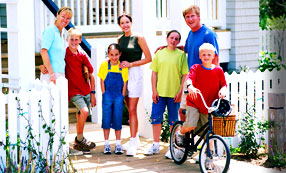 PCIP offers coverage to uninsured Americans that have been previously denied coverage because of a pre-existing condition and have been uninsured for at least six months. PCIP was created under the Affordable Care Act and serves as a temporary bridge program until 2014, when insurance providers will be barred from denying coverage because of a pre-existing condition.

In order to give states the flexibility to best meet their needs, the Department of Health and Human Services provided states with the option of having the HHS run the program or running it themselves. Twenty one states have elected to have HHS administer the plans, while twenty nine states and the District of Columbia have chosen to run their own programs.

Click here to see how your state has chosen to participate.

Sincerely,


Alice, Laura, Joanne, Heidi and Adrienne



SADS Foundation




508 East South Temple, Suite 20

2


Salt Lake City, UT 84102