Did a friend forward you this newsletter?
Join Our Mailing List!
Lacing Techniques for a Proper Fit



Although the width, length, and size of your shoes are important, many people forget that lacing techniques are equally of value to ensure a proper fit.

Many lacing techniques can be used to prevent injuries and to relieve foot problems and pain.

Individuals with specific foot issues should follow lacing techniques specific to their foot characteristics to get a good shoe fit.

General Lacing Techniques:


Follow these general techniques from

The American Orthopaedic Foot and Ankle Society

:

TIP #1

Loosen the laces as you slip into your shoes because this prevents unnecessary stress on the eyelets and the back of your shoes.

TIP #2

Begin lacing your shoes closest to your toes, and pull the sets of eyelets, one at a time to adjust laces for a perfect fit.

TIP #3

Shoes with a large number of eyelets make it easier to adjust laces for a custom fit.

To learn more about specific tips for narrow/wide feet, heel problems and more please read the full article on

our blogs

.
Did You Know?
Walking for 30 minutes a day five or more days a week at moderate or hard intensity, or walking three to four times a week at hard intensity can lead to significant long-term improvement in cardiorespiratory health according to the results of a new two-year study of 500 sedentary men and women aged 30 to 69.
The key to getting these results is either high-frequency or hard-intensity walking.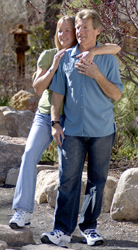 Unveiling the new shades of Spring!
The Z-CoiLŽ Freedom, the top-selling style of our very unique line of Pain Relief FootwearŽ products, ushers in Spring with two appealing new colors: Navy/White for Men and Sky Blue/White for Women.
Only a limited supply of these new athletic shoes is currently available, so interested customers will want to hurry to their local Z-CoiLŽ store right away for a personal fitting!
New Blue Freedom Features
Excellent durability and breathability

Full-grain leather upper with nylon mesh

Breathable spandex lining

Padded tongue and extra-soft, felt-lined insole

Reflector accents for nighttime safety

Available in Women's sizes 6-9 and Men's sizes 9-12
The Freedom also comes in a wider range of sizes in Royal Blue/White; All White; All Black; and All Gray.
The Same Effective Z-CoiLŽ Technology
The new blue Freedoms are engineered with the same innovative, shock-absorbing and pain-relieving technology as other Z-CoiLŽ Pain Relief FootwearŽ. Both feature a patented, conical steel coil in the heel, which is designed to absorb up to 50% of the impact from walking or running, while delivering a 40 to 50% energy return.
The Z-CoiLŽ spring-suspension system works in concert with a built-in orthotic support, which distributes pressure evenly across the bottom of the foot. This helps to eliminate sore spots and relieves the pain typically caused by plantar fasciitis or heel spurs. Z-CoiLŽ shoes also feature thick, resilient cushioning under the forefoot, plus a rocker-bottom sole that gently assists each step.
Such total foot support and cushioning work together to reduce the shock of impact to the body. And less impact means less pain.
Testimonial of the Month for April 2009

I was in your store on Sunday and bought a pair of Z-CoiL shoes with what I will admit was skepticism for fear of another snake oil remedy to help with my foot pain.

What I want to tell you is OH MY GOD!!! After only two days of wearing Z-CoiL shoes, my pain is almost 100% gone. All that is left is what I can only describe as a very slight, almost phantom discomfort I believe will disappear after my feet are given a chance to completely heal over the course of some time.

I am jokingly referring to this purchase as my "miracle shoes." They may look a little funny but it is worth it and anyone that wants to tease can stick it in their ear! I have been walking around in mild to severe discomfort for a couple of years.

Last year I went to a podiatrist who prescribed custom orthotics. He told me that if those did not work I was most likely looking at surgery (that may or may not work) to relieve my discomfort. For some reason "foot surgery" scared the hell out of me so I have been putting it off and living with the pain.

Then, last week I was listening to the Dr. Bob Martin radio show on KFYI and he gave your store and the product an unsolicited plug while discussing a foot problem with a caller. I thought to myself, "What do I have to lose? If they don't work there is always the surgery option."

In closing, thank you, thank you, thank you! I have not been pain-free in a very long time. Aside from the shoes, the owners at the Scottsdale store were also very friendly and quite helpful. Even though they have probably done this a thousand times or more they patiently explained the product without appearing disinterested and went the extra mile to make sure my difficult-to-fit feet were fitted properly.

Pleasantly surprised and eternally grateful,

Steve F.

Scottsdale, AZ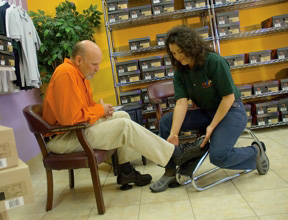 Time for a Tune-Up?
Pain can change the way you walk. For example, if your right heel hurts, you transfer your weight to your left foot. Then your hip starts feeling sore and your back hurts.

Specially trained Z-CoiLŽ distributors take all your aches and pains into account when they custom-fit you in Z-CoiLŽ shoes. Their goal is to have you on your way to feeling a lot better - maybe even by the time you walk out the door.
The problem is that pain can shift, and you can't anticipate how you will feel a month, six months, or a year after wearing our shoes. If your Z-CoiLŽ shoes don't feel quite right any more, getting a simple footwear "tune-up" may do the trick and soon have you feeling comfortable on your feet again.
Add life to your shoes and a spring in your step!
Z-CoiLŽ shoes are unique "equipment for the feet," complete with moving parts. So just as you would take your car in for regular maintenance, we encourage you to do the same with your Z-CoiLŽ footwear. We want you to continue to get the best performance from your shoes and maintain the best fit possible. That's why we offer free adjustments* for the lifetime of your footwear.


Free Tune-Up Checklist
We tighten your coils and inspect them for wear, damage, or fatigue.
We can change or adjust the insoles and arches to ensure you are getting proper support.
We watch how you walk in the shoes to determine whether other adjustments are needed.
We ask you about any pain issues you are experiencing and re-adjust the shoes for maximum comfort.
We polish the uppers to make your footwear look like new again.
*Free adjustments available at most Z-CoiLŽ Pain Relief FootwearŽ stores. Please call your local store for details.