Dakesa HM
Many of you have asked about Dakesa, so her is an update on her...
As most of you know, Dakesa HM (Dacaprio - SPS Pakesa / Prince Thatch xx) was our orphan foal in 2011. She carries on her mother's legacy and incredible mareline for us.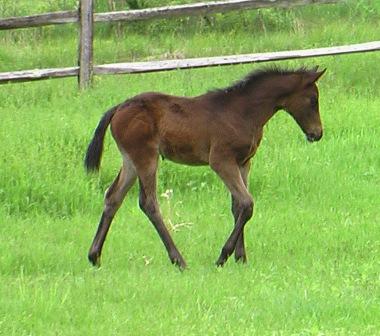 Dakesa HM
Although we were very saddened by the loss of her mother, Dakesa quickly showed us that life must go on and you must enjoy it to the fullest. For those of you who follow us on Facebook you got to see many of her antics caught on video or photo. She is definitely her mother's daughter!

Since weaning from her Uncle Jack, Dakesa has showed us that she is a confident young filly who understands herd dynamics well. Within 2 days, she was in charge of the young horse field...over the two 2010 Ladies. Her mother would be proud!


Two Exciting Appointments
There are many exciting ventures on the horizon for Linda and we thought we would share our great news.

As many of you know, Linda runs the NEDA Spring Symposium and has been a Board Member for the organization since 2008. Linda has also represented either NEDA or Region 8 at the USDF Convention since 2008. Her involvement with the USDF has recently expanded as she joined the USDF Sport Horse Committee. Linda is very excited about this new appointment and looks forward to helping the Sport Horse presence in the US grow.

In late January, Linda was also appointed to be a Learner Judge for the American Hanoverian Society. She has attended many educational events, including USDF Sport Horse Judging Seminars, the USDF L-Program and recently co-organized the 2011 AHS Breeder Orientation Course. As a Learner Judge, she will be traveling around the US this summer with the inspection tour, soaking up as much knowledge as she can. Linda is extremely honored by this opportunity to serve our registry.

Hopefully, she will get to meet more of you in her travels!


Warmest Regards,

Linda & Jeff

::

We hope you are enjoying the mild winter that we seem to be graced with this year. It is one of the many things we are already celebrating in 2012. We were very busy in 2011 and didn't get to update everyone as much as we like, so we thought this quiet time before foaling and breeding season would be a good time to let you all know what we have been doing and to share our good news.

Open House 2012
Save the date...our 5th Annual Open House will be Saturday, June 2nd. There are not many week-ends on the calendar that don't hold a dressage show or a breed show in our region, but we found one at the beginning of June.
Over the last 4 years, we've enjoyed meeting and sharing our mares and foals with many of you. Each year this event seems to grow a little bit more. Please join us for a fun day of Foal visits and BBQ. Formal presentation of the horses on the triangle will be at 10am,
and foal visits available throughout the remainder of the day
. As always, Jeff will be manning the grill and there will be plenty of food and drinks to go around. There may even be an riding demo by our young mare, Reminisce HM, with our trainer Marie DiBiccari.
We look forward to seeing you there!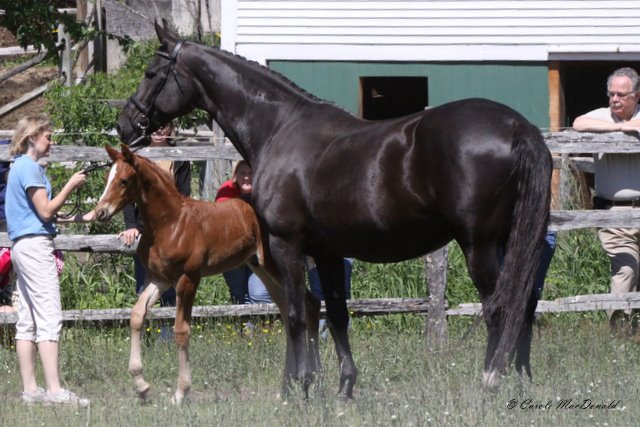 EM Day Dream and Loreto HM (2011)

Reminisce HM at the YDHT Symposium at Hassler Dressage

This past November, we were honored to have our young mare, Reminisce HM (aka Riley) travel to Hassler Dressage with our trainer to perform as a demo horse for three days at their Young Dressage Horse Trainers Symposium. This year the presenters were Scott Hassler and Steffen Peters.

This was a great outing for Riley and Marie. It was an 8 hour trailer ride down, followed by 3 days of working in the ring under these two great trainers, but Riley seemed to enjoy the adventure and definitely advanced in her maturity from the experience. We would like to thank Hassler Dressage for allowing Riley and Marie this incredible opportunity!

Marie has continued her work with Riley over the winter and Riley has blossomed under Marie's guidance. Riley continues to show her great work ethic and desire to please. We are currently planning their show schedule and look forward to watching Riley begin to fulfill her destiny.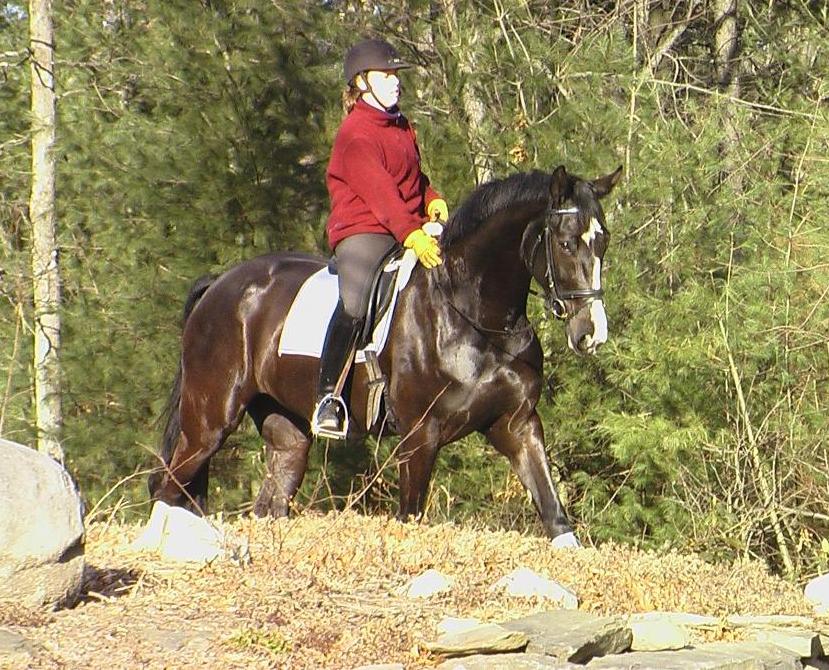 Riley and Marie enjoy a trail ride on a beautiful winter day.
Offered for sale:


Loreto HM - Another show-stopper from EM Day Dream!
2011 chestnut hanoverian colt by Londonderry o/o EM Day Dream (Don Bosco - Furinos)

Loreto is going to have a tall, modern build. He has a beautiful head and neck with a free shoulder. With a powerful hind end and uphill movement, he is a candidate for the big dressage ring. Loreto already shows good ability to collect the canter. The striking similarities between him and his very successful and influential sire are incredible.

Asking

$14000.

$10,000. for a limited time to a top dressage home only.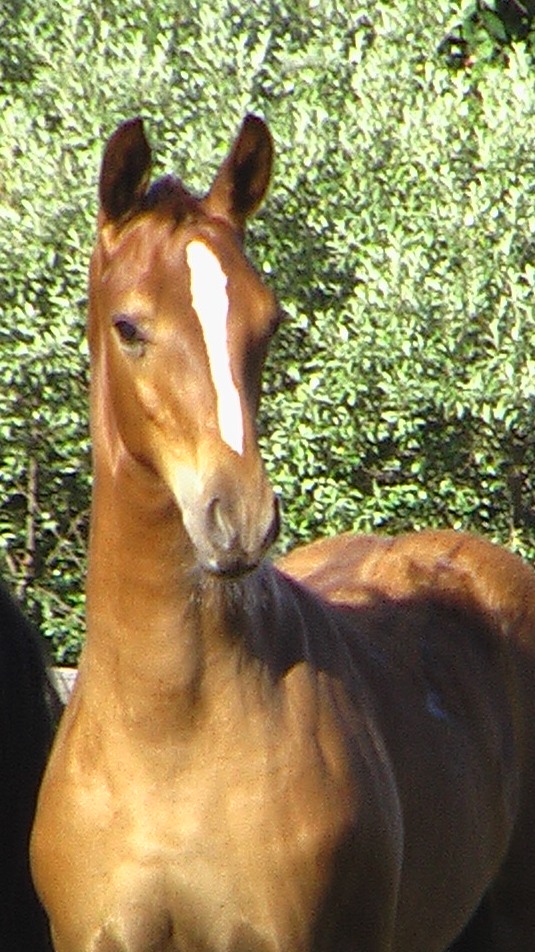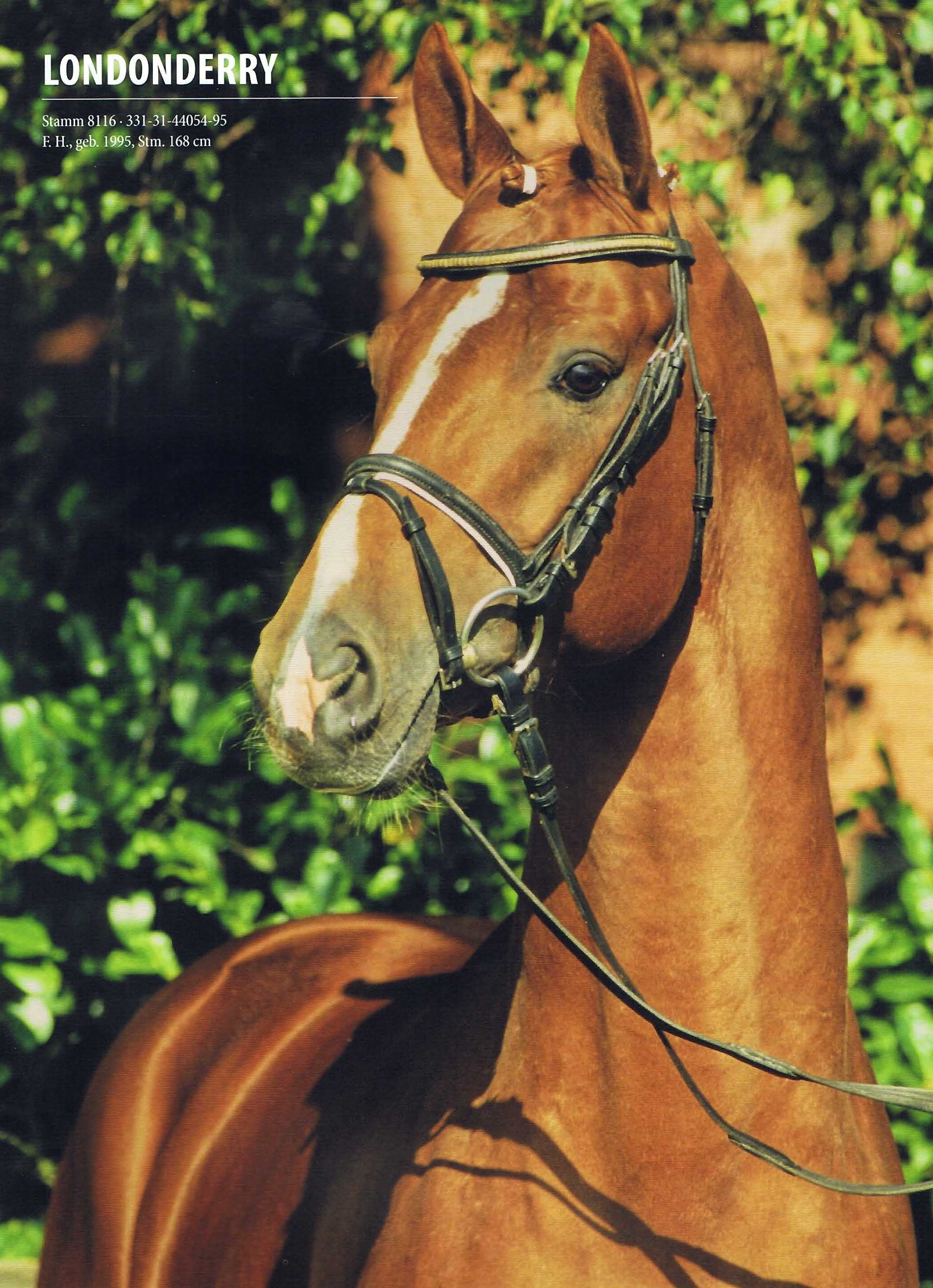 Like father, like son...and the similarities don't end here.


Lorelei HM - Hurry, before we change our mind!
2010 Londonderry filly out of our SPS Destiny (Desert Moon - Wesley)

Lorelei has already enjoyed success in the show ring as a foal when she competed in-hand. She always won either Champion or Reserve Champion foal, even at the very competitive NEDA Fall Festival and then finished 7th USDF HOY standings. Lorelei has an out-going personality which makes her easy to work with, even in new situations. She has 3 top gaits and always steps well underneath from behind. She was intended to be a keeper filly for our breeding program, but with so many projects in the works, we have made the difficult decision to offer her for sale. Recent video on her page shows her as a long yearling moving in a forwards, upwards fashion. Lorelei is expected to mature around 16.1 hands. She will be ready for backing in late Fall 2012.

Asking $20,000.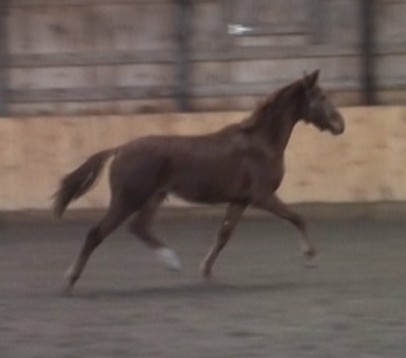 EM = Elite Mare, SPS = States Premium Mare