Sebastian continued his winning ways and won the Colts of 2008 class at NEDA Fall. He then went into the ring and won 3rd in the Colts and Geldings Championship. (photo by: Carole MacDonald)

All the foals handled the busy show environment very well. The Saugerties show grounds were packed with NEDA Fall competitors and the Marshall Sterling Finals. The foals learned a lot about big show environments and even escorted a few riding horses across the bridge to the rings. This experience will serve them well when they become riding horses.



This spring Day Dream's oldest granddaughter was inspected and performance tested in Hoya, Germany. She earned great scores and then went to the Bruchhausin Vilsen mare show where she earned her States Premium title. Congrats to

SPA What If

and her owner Marcia!

Day Dream's half sister from 2005 by Florencio o/o Fossi also went to her mare show this summer. We are thrilled to hear that not only did she earn the title States Premium, but she was named the winner of the East Frisia Mare show. This is a huge show with over 120 mares competing. The show summary can be found in the Der Hannoveraner October issue. Congrats to

SPA Florenca

.

But the mare family wasn't done yet, Day Dream's half sister from 1999 by Escudo I o/o Fossi produced a beatiful colt by Don Bosco in 2003. This gelding was one of the riding horses auctioned at the Elite Auction in Verden this past August.

With results like this, we are even more thrilled to be keeping Day Dream's daughter, Reminisce HM to be a riding horse and future broodmare for our program.

New Homes for Sebastian HM and Weltkin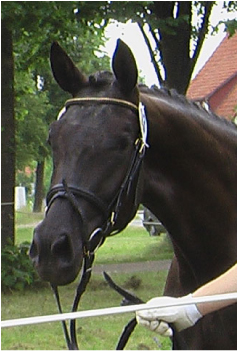 It has been a very busy month for Hof Mendenhall as far as sales are concerned. Although the decision to sell our Germany based horses was difficult, we are thrilled to welcome Weltkin's new owners to the Hof Mendenhall family. Weltkin will be serving double duty as a riding horse and a broodmare via Embryo Transfer. Congratulations to Stephanie and Annette of Texas!



Also congratulations to Geri of Michigan on the purchase of Sebastian HM. Sebastian has arrived at his new home and is settling in. We are thrilled to see him go to such a great home and look forward to seeing the two of you in the dressage ring in the future.