Recognition Idea
Quilt Squares
As part of our 100 years of service celebration, we asked each of our 54 offices around the world to produce a quilt square. Volunteers then put the quilt together and it is now "touring" our offices so volunteers can see the results of their efforts.
Submitted by Tina Branco, Director, Volunteer Support, Navy-Marine Corps Relief Society, VA, USA
Share Your Recognition Idea
Volunteerism Quote
And the day came when the risk to remain tight in a bud was more painful than the risk it took to blossom.
-- Anais Nin
Share Your Quote
Energize Volunteer Management Update


October 2011

October Hot Topic: What Leaders of Volunteers Can DO to Gain Executive Attention
Susan offers 8 essential approaches to generate greater support from top management - using the tools leaders of volunteers already have in more powerful ways.
Read this Month's Hot Topic
You can subscribe to the Hot Topic as a podcast or RSS text feed - or listen to the audio online.
Enter our Everyone Ready® CONTEST by October 31!
What would change if everyone in your organization was trained to work with volunteers?
Share your answer with us and enter to win some great training and consulting prizes!
Just as it "takes a whole village to raise a child," it takes a whole organization to welcome volunteers and support their contributions. It's not enough for only the manager of volunteer involvement to have the skills needed to work with volunteers.
We've designed our Everyone Ready Contest to benefit you in several ways. The contest will:
Help you envision what your organization would be like if everyone was prepared to welcome and work alongside volunteers.
Open up an opportunity (a.k.a. a good excuse) to discuss these possibilities with top decision-makers in your organization.
Give you a chance to win individual memberships to the Everyone Ready Volunteer Management Skill-Building Program, plus consultation time with Energize president, Susan Ellis, and other prizes to help you strengthen volunteer management skills.
Get all the contest details and enter by October 31st.
Celebrate International Volunteer Managers Day - November 5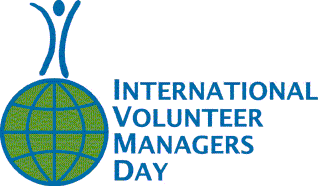 2011 has been a busy year for volunteering - it is IYV2011+10 and the European Year of Volunteering 2011, to name just two high profile campaigns. And next month once again brings International Volunteer Managers Day (IVMD) - 5 November - which has been building its own momentum. Andy Fryar, chair of the steering committee for IVMD, reports:
Already I am hearing of plans for events to mark the day and discussions online about how the publicity for the day can be used to help promote the importance of effective leadership and management of volunteers. It is in this context that we (the steering committee) see 2011 as a year of consolidation for International Volunteer Managers Day. We have no major developments planned for 2011. Rather we want to concentrate on promoting what is already happening to mark the day and sharing that to keep the profile high.

You can participate by doing some concrete things:
Get in touch

with the organizers to share what you've got planned so they can promote it on the IVMD website.
Rob Jackson Consulting, Ltd. has posted a "countdown clock" to IVMD, which is fun.
Where to next?
The committee is already looking at how the Day can grow in 2012 and beyond. Andy says:
Key to this will be the recruitment of new steering committee members. Our existing members have made an amazing contribution in recent years but many are looking to move on and we think now is the right time for some new blood to join the committee and take International Volunteer Managers Day forward into the future.
If membership of the steering committee for International Volunteer Managers Day is something you'd be interested in getting involved in we'd love to hear from you. Please send us an email outlining a bit of information about you, what you like about the Day and what one change or development you'd like to implement to take it to new heights.
This might be your chance to burst onto the international scene!
Here hoping every one of you has a great International Volunteer Managers Day 2011.
New in Our Online Journal: e-Volunteerism
The current issue of e-Volunteerism, our international subscription journal, is Volume XI, Issue 4. Newly posted since the last Update:
A new issue of e-Volunteerism will open on October 15th. It is a special theme issue devoted entirely to the topic of credentialing/accrediting volunteer management practitioners. Contributors come from eight countries, sharing their different approaches to the recognition of proven volunteer management skills. One article defines terms (which are often misapplied) such as "licensing," "certification" vs. "a certificate," "qualifications," and more. Personal perspectives on the pros and cons of earning some sort of professional designation are presented in the hope of starting a solid discussion with our readers. Don't miss this unique set of articles!
Subscribe to e-Volunteerism for a full year or for 48-hour access. Note that subscribers have full access to the Archives of all eleven volume years.
Looking for new sources of volunteers? Eager to add diversity to your volunteer corps? Consider recruiting the generally overlooked numbers of foreign nationals living temporarily in many communities. In the United States and elsewhere, these are people who are in the country legally but do not have work permits. So they cannot accept a paying job - but they can volunteer and often do, when asked. They may be:
Full-time students not permitted to hold full-time jobs while studying.
Spouses of people employed by a multi-national company and on a foreign assignment for six months or longer. The employed spouse is on a work visa, but most often the unemployed spouse is not permitted to work for pay. Older children may also be living abroad with their working parent.
Au pairs - generally young women who provide live-in child care for room, board, and a small stipend and must be enrolled in at least part-time higher education courses. American regulations require them to have time off each week, but they are restricted from other paid employment. Some sponsoring organizations encourage them to do volunteer work as an added cultural exchange opportunity.
In general, these foreign nationals are quite well-educated, with a wide range of skills. The spouses of corporate employees may or may not be fluent in English or your country's language, though more often than not they are. Such long-term visitors are often lonely and bored, but do not know enough about the culture in which they are temporarily living to seek volunteer work on their own.

These potential volunteers are especially helpful if you serve a client population with the same native language as the visitor. This can include not only your primary clients, but their extended families. For example, could a school or youth program include grandparents in more activities if interpreters were available? Do you work with Alzheimer's patients who have reverted back to other mother tongues (a very common situation that leaves nursing care facilities with serious communication problems)? There are undoubtedly many such opportunities to help your community.

Other ways to utilize foreign nationals include inviting them to speak about their country (show slides, play music, etc.) to groups of students, seniors, or whatever clients you have. Or how about becoming one-to-one friends with peers and later continuing with a pen-pal relationship (or, these days, an e-mail relationship) after they return to their home country?
Finally, such volunteers can educate your organization about the tradition (or not) of voluntary service, philanthropy, charity, and civic engagement in their home country. This will provide a very useful perspective on your efforts to recruit permanent citizens with the same cultural background.
At a volunteerism conference in Paris a few years ago, I met an American woman who was concerned with this exact issue in reverse. She was trying to get American spouses of employees working overseas to do volunteering in their host country, since they also could not work for pay abroad. So this type of service holds potential for some fascinating global exchange.
Recruiting International Visitors
There are a number of ways to find this talent pool. Some ideas are:
Of course, before spreading your recruitment message, take the time to develop volunteer assignments most likely to use these foreign nationals' skills and to pique their interest.Remember that these may be very educated and experienced workers, happy to discover a new way to learn about where they are living for a while.
View the archives of these Updates since 2008 - Susan's monthly Quick Tips are listed there for you.
About Us
Energize empowers and inspires leaders of volunteers worldwide. Our specialty is creating and selecting the most relevant, innovative resources in volunteer management. We're advocates for the power of volunteers and for the recognition of the leaders who unleash it.

Energize, Inc.
5450 Wissahickon Ave. C-13
Philadelphia PA 19144 USA
Phone: 215-438-8342
Fax: 215-438-0434
info@energizeinc.com

Pass It On!
Pass on this update to interested news groups and others who work with volunteers.


Material may be re-posted or printed without additional permission, provided credit is given to Energize, Inc., and our Web site address is included: http://www.energizeinc.com/.