Recognition Idea
A Wellness Experience
Try treating your volunteers to a "wellness" experience. We shared chair yoga, aromatherapy and meditation followed by a light, healthy lunch. Volunteers all left feeling relaxed and appreciated!

Submitted by Linda Anderson


Share Your Recognition Idea
Volunteerism Quote
You cannot do a kindness too soon because you never know how soon it will be too late.
--Ralph Waldo Emerson
Share Your Quote
Energize Volunteer Management Update


July 2011

July Hot Topic: Needed: A Multi-level Approach to Credentialing Volunteer Management

Many want a universally-accepted credential to "professionalize" volunteer management and recognize that successful volunteer engagement requires special knowledge and competence. The problem is that we are in danger of settling for a one-size-fits-all accreditation that is too narrow in scope and much too low-level in status.

Read this Month's Hot Topic
You can subscribe to the Hot Topic as a podcast or RSS text feed - or listen to the audio online.


Meet the Everyone Ready® Faculty

We have recognized experts (from three countries) on the faculty of our online volunteer management training program, Everyone Ready: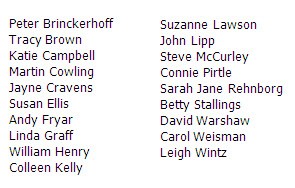 These are the same authorities you normally have to travel to see and only have the opportunity to meet in person occasionally. With each monthly featured topic, Everyone Ready members have a full month to ask the trainer questions on the discussion board. It's like getting a personal consultation on your specific situation!

Read more about each of these trainers.

The next Featured Topic is Welcoming Diversity in Volunteer Participation with Tracy Brown, starting July 18th. Enroll in our special trial run and benefit from a total of five different resources in two months for only US$99.
Quotes about Volunteering - Favorite Site Destination Needs Your Advice

For a long time one of the most popular areas of the Energize Web site has been the section on Words to Express Appreciation. Here colleagues have been posting their favorite volunteer-related quotes, stories, humor, poetry, and more. The Quotes area is so abundant that it's a challenge to read through it. We have just added page numbers so that it's easier to browse the 10 long pages of great sayings, but we plan to do more.

We'd like to make the area more searchable and would love your help. Visitors can already search by keyword or author name, but we do not think that is what people look for. Please go to http://www.surveygizmo.com/s3/583071/Quotes and complete the short survey. Thanks so much!

New in Our Online Journal: e-Volunteerism

The current issue of e-Volunteerism, our international subscription journal, is Volume XI, Issue 3. New article posted since the last Update:
Teens, Texting and Ten Dollars: A Volunteer Project for Today - How can texting a friend raise significant funds to help patients and families who are battling brain tumors? The answer is simple for Judy Zocchi and Olivia Questore, the two driving forces behind "Text for 10," a unique fundraising event to benefit Monmouth Medical Center's Davis S. Zocchi Brain Tumor Center in Long Beach, New Jersey.
A new issue of e-Volunteerism will go live on July 15th with articles on how volunteer program managers can ask for a raise, the value of administrative volunteers recruited specifically to assist with the key work of volunteer management, studies on the Web about youth volunteers, a review of the new Manual on the Measurement of Volunteer Work from Johns Hopkins, and much more.
Paying to Play: Charging Fees to Volunteers
(Open to Non-subscribers)
Note that the current Points of View essay by Susan J. Ellis and Steve McCurley is available to all site visitors free of charge each quarter, as a sample of the journal's contents and to elicit wider response.
Subscribe to e-Volunteerism for a full year or for 48-hour access. Note that subscribers have full access to the Archives of all eleven volume years.




Invite volunteers who have been with you for over a year to take a break from their regularly-scheduled tasks and do a short special assignment. The change of pace will be welcome and affirms that each volunteer has much more to contribute than the single position she or he fills. Here is a starter set of ideas for activities that can be done in 30 minutes to two hours.
Pair off volunteers from different units or doing different work. Have each spend an hour observing the other, learning what's going on in another part of the organization. Then hold a meeting to find out what surprised or impressed them about the other's work - and consider using those comments in your next recruitment campaign.
Consider doing the above idea by pairing volunteers from your organization with volunteers in organizations where you are friends with the volunteer program managers. Such an "exchange program" can be fun or at least interesting, and opens the door to possible new perspectives on everyone's work.
Ask volunteers of varying longevity to look at the materials you use in orienting new volunteers, make sure all the facts are up to date, and recommend new things that might be added.
Review the volunteer handbook in the same way.
Ask all volunteers to record an audio clip sharing what the best thing is about volunteering in your organization (and give you permission to use it, with or without their name).
Now, way before the end of the year, invite suggestions for fun ways to celebrate the December holidays and the new year. Note that International Volunteer Day is December 5th - how would volunteers like to commemorate that?
Send volunteers into the community to visit agencies to which you refer clients or to attend local events. Prepare them to observe and report back, or to be on the lookout for certain information you need.
On a selected day, ask volunteers to use their cell phones or digital cameras to snap photographs of themselves and other volunteers at work. Collect these and post an album to a photo-sharing Web site as a "Day in the Life of Volunteers in Our Agency." When it's ready, make some lemonade and invite everyone to see the slide show projected on a screen. (You can then use these shots in all sorts of recruitment and recognition presentations.)
If you have a good spot near your building, hold a series of volunteer meetings outside (in the shade). Invite everyone to bring beach towels or folding chairs and use the change of environment to spark new ideas on some strategy you are hoping to implement in the next few months.
There are many ideas like this. The point is to do something out of the ordinary, yet clearly useful. And to have some fun. Be cool and stay cool!

View the archives of these Updates since 2008 - Susan's monthly Quick Tips are listed there for you.

About Us
Energize empowers and inspires leaders of volunteers worldwide. Our specialty is creating and selecting the most relevant, innovative resources in volunteer management. We're advocates for the power of volunteers and for the recognition of the leaders who unleash it.

Energize, Inc.
5450 Wissahickon Ave. C-13
Philadelphia PA 19144 USA
Phone: 215-438-8342
Fax: 215-438-0434
info@energizeinc.com

Pass It On!
Pass on this update to interested news groups and others who work with volunteers.


Material may be re-posted or printed without additional permission, provided credit is given to Energize, Inc., and our Web site address is included: http://www.energizeinc.com/.