Connect with Energize



Book Blog
Visit the Energize Book Blog to get the latest info on volunteer management resources.
Current Post: Time-tastic!
Everyone Ready

® Online Training
Volunteer Performance Assessment
(Self-Instruction Guide)
Starting February 21, 2011

Many volunteer-based programs assess only the level of success that the overall program achieves, and they tend to overlook the performance of the volunteer individuals who ultimately drive program success. This Guide examines how volunteer performance evaluations can open avenues of communication and mutually benefit the volunteers and the organization alike.

Access this self-instruction guide

plus other topics

and benefits by signing up for our $99 trial run.

Authors Steve McCurley and Rick Lynch have revised and updated their classic book, used in the volunteer management field for over 10 years. With over 150 additional pages of new information, this third edition remains a thorough examination of every facet of a successful volunteer program, from planning and organizing to measuring effectiveness.

Featured Resource

Volunteer Management: Mobilizing All the Resources of the Community, 3rd Edition
by Steve McCurley and Rick Lynch

Volunteer Management is not a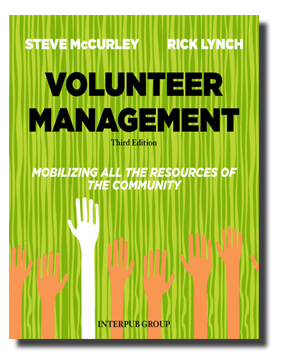 book about managing "a program"; instead it focuses on connecting volunteers with an organization and on those unique aspects of working effectively with staff who do not receive monetary compensation. It's designed to provide the new and the experienced volunteer program manager with both basic knowledge and state-of-the-art information, based on the more than 50 years of experience the authors have acquired in their work with thousands of volunteer programs.

Visit our online bookstore for a book excerpt, table of contents, and a list of the material included in this welcomed new edition - and to place an order! Note that Volunteer Management is available only as an e-book.

Further Resources
New to Working with Volunteers? Trying to Build Your Personal Library of Key Books?
We've selected a "starter set" of materials for you. See The Essentials section of our bookstore.
Book Excerpt

Volunteers from the Workplace


Excerpted from the brand new chapter, "Special Supervisory Situations," now included in the 3rd edition of Volunteer Management: Mobilizing All the Resources of the Community by Steve McCurley and Rick Lynch (INTERPUB GROUP, 2011).

The workplace is now becoming one of the great "social" institutions of our country, taking the place of clubs, the local tavern, and, for many, even religious institutions. Fortunately, many corporations and small businesses are now recognizing that, like other social institutions, they have an obligation to contribute to the well-being of the community. Increasingly, companies are actively supporting employees who volunteer...

Here are some tips about working with workplace volunteers:
Research the company before you approach them. Most companies will be more than happy to give you full written information about what they are willing to do and what processes they utilize. Reading this information will benefit both you and them, and greatly increase your chance of getting a favorable response.
Many companies now have designated people or departments that are in charge of helping nonprofits connect with potential employee volunteers. While it is useful to know and to utilize these connections, it should not be the only way to approach a company. If you have or can establish a personal contact with someone within the company (for example, in the PR department) there is nothing wrong with approaching them directly and asking for help.
Some corporate employees...may be looking at volunteering as a way to establishing credentials, making contacts, or practicing their management skills. Others may simply be attempting to do something "real" as an alternative to a boring job. Don't make assumptions - ask them what they would like to get out of volunteering and design a job that will give it to them...
Many companies will expect a return on their investment and this is particularly true of those in whom groups of employees volunteer for events. The corporation will provide extensive help, but they will also usually want some share of the good publicity generated by the event. Your job is to make sure that they get good press coverage and that they are protected from bad press coverage if something should go wrong.
If you are involving groups of corporate volunteers for event-based projects, try to design the work so that they are together as a team. A great way to provide recognition is to have a photographer take group pictures as a remembrance of their contribution.
_______

Permission is granted for organizations to reprint this excerpt. Reprints must provide full acknowledgment of the source, as cited here:

Excerpted from Volunteer Management: Mobilizing All the Resources of the Community, 3rd Edition by Steve McCurley and Rick Lynch (INTERPUB GROUP, 2011). Found in the Energize, Inc. Online Bookstore at http://www.energizeinc.com/store/5-224-E-2
Energize, Inc.
5450 Wissahickon Ave., C-13
Philadelphia, PA 19144
info@energizeinc.com
www.energizeinc.com

Energize empowers and inspires leaders of volunteers worldwide. Our specialty is creating and selecting the most relevant, innovative resources in volunteer management. We're advocates for the power of volunteers and for the recognition of the leaders who unleash it.
About Us