Recognition Idea
Client-Personalized Cards
During National Volunteer Appreciation Week, I created note cards with inspirational quotes and thoughts. Our clients used them to write "thank-yous" or other comments to their volunteer counselors. The counselors were deeply touched and surprised.
Submitted by Jeri Shumate
Share Your Recognition Idea
Volunteerism Quote
"Life is not about waiting for the storms to pass...it's about learning how to dance in the rain!"
- Vivian Greene
Submitted by Donna Boyland, CAVS
Share Your Quote
Energize Volunteer Management Update


February 2011

February Hot Topic: Real Professions Have Strong Associations

Around the world, too many professional associations of volunteer resource managers are struggling. The Web offers the only forum in which people committed to advancing the profession can find one another and voice their opinions. Whether we work on a world-wide level or via one community at a time, virtually or face-to-face, we will make progress only if we perceive associating as power.

Read this Month's Hot Topic
You can subscribe to the Hot Topic as a podcast or RSS text feed - or listen to the audio online.


Definitive "Textbook" on Volunteer Management Is Now Better!

Volunteer Management: Mobilizing All the Resources of the Community, 3rd Edition

Authors Steve McCurley and Rick Lynch have revised and updated their classic book, used in the volunteer management field for more than 10 years. With over 150 additional pages of new information, this third edition remains a thorough examination of every facet of a successful volunteer program, from planning and organizing through measuring effectiveness.

Visit our online bookstore for a book excerpt, table of contents, and a list of the material added to this welcomed new edition.


Special Commemorative Pin for IYV+10

We've been mentioning the International Year of Volunteers + 10 and how individual volunteer projects can tap into the celebration. VolunteerGifts.com (Creative Designs & Marketing, Inc.), well-known to American colleagues for its line of quality, affordable lapel pins, has designed a special commemorative pin for IYV+10.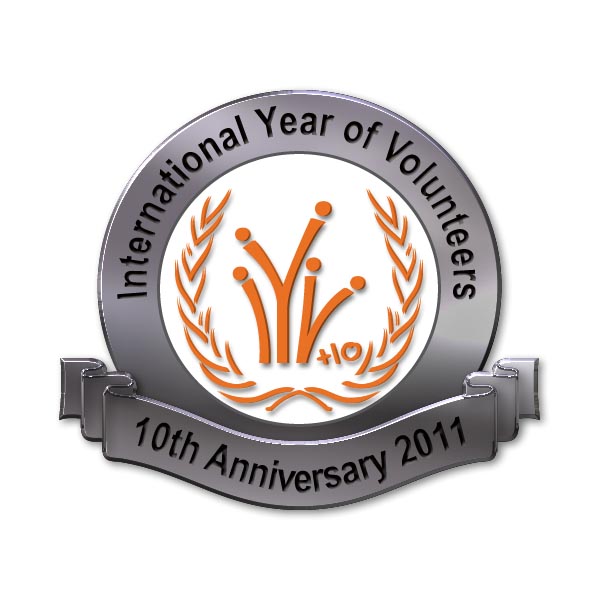 It's available as a generic pin, shown here, for under two dollars (U.S.) each. A personalized version, in which the words "10th Anniversary 2011" appear on the bottom of the circle and your agency name is placed on the banner underneath, can be ordered for about a dollar more.

Both pins are metal with raised lettering, enameled accents, and antiqued silver plating.

Something different for volunteer recognition in 2011.

Learn more at www.VolunteerGifts.com, or contact Rick Hyman at Rick@VolunteerGifts.com or 1-800-293-0032 (in North America).


New in Our Online Journal: e-Volunteerism

A new quarterly issue of e-Volunteerism, our international subscription journal, opened on January 15th: Volume XI, Issue 2. The following articles are already available to subscribers:
Four more articles will be posted over the quarter and announced in this Update.

Subscribe for a full year or for 48-hour access.


by volunteers?

Tapping Experience
One approach is to identify current volunteers - or exceptional volunteers no longer active but still in the area - who demonstrate strong skills in the work they do. Are they role models for how you want all volunteers to perform? Shine the limelight on them and teach others by their example.

Of course, not every excellent volunteer is necessarily able to explain their activities or is automatically a great speaker. If they are, wonderful! Help them to create a "master class" for other volunteers or to focus on one to three recommendations they want to share.

If you are unsure of the skilled volunteer's training ability, invite her or him to do only a specific segment of a session facilitated by someone else who can get the participants engaged. Perhaps videotape the volunteer while doing the service you most like, show the video to the group, and then have a live question and answer period about it. Or conduct the session as an informal interview, with a moderator drawing out stories and tips from the expert volunteer.

Discovering New Talents
Even more fun is learning what else current volunteers (and paid staff, for that matter) are skilled at doing, whether or not they apply those skills in their service with you now. You may be amazed at the hidden talents of people you know well. Once a year or so, do a quick survey. It might work best if you give a starter list of subjects/skills you would most like to uncover for everyone's professional development, of course leaving room for someone to list something special to them. For example, think of the kind of in-service programs you might create if you find volunteers with expertise in things like:
Using social networking sites, such as Facebook, and how that might relate to helping your organization in its work
How other local agencies do their work (because the person worked there or was a client there)
Keeping up with teenager jargon, especially texting language
Where to buy inexpensive supplies for craft projects done with clients or discounts on local recreation activities a mentor might do with a young person
Foreign languages spoken by your clients - to teach useful, common phrases
Making short videos that effectively convey a message
Sometimes you might want to find a comedian or ventriloquist simply to give everyone a chance to laugh together. Or, if you are all coping with the effects of a crisis, disaster, or death of a key person, it might be very helpful to know who does counseling, motivational speaking, or even writes poetry.

One caution: an obvious benefit of seeking out the talents of volunteers is recognition. It's very affirming for the organization to show interest in individual volunteers and extend opportunities to share what they know. Therefore, be alert to those people who identified an area of expertise you cannot use or don't need at the moment. Acknowledge them appreciatively and explain why they have not been asked to do a presentation. In some cases, you might ask if you can "offer them" as a speaker to another organization that would value that information and they can speak as an "ambassador" of your organization. Either way, you will be recognizing them.

Outside-the-Box Formats
The idea here is to create something of an in-house "speakers bureau" with volunteers you can call upon as needed. But you do not have to wait for a group meeting. Consider creating a library of videos that you can recommend to anyone who has a question on a topic, or can be used as a self-teaching series, or might even become YouTube postings to promote your organization.

Ask the volunteers with the skills you want to capture and transmit to others what ideas they have for how to be of help. Maybe a conference call will work well. Online tools such as a discussion forum or even a live chat might be viable options.


About Us
Energize empowers and inspires leaders of volunteers worldwide. Our specialty is creating and selecting the most relevant, innovative resources in volunteer management. We're advocates for the power of volunteers and for the recognition of the leaders who unleash it.

Energize, Inc.
5450 Wissahickon Ave. C-13
Philadelphia PA 19144 USA
Phone: 215-438-8342
Fax: 215-438-0434
info@energizeinc.com

Pass It On!
Pass on this update to interested news groups and others who work with volunteers.


Material may be re-posted or printed without additional permission, provided credit is given to Energize, Inc., and our Web site address is included: http://www.energizeinc.com/.