Connect with Energize



Book Blog
Visit the Energize Book Blog to get the latest info on volunteer management resources.
Current Post: Give the spirit of giving this holiday season
Everyone Ready

® Online Training
Handling Challenging Behavior by Volunteers
(Online Seminar)
Starting January 17, 2011

Dealing with difficult volunteers is not an easy or pleasant task, and is one that is often uncomfortable for those who believe that tolerating poor behavior is necessary when it comes to volunteers. This seminar will stretch your thinking and give you practical suggestions. If you've encountered challenging behavior from volunteers, don't miss this opportunity to take a closer look at methods and examples for improving the situation.

Access this self-instruction guide

plus other topics

and benefits by signing up for our $99 trial run.

Volunteer recognition, fundraising, and other holiday events are either underway or near. Here's a last-minute opportunity check your to-do list and check it twice. The resources below offer advice on including volunteers in end-of-year fundraising events, recognition ideas, and managing risk to keep special events as risk free as possible.

Featured Resource

Better Safe... Risk Management in Volunteer Programs and Community Service
by Linda L. Graff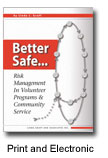 Better Safe gives a broad overview of all the components of good risk management, with special emphasis on volunteer issues. Chapter 7 specifically covers unique risks associated with volunteers at special events and short-term positions, which are common this time of year. The "Risk Identification Checklist" in chapter 5 is a must-have.

Linda provides even more tools required to systematically examine and plan improvement of current safety practices -- tips, checklists, sample forms, and hundreds of time-saving, common sense, affordable strategies.

Other Resources

Book Excerpt

Eliminate the Risk


Excerpted from chapter 5 "Risk Management in Action," in Better Safe: Risk Management in Volunteer Programs & Community Service, by Linda L. Graff, (Dundas, ON: Linda Graff and Associates Inc., 2003).

This approach to risk control is about prevention, and prevention ought to be the central aim of every risk management program.

There are many changes that can be made to decrease the likelihood that something will go wrong. Use the "Four Ps" to guide your exploration of what might be done to control each of the risks on your Risk Management Action List.

The Four Ps of Risk Elimination

POSITION: Are there changes to the volunteer position that could be made to prevent harm?

PERSON: Are there changes related to the person in the position or to the personnel complement of the program that could prevent harm?
PHYSICAL ENVIRONMENT: Are there alterations to the environment in which the position takes place that might prevent harm?
PERFORMANCE MANAGEMENT: Is it possible to supervise, support, or work more closely with the volunteer in such a way as to enhance prevention?

________

Permission is granted for organizations to reprint this excerpt. Reprints must provide full acknowledgment of the source, as cited here:

Excerpted from chapter 5 "Risk Management in Action," in Better Safe: Risk Management in Volunteer Programs & Community Service, by Linda L. Graff. Found in the Energize, Inc. Online Bookstore at http://www.energizeinc.com/store/1-211-E-1

Energize, Inc.
5450 Wissahickon Ave., C-13
Philadelphia, PA 19144
info@energizeinc.com
www.energizeinc.com

Energize empowers and inspires leaders of volunteers worldwide. Our specialty is creating and selecting the most relevant, innovative resources in volunteer management. We're advocates for the power of volunteers and for the recognition of the leaders who unleash it.
About Us