Recognition Idea
We have a volunteer mentoring program for kids ages 16-21. At the end of the 10-week program, we present a small token of our appreciation to the volunteers: large plastic ears with an attached note saying "Thanks for listening!!!" They love it.
- Submitted by Patti Cushingberry
Share Your Recognition Idea
Volunteerism Quote
"When kids volunteer it tells others that they don't have to be perfect or famous
or even grown up to make a difference."

- Kalynn Dobos, age 7

Submitted by Sheralyn Dobos
Share Your Quote
Energize Volunteer Management Update


October 2010

October Hot Topic:
Good Intentions Going Nowhere - Again

Just because a corporation dangles money in front of us, do we have to jump? American Express and NBC-TV, in their new call for volunteering to help America's schools, are only the most visible, recent players in the competition to outdo others in generating superficial activity and buzz in the name of mobilizing service. In the process, such campaigns are misdirecting well-meaning volunteers and only adding more work for agencies, diverting effort from what's genuinely important. What do you think?

Read this Month's Hot Topic
You can subscribe to the Hot Topic as a podcast or RSS text feed - or listen to the audio online.


Now Available!
Toolkit for Busy Execs by Betty Stallings
Leading the Way to Successful Volunteer Involvement: Practical Tools for Busy Executives by Betty B. Stallings with Susan J. Ellis is now available! This book gives busy executives easy-to-use tools for developing an organizational culture in which volunteers are key team members in accomplishing goals and extending services.

The practical checklists, worksheets, idea stimulators, real-life examples, self-inquiry assessments and more, are designed to be used immediately to guide planning and decision-making. They cover key aspects for which it is crucial for executives to take a lead role when involving volunteers such as fund development, policy development, and evaluation. Order your copy today.

Or, save money and get the "Executive Set" - two books at one special price!

Leading the Way enables readers to implement, quickly and effectively, the key concepts in Susan Ellis' classic, From the Top Down: The Executive Role in Successful Volunteer Involvement - the 3rd edition of which was released earlier this year. In fact, each book refers to the contents of the other, making it easy to link the full exploration of a topic in From the Top Down to the tools supporting it in Leading the Way. Order them as a set and save today.


e-Volunteerism Gets Total Make Over for Its Second Decade

On October 15th, e-Volunteerism reaches the milestone of ten years of publication and begins Volume XI. In 2000, it was almost radical to commit to a professional journal published solely in electronic format. Today, the format may seem commonplace, but e-Volunteerism keeps looking forward. Over 350 articles from contributors on every continent provide a wealth of resources to subscribers (and one of the joys of electronic publishing is that the full archive remains accessible all the time).


But the look of the journal was beginning to feel "old," in cyberspace fashion terms. So, as a birthday present, we have totally redesigned the site. You'll still find your favorite features, but with a more welcoming, up-to-date look. The changes are more than cosmetic, too. As of the re-launch, readers will be able to:
Search the full text of every article in the current issue and the archive by keyword as well as by title, author, and subject.
Enjoy more illustrations with every article and even more audio features.
Comment or respond to the articles more easily.
Participate in occasional reader polls.
Have the option to change the size of the text on the screen and to select a "printer-friendly" format for any article.
...and more!
Buying Individual Articles
For those of you who have been purchasing individual articles in the Energize Online Bookstore for US$3 each, there will be a change. As of October 15th we will no longer sell individual articles as PDFs. Instead, you will find a new 48-hour access subscription option, allowing you to read as many articles you wish in a two-day period for only $10 each time. It will still be most cost-effective for you to subscribe for a full year, but this 48-hour access is an alternative way to serve colleagues wishing to obtain specific articles only.
Look for Special Offer to Celebrate International Volunteer Managers Day - November 5th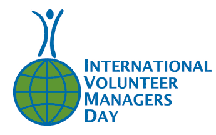 International Volunteer Managers Day (IVMDay), is celebrated annually on the 5th of November. Last month we highlighted some creative options for observing this event in your community - see the full list of ideas on the IVMDay Web site. Get the official logo (shown here) and find ways to display it. Start some discussions about leadership of volunteers! You can also exchange ideas with colleagues on the IVMDay Facebook page.

Energize will commemorate the day with a special gift and discount offers - all described in next month's Update. Stay tuned!


Susan's Tip of the Month: Special Considerations in Engaging Students as Volunteers

Every volunteer program welcomes students of all ages as volunteers and therefore we know that all students are not alike in their expectations and needs. Apart from the obvious differences in ages ranging from primary school through university graduate school, we can have several categories of students:

Assigned by a teacher to do some sort of fieldwork to apply classroom learning to the real world. This type of curriculum-based volunteering is most often called "service-learning" as an activity and, especially at the university and graduate levels, often framed as an "internship."
Participating in volunteering through an extra-curricular activity or group, such as a youth club, a fraternity or sorority, or a group from a faith community.
Independent volunteering simply because the young person is interested in the cause or the organization, often connected to career exploration.
Meeting a requirement of graduation, where a certain number of hours of service in a community agency is mandated.
The important thing to remember is that a student might move from one category to another at different times of the school year. There's lots of evidence that if a student has a great school-based volunteering experience, she or he will remain with your organization independently for a long time after the official requirement ends.

The focus of this monthly tip is considering some of the questions that need to be clarified whenever a student applies to become a volunteer - questions that are not applicable to adults. See if the following is helpful as a checklist to cover during a screening interview.

Are you seeking volunteer work solely on your own or as part of an academic or other requirement?
Is there a minimum number of hours of service or other responsibility that you must complete? Are you prepared to give more time, if necessary? When is your official placement over?
To whom must you report your experiences, submit a paper, etc.? When or how often?

Will this faculty member or group leader be visiting you on site? By appointment or unannounced?
What role is the organization expected to play in working with this supervisor or advisor?
Will we be asked to evaluate or grade you at the end of the term?

Are you hoping to do or learn something through your volunteering here that will allow you to explore a possible future career?
If fulfilling a requirement: Why are you choosing to complete your required service here? How do you feel about this mandate? Are you prepared to be enthusiastic and committed to providing genuine service here, regardless of why you originally became a "volunteer"?
If the student is under age 18: Do your parents know that you are applying to be a volunteer? Do we need to get them to sign a parental permission form?
Is the address on the application form your permanent address or where you live during the school year? Please provide us with both.
Will you need to change your volunteer work schedule during exams or school breaks?
None of these interview questions should come as a surprise to Update readers, but each represents an important discussion topic. Getting clear answers with specific details will lead to greater success for both the student and the agency.


About Us
Energize empowers and inspires leaders of volunteers worldwide. Our specialty is creating and selecting the most relevant, innovative resources in volunteer management. We're advocates for the power of volunteers and for the recognition of the leaders who unleash it.

Energize, Inc.
5450 Wissahickon Ave. C-13
Philadelphia PA 19144 USA
Phone: 215-438-8342
Fax: 215-438-0434
info@energizeinc.com

Pass It On!
Pass on this update to interested news groups and others who work with volunteers.


Material may be re-posted or printed without additional permission, provided credit is given to Energize, Inc., and our Web site address is included: http://www.energizeinc.com/.