Recognition Idea

When volunteers are discouraged, hand out sticky notes, with "Stick with it!" written on top.
- Submitted by Sara Ervin
Share Your Recognition Idea
Volunteerism Quote
"A civilization flourishes when people plant trees under which they will never sit."

- Greek Proverb
Share Your Quote
Energize Volunteer Management Update
September 2010

September Hot Topic:
Online Information Overload - and How to Cope

Today the most important tool for life-long learning is the Internet and, in only two decades, we've seen the evolution of ever more powerful electronic tools. The trouble is that we are drowning in data. What does this mean for our own professional development and for volunteer involvement?

Read this Month's Hot Topic
You can subscribe to the Hot Topic as a podcast or RSS text feed - or listen to the audio online.


New! Toolkit for Busy Execs by Betty Stallings


The practical checklists, worksheets, idea stimulators, real-life examples, self-inquiry assessments and more, are designed to be used immediately to guide planning and decision-making in key aspects that are crucial for executives to take a lead role when involving volunteers such as fund development, planning and policy development, and evaluation.



Leading the Way

enables readers to implement, quickly and effectively, the key concepts from the newly revised 3rd edition of From the Top Down: The Executive Role in Successful Volunteer Involvement.



Leading the Way

will be available by the end of September. Pre-order today and save 20% off!


Plan Ahead for International Volunteer Managers Day - November 5th

Update readers already know that behind the legions of volunteers who serve our communities

...lies an equally dedicated group of individuals and agencies who are responsible for the coordination, support, training, administration and recruitment of the world's volunteers - skilled professionals who are adept at taking singular passion and turning it into effective action.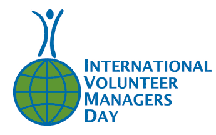 And that is the premise behind International Volunteer Managers Day (IVMDay), celebrated annual on the 5th of November - only two months away. Andy Fryar, chair of the IVMDay International Planning Committee, writes: "We have been thrilled with the amount of activity which is already being organically planned right around the world by volunteer management groups - but we are always keen to continue to spread the word."

The IVMDay Web site explains the history and purpose of the day, reports on events that took place last year on 5 November, and even provides the official logo (shown here) in a wide range of downloadable formats. There is a great list of ideas for how to celebrate IVMD, too. Here are four from the list:


Coincide annual conferences to fall on IVMDay and then make it a feature of the program.
Have the President of your VM network/DOVIA write a letter to the line manager/CEO of each member telling them how important the work the VPM does in their agency is.
Remember to send a thank-you message to the extended group of staff in your agency who support the work of volunteers (but who may not be recognized as a VPM). It's a great way to gain support and educate.
Send an e-card to your peers and colleagues.
You can also exchange ideas with colleagues on the IVMDay Facebook page.

For more information, please contact andy@ozvpm.com.


Susan's Tip of the Month: Space Planning to Support Volunteers

If work space is at a premium for employees, don't be surprised if there's a problem accommodating volunteers, too. Saying "we welcome volunteers" is contradicted if the person has to hunt around for a work surface and chair or beg for someplace to store materials in-between shifts. Assess available furniture and equipment in terms of the impact of more people (volunteers) coming into the facility at various hours.

Help staff in each unit to think through where volunteers can sit at a clear surface and what office equipment they can use. Where can messages be left for the volunteer? Other volunteer work space needs include:

Secure storage space for volunteers' coats and other personal belongings (and uniforms, if applicable)

Places for volunteers to store work undisturbed from one shift to the next
Volunteers who work one-on-one with members of the public or clients may also need private talking areas
Group work space for meetings, training sessions, or special projects



Get Creative


It is common to budget for things like a new desk or extra telephone for each new employee hired. Yet it is far from common to routinely add such basic work tools for volunteers, generally under the assumption that very part-time workers have fewer needs. Not necessarily. Placing a few extra desks in various offices might prove useful for employees visiting from other sites or occasional consultants, as well as for volunteers working a few hours at a time. Keep the desks stocked with basic supplies, as well as with instruction sheets for using the phone system or the copying machine, and they will be a welcoming "home base" to assist volunteer productivity.

Having unassigned work stations available is also a way to give volunteers who usually work off-site, independently in the field, or online a place to sit if they come on site once in a while. This is the nonprofit equivalent of corporate "hotelling" or "hot desking" practices, providing unassigned seating in an office environment for a mobile workforce.



Sharing Staff Space


If your organization has a cafeteria or lunchroom, a staff lounge, or even a coffee area, it will be necessary to establish policies on whether and how such space will be shared between employees and volunteers. Do not leave this to chance. Without clear guidelines, you run the risk of inadvertent and uncomfortable confrontation. Keep in mind that you may have many more volunteers than employees on site at some times, and that some volunteers will be teenagers or seniors or others unlike the paid staff.

Determine the answers to these questions - and think through the implications and alternatives of each decision:

Are all volunteers to have full access to all public and private space in the building (except for personal offices)? If not all volunteers, which ones? As determined by whom?
If food or beverages are available, does everyone pay the same for them? If not, what are the criteria for paying more or less?
Is there some reason why employees might want occasional privacy? Why? Where? Under what circumstances? How will this be explained to volunteers consistently? (Now ask the same questions for volunteers.)
Should there be different rules for those volunteers who give many hours on a consistent basis to the organization (versus those who come in once a quarter)?
These kinds of details make work go smoothly for everyone and integrate volunteers into the organizational environment in a welcoming way.


About Us
Energize empowers and inspires leaders of volunteers worldwide. Our specialty is creating and selecting the most relevant, innovative resources in volunteer management. We're advocates for the power of volunteers and for the recognition of the leaders who unleash it.

Energize, Inc.
5450 Wissahickon Ave. C-13
Philadelphia PA 19144
Phone: 215-438-8342
Fax: 215-438-0434
info@energizeinc.com
Pass It On!
Pass on this update to interested news groups and others who work with volunteers.


Material may be re-posted or printed without additional permission, provided credit is given to Energize, Inc., and our Web site address is included: http://www.energizeinc.com/.