Receive the
Book Buzz

Connect with Energize



Book Blog
Visit the Energize Book Blog to get the latest info on volunteer management resources.
Current Post: A review of and excerpt from
The Volunteer Book: A Guide for Churches and Nonprofits
As volunteer managers, we're always thinking about recruiting and retaining volunteers. But what about those times when we need to "let a volunteer go?" Are we prepared to help volunteers who are "aging in place" leave their positions gracefully and feeling appreciated? Do we have the skills to deal with - and even dismiss - a problem volunteer before their behavior starts having wide-ranging negative effects? These resources can help you successfully navigate these difficult situations.

Featured Resources

e-Volunteerism

Articles: Knowing When to Stop
Part 1: How to Develop an Organizational Process to Help Volunteers Retire
Part 2: A Personal Account of a Manager's Efforts to Help Volunteers
How should you deal with an aging volunteer whose performance has begun to fall short of expectations? These two

e-Volunteerism

articles are based on the experiences of the authors in a major Israeli organization. Part 1 outlines an organizational process to help volunteers retire, particularly when the abilities of long-time volunteers have substantially deteriorated. Part 2 offers a personal account of a manager's efforts to help volunteers retire with grace and support. e-Volunteerism subscribers have access to the full text of Part 1 and Part 2; non-subcribers can purchase each article for only $3.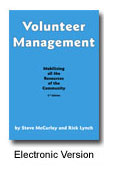 Volunteer Management: Mobilizing All the Resources of the Community, 2nd Edition
Chapter 11, "Keeping Volunteers on Track," offers an in-depth analysis of volunteer motivation, preventing performance problems, and developing a process for, when necessary, letting volunteers go.




What We Learned (the Hard Way) about Supervising Volunteers
Chapter 10, "Solving Performance Problems," offers real-life-tested advice from colleagues on how to diagnose the causes of friction, recognize the symptoms of burnout, and choose whether to "terminate or tolerate" volunteers with troubling behavior.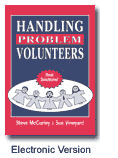 Handling Problem Volunteers
This book will help you to assess the root causes of volunteer performance problems. Examples range from "Annoying Volunteers" with poor interpersonal skills to "Dangerously Dysfunctional" ones, posing risk concerns. Sample volunteer policies directly related to the handling of problematic volunteer situations are also included.

Book Excerpt

Establishing a Supportive Release Process

Excerpted from Chapter 11 of Volunteer Management: Mobilizing All the Resources of the Community, 2nd edition by Steve McCurley and Rick Lynch.

One of the recurrent nightmares of any Volunteer Program Manager is encountering a situation where they may have to consider "firing" a volunteer. For many, this prospect creates severe stress, both over the appropriateness of the action and over fear of possible legal and political consequences. Cook, in a survey of Foster Grandparents Programs in 23 communities, found that 82% of responding Volunteer Program Managers rated the decision to terminate a volunteer as being a "difficult or very difficult issue" for them. More than 60% of the Volunteer Program Managers reported delaying dealing with the problem and over 73% of managers did not have a termination plan or policy to guide them in the decision.

Consciously or not, many volunteer program managers are subject to what McCurley and Vineyard refer to as "Myths about Problem Volunteers:"

If I ignore the problem it will go away.
No one else notices.
I can fix a dysfunctional person.
There's good in everyone...we just need to give them time to show it.
A confrontation will make things worse. They might get mad.
A confrontation will result in the volunteer leaving the program and, if they do, the program will fall apart.
If I'm a truly caring person, I can handle all the people who are problems.
Everyone wants to be fixed.
Lee and Catagnus describe the multiple dilemmas facing the Volunteer Program Manager in a
termination decision:



"Failing to act affects your reputation and the reputation of volunteers, and may put your organization at risk. Terminating the volunteer may also affect your reputation and may result in a bitter ending for a volunteer whose affiliation was valued by the organization and was, for the volunteer, a source of great pride. There are no easy answers..."


This reluctance probably occurs because most Volunteer Program Managers are very people-oriented and respect the willingness of others to help. There is particular difficulty in dealing with situations in which the decision to terminate was not because of any particular "fault" on the part of the volunteer, but is instead because of ill health or a change in program needs. Where volunteering is viewed as a benefit to the volunteer (such as in some volunteer programs
for retired citizens), people have difficulty with termination because they mentally classify volunteers as "clients," and it is difficult to justify terminating a client.

One important thing to remember is that the decision to terminate the relationship between an agency and a volunteer is not a "judgment" of the volunteer or their character or any other aspect of their being. It is simply recognition that in the immediate circumstances the relationship has reached a point where it is not productive. Just as the volunteer may reach this determination and resign, so the agency can reach a similar determination, and ask the volunteer to leave. The underlying cause of the situation may, in truth, be the fault of the agency or of the volunteer. Often, however, it is the "fault" of neither - things just didn't work out. Not all volunteers can fit into all settings. Not all agencies can prove productive for all volunteers.

________

Permission is granted for organizations to reprint this excerpt. Reprints must provide full acknowledgment of the source, as cited here:

Excerpted from

Volunteer Management: Mobilizing All the Resources of the Community,

Chapter 11 by Steve McCurley and Rick Lynch, © 2006. Found in the Energize, Inc. Online Bookstore at http://www.energizeinc.com/store/5-224-E-1

Energize, Inc.
5450 Wissahickon Ave., C-13
Philadelphia, PA 19144
info@energizeinc.com
www.energizeinc.com

Energize empowers and inspires leaders of volunteers worldwide. Our specialty is creating and selecting the most relevant, innovative resources in volunteer management. We're advocates for the power of volunteers and for the recognition of the leaders who unleash it.
About Us