Recognition Idea

Thank You Scrolls
Our agency's gift to the volunteers is a letter, creatively arranged, having various quotes from staff and our executive director about the value of volunteers. We'll scroll these and tie them with a ribbon to make them look decorative. A wonderful keepsake to let volunteers know that they're valued.

-
Submitted by Susan Lebovitz
Share Your Recognition Idea
Volunteerism Quote
"Plant flowers in others' gardens and your life becomes a bouquet!"
- Author Unknown; submitted by Lisa Letto, Nutrition Resource and Volunteer Centre, University of Saskatchewan


Share Your Quote
Energize Volunteer Management Update
April 2010


April Hot Topic: "You Get What You Pay For"

Society holds contradictory attitudes about money that affect volunteering in many ways. Susan explores some of the most common notions, from "if it's worth doing, it's worth paying for it" to "you couldn't pay someone to do this." How can we believe

both

that money equals worth

and

that money in some ways taints the receiver? Share how such preconceptions affect your work and how you combat them.

Read this Month's Hot Topic
You can subscribe to the Hot Topic as a podcast or RSS text feed -- or listen to the audio online.



Energize Publishes Its First Kindle Book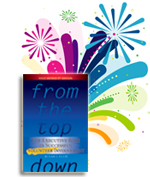 Once again, Energize stays on the cutting edge and publishes our first Kindle book. We announced last week that Susan Ellis's classic book,

From the Top Down: The Executive Role in Successful Volunteer Involvement

, has been fully updated and the 3rd edition is now available in paperback and e-book versions. So, if you've succumbed to the Kindle hoopla and have a device in your bag or briefcase, download From the Top Down (Kindle Edition) from Amazon today.

Don't have a Kindle but would love an electronic edition of

From the Top Down?

No worries. We offer a straightforward PDF edition of the book in the Energize Online Bookstore. Read it on your PC or your Blackberry!



Are You Ready for

Everyone Ready

? Learn More in Free Conference Calls

Are you up-to-speed on what's new in the

Everyone Ready

® online training program? How it can help you -- and maybe all the people in your organization -- sharpen volunteer management skills? Do you know your enrollment options?

Increasing volunteer participation is getting a lot of attention in many countries right now, and more organizations are trying to get up to speed with their volunteer management practices. Maybe the time is right for you to become part of the

Everyone Ready

learning community -- whether by recommending membership to your entire organization or choosing individual enrollment.

We offer a new topic every month with high-quality online trainings by the top trainers in our field - you can access the resources at your convenience, as often as you like.

To help you understand all the features of this special program, we invite you to sign up for one of the

free

conference calls we will schedule during the next month. To help us select days and times, please click here to express your interest in being part of a no-obligation call and your availability.



To our international colleagues

:

Everyone Ready

is ideal for anyone, in any country, willing to learn about volunteer management in the English language. We would be happy to talk with you, too, using Skype technology. So please also complete the sign-up form.



Susan's Tip of the Month: Practicing What We Preach

One of the enduring mysteries of the volunteer management field is how often those who lead volunteer efforts do not build a team of volunteers to help them in their important work. Here we are, trying to get our paid staff colleagues to develop creative assignments for the right volunteers -- and being frustrated when we encounter resistance to this idea -- while we miss the opportunity to be role models in demonstrating how valuable volunteers are to building the organization's volunteer involvement strategy! Not to mention that we could be getting some great, talented, and much-needed help.

Ask yourself some revealing questions:

I see volunteers as:

My staff
My responsibility

My charges

Allies

Partners
My bosses

Helpers
Advocates

Consultants

Other ________________________
How many volunteers now work specifically with me in coordinating volunteer involvement and do not hold any other assignment in the agency?

Do I have a functioning advisory committee or management team to give me solid input and share the decision-making about volunteer involvement?
I strategically involve volunteers in the following activities (always, often, once in a while, never, or never thought to do it):
Designing new roles/positions for volunteers
Strategizing and carrying out recruitment campaigns for new volunteers
Interviewing prospective new volunteers
Orienting and training other volunteers
Evaluating the program overall
Assessing the performance of volunteers themselves
Going to meetings (with or without me) with executives or the board to report the volunteer perspective on a topic being considered
Educating paid staff about working with volunteers
Representing me on online discussion forums
Are you satisfied with your responses? If so, that's great! But if not, can you identify what has been holding you back from sharing your work with volunteers? Often the reasons will give you important insight into why other paid staff are reluctant to take a chance on donated talents. But

you

have no real excuse!

The idea is not to divert people who are interested in other volunteer assignments -- you need to intentionally recruit volunteers for whom working with you will be genuinely appealing. However, that doesn't mean you can't tap current volunteers in some ways:
Do a skills and interests inventory - who has additional talents you have not yet tapped?
Offer a promotion into agency-wide volunteer management (but be sure this is what the volunteer really wants)
Offer a leave of absence to work on a special project for you
Find cyber deputies, especially to handle social media for you
Keep in mind that, if you like your job, so will other people! You can recruit:

Students and career changers who want to explore volunteer management. In fact, consider creating a formal

internship

which allows someone to learn about the profession. You can even post an available internship for free in the special section of the Energize Job Bank.
People with demonstrated skill in coordinating volunteers, even if they do not realize they are "in" the volunteer management field, including:

Officers of all-volunteer associations
Leaders of political campaigns and advocacy efforts
Alumni coordinators
Special events coordinators
It is your goal to run the best possible volunteer effort for your organization to support its mission and expand available resources -- this is a vital role with which many people will be happy to help, if you

ask

.


About Us
Energize empowers and inspires leaders of volunteers worldwide. Our specialty is creating and selecting the most relevant, innovative resources in volunteer management. We're advocates for the power of volunteers and for the recognition of the leaders who unleash it.

Energize, Inc.
5450 Wissahickon Ave. C-13
Philadelphia PA 19144
Phone: 215-438-8342
Fax: 215-438-0434
info@energizeinc.com
Pass It On!
Pass on this update to interested news groups and others who work with volunteers.


Material may be re-posted or printed without additional permission, provided credit is given to Energize, Inc., and our Web site address is included: http://www.energizeinc.com/.