Engaging Volunteers Successfully

Still

Starts with Top Execs




From the Top Down: The Executive Role in Successful Volunteer Involvement

has been fully revised and updated in its 3rd edition! This bestseller from Susan J. Ellis is still the only book to address the role of the senior decision maker in developing vision and strategy for high-quality volunteer engagement. (Give it to your boss - but read it yourself, too!)

Build your organization's capacity with meaningful volunteer participation
Create a culture where volunteers are thought of as partners at all levels of the organization
Advocate for full managerial and financial support of volunteers
Order the 2010 edition NOW!

About the Book

From the Top Down
The Executive Role in Successful Volunteer Involvement, 3rd edition
By Susan J. Ellis



This book helps CEOs and senior-level leaders:



Develop a strategic vision for volunteer involvement
Create policies and set expectations
Budget and find funds to support volunteers
Hire the most qualified person to lead volunteer engagement
Assure employee-volunteer teamwork while minimizing tension
Assess the impact of volunteer contributions
Deal with legal, risk management, and insurance issues
What's New or Expanded in the 2010 Edition?
Managing volunteer involvement during an economic downturn
Drawing closer connections between money donors and "time donors"

Dealing with resistance from middle managers
The evolving vocabulary of volunteerism
The difference between wage equivalency and the

true value

of volunteers to an organization
Suggested ways volunteers can work directly with the executive

Read an Excerpt

More Details

Order the book NOW!
paperback $24.95 USD
e-book $18.00 USD

Kindle edition also available!


Coming Soon

A Companion Toolkit for Busy Execs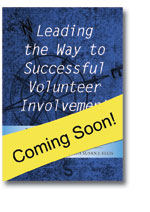 Put

From the Top Down

principles to work with

Leading the Way to

Successful

Volunteer Involvement: Practical Tools for Busy Executives

. Written by Betty B. Stallings with Susan J. Ellis, this is a companion toolkit of examples, worksheets, checklists, and more to guide decision makers in implementing what they learn in

From the Top Down

. Due out in June 2010. Learn more about Leading the Way.