February 2010
Highlight the History of Volunteering

Your volunteers know that you appreciate them. But do they know that their efforts are
making history
? As Susan Ellis and Katherine Campbell write in
By the People: A History of Americans as Volunteers
, "...the cumulative effect of many such voluntary actions, occurring as they do in every part of the country and in every decade, makes it apparent that our history has been shaped by everyone."
Showing the volunteers you lead how their efforts fit into the larger picture of citizen involvement is a unique and meaningful way to recognize their work - perfect for the National Volunteer Week celebrations coming up in the US and Canada in April.
And while
By the People
is United States-focused, many of the campaigns and movements it discusses have clear counterparts in other countries. A few can be found in the
History section
of our online library. If you know of any other resources on volunteering history, please let us know so we can post that information for everyone!
Special Announcement:


New Edition of

From the Top Down

is coming!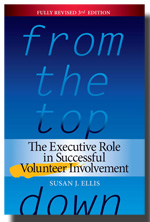 The third and fully revised edition of

From the Top Down: The Executive Role in Successful Volunteer Involvement

has just been sent to the printer! We are ecstatic to have reached this milestone and can't wait to see the revised book in our hands.
You'll be able to the see the book for yourselves in March, so keep an eye out for the March Book Buzz when we will announce its availability.
Rob Jackson of Volunteering England says, "I read this book in the early days of my career in
volunteering and it remains with me to this day one of the 'must read' books for
anyone leading and managing volunteers and volunteer programmes."
Receive the
Book Buzz


Learn about the History of Volunteering
By the People: A History of Americans as Volunteers
Revised and updated for the new century, this book remains the only presentation of the full scope and depth of volunteer activity throughout three centuries of American history. Discover the incredible impact volunteers have had on American society in a wide array of fields, and learn about the volunteer tradition of every segment of our population, regardless of age, gender, race, religion, or ethnicity.

Voices from the Past articles from

e-Volunteerism


This regular feature in

e-Volunteerism: The Online Journal of the Volunteer Community

explores volunteerism's past through interviews, re-publication of long out-of-print materials, and historical overviews of volunteers' roles, always attempting to be international. Non-subcribers to the journal can purchase single articles for only $3. Here's just a sampling of the complete list:


Book Excerpt

Volunteers Shape American History

Excerpt from By The People: A History of Americans as Volunteers by Susan J. Ellis and Katherine H. Campbell, © 2005, Energize, Inc.

What makes individuals worthy of historical note? Traditionally, it has been their political power; their literary, artistic, or scientific genius; their willingness to take unusual risks (which are usually only remembered if successful); or their creation of large and lasting enterprises. Fame comes from impact.

Our position is that the individual and combined volunteer actions of thousands of unnamed citizens have had an impact on American society. These actions were of citizens who became involved, not because of coercion or profit, but because they recognized a need and were willing to take responsibility for meeting that need. But because they assumed this responsibility in addition to their everyday duties, and because they did not seek monetary reward, the volunteers themselves may have underestimated the impact of their work. Traditional historians, too, have overlooked the magnitude and diversity of volunteer activities. However, the cumulative effect of many such voluntary actions, occurring as they do in every part of the country and in every decade, makes it apparent that our history has been shaped by everyone...

Just about everyone, at one time or another, is a volunteer. Volunteering is so pervasive in the United States that it can be observed daily in almost every aspect of life. The problem is that volunteering, because it is so pervasive, often goes unrecognized. For instance:
Who donates blood?
Who runs the parent-teacher organizations in schools?
Who goes caroling in hospitals?
Who serves on school boards?
Who works to preserve historic landmarks?
Who appears on fundraising telethons?
Who passes out political campaign leaflets?
Who uses ham radios to relay calls for help?
Who leads 4-H Clubs? Scout troops? Youth sports teams?
Who supports community orchestras?
Who advocates for less violence on television?
Volunteerism is crucial to a functioning democracy because it mobilizes enormous energy. The more citizens involve themselves as volunteers in all areas, the closer they come to making the ideals of democracy real. Eleanor Roosevelt expressed this concept by identifying two sacrifices necessary to maintain a democracy: first, to give up selfishness, and second, "to give to our government an interested and intelligent participation." Volunteerism is both an expression of patriotism in a pure sense and the means by which a democratic society remains "by the people."



Permission is granted for organizations to reprint this excerpt. Reprints must provide full acknowledgment of the source, as cited here:


Excerpt from

By the People: A History of Americans as Volunteers

by Susan J. Ellis and Katherine H. Campbell, © 2005, Energize, Inc. Available in the Energize Online Bookstore at http://www.energizeinc.com/store/1-215-E-1

Energize, Inc.
5450 Wissahickon Ave., C-13
Philadelphia, PA 19144
info@energizeinc.com
www.energizeinc.com

Energize empowers and inspires leaders of volunteers worldwide. Our specialty is creating and selecting the most relevant, innovative resources in volunteer management. We're advocates for the power of volunteers and for the recognition of the leaders who unleash it.
About Us