Recognition Idea

Volunteers are Gold
For National Volunteer Week, we are having an Olympic theme - "Volunteers Are Our Gold!"
We are greeting each volunteer at the event by hanging gold medals around their necks. We are decorating in red, white, and blue and having the Olympic ring display at the front of the room. Lastly, we are having a Power Point presentation of events and volunteer pictures from the last year with a gold medal design.
-
Submitted by Heather Melton, The Elizabeth Hospice
Share Your Recognition Idea
Volunteerism Quote
"No person was ever honored for what he received. Honor has been the reward for what he gave."
- Calvin Coolidge


Share Your Quote
Energize Volunteer Management Update
February 2010


February Hot Topic: Both Receiving

and

Giving

Conspicuous by their absence in many settings are volunteers with a direct, personal connection to the work of the organization: recipients of service, their families and friends, or people in the immediate neighborhood of the facility. These are the folks the staff

serves

, and therefore are not considered as a source of talent themselves. Why not?

Read this Month's Hot Topic
You can subscribe to the Hot Topic as a podcast or RSS text feed -- or listen to the audio online.



Look Ahead to National Volunteer Week (Wherever You Are)

April 18-24, 2010 brings National Volunteer Week to both the United States and Canada; Australia celebrates their Week on 10-16 May; the UK's Volunteers' Week is the first week of June and New Zealand's Volunteer Awareness Week is 20-26 June. You can find more information on all of these events and more at the Energize Web site under Special Volunteerism Days and Awards. If your country's event is missing, please give us the details so we can include it as well!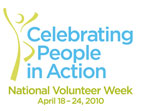 For American colleagues, HandsOn Network has just posted the 2010 theme and logo:

Celebrating People in Action

.

Energize offers some very useful materials on volunteer recognition, whenever you plan to show appreciation:


Plan Now for 2010 Conferences and Retreats

The 2010 calendar is beginning to fill - a welcome change from last year's economic panic that halted many training events.

Coming up next month is the annual Australasian Retreat for Advanced Volunteer Management, held this year in the Adelaide Hills from March 17 to 19. This superior event features faculty Andy Fryar, Martin J Cowling, Jayne Cravens, DJ Cronin, and Meg Webb.

There's also a Volunteer Management Conference in Coventry, England on 23-24 March. Susan Ellis will be the opening speaker.

The National Conference on Volunteering and Service, the major American convocation of 4,000+ participants will be held in New York City on June 28-30. It's co-sponsored by the Corporation for National and Community Service and Points of Light Institute. Note that the

Advanced Volunteer Management Institute

(AVMI) has become an annual event as a pre-conference offering and once again will feature faculty including Susan Ellis, Steve McCurley, Betty Stallings, Martin J Cowling, and Linda Graff. For information as it emerges, go to http://www.volunteeringandservice.org/.

If this sampling of events whets your appetite, keep checking the Energize conferences and courses listings (and post anything happening in your area, too).



One suggestion

: A great role for a volunteer center, HandsOn affiliate, or local volunteer management association is to organize

group

attendance at conferences at a distance. Renting a bus or negotiating group airfare discounts saves everyone money, offers a shared learning experience, and fosters community team spirit.



Susan's Tip of the Month: A Different Slant on Valentine's Day

Valentine's Day (February 14) frequently elicits attention to volunteers in cloyingly sweet ways. Some organizations post "we love our volunteers" posters or ask the staff to wear badges with that message. If this isn't your style or the image you seek, why not make use of Valentine's Day to do other things to draw attention to volunteering?

Our Book Blog suggests the option of running a Volunteer Speed Matching event for singles patterned on speed dating, as explained in A Toolkit for Volunteer Speed Matching by Volunteer Centre Dacorum in England.


Or you can focus on how volunteering demonstrates the love of volunteers for your cause. Here are a few ideas:
Hang some large sheets of newsprint in a public spot headed,

What We Love Around Here

-- you can even use red hearts and other Valentine's Day decorations. Supply markers and let everyone -- volunteers, paid staff, even clients -- add to the list of praises.
Do the same thing online, maybe using a Facebook account or accumulating tweets on Twitter.
Put out some cookies or chocolate on Valentine's Day, along with cards asking volunteers to identify what they most love about sharing their time and talent with your organization. Use their statements throughout the year in recruitment campaigns, presentations to funders, and at the annual recognition event.
Use the opportunity to thank

employees

. Send a Valentine's Day card to every member of staff (especially those in clerical, maintenance, and other roles that rarely receive formal communications)

from

volunteers. In their own handwriting, ask volunteers to identify something this paid staff member has done in the past year that's worthy of applause or a hug. Give it! (You can also have staff send similar valentines to volunteers -- the key is to

specify

why they are loved individually, rather than a general one-size-fits-all thank you.)
Depending on your type of service, you might offer clients a chance to send valentines to paid staff and/or volunteers (or, for that matter, to anyone they choose). Provide or make cards, ask volunteers to help the clients write what they wish, and send them out, and you provide an extra-touch service coordinated by the volunteer office.
If you do something out of the ordinary in your organization for Valentine's Day, please share it and we'll post it on the Energize site. Send your e-mails to info@energizeinc.com.


About Us
Energize empowers and inspires leaders of volunteers worldwide. Our specialty is creating and selecting the most relevant, innovative resources in volunteer management. We're advocates for the power of volunteers and for the recognition of the leaders who unleash it.

Energize, Inc.
5450 Wissahickon Ave. C-13
Philadelphia PA 19144
Phone: 215-438-8342
Fax: 215-438-0434
info@energizeinc.com
Pass It On!
Pass on this update to interested news groups and others who work with volunteers.


Material may be re-posted or printed without additional permission, provided credit is given to Energize, Inc., and our Web site address is included: http://www.energizeinc.com/.