Recognition Idea

Idea for the upcoming International Volunteer's Day on 5 December 2009


Launch a new page on your web site to coincide with IVD that notes specifically the IMPACT volunteers make at your organization and in your community. Talk about the results of their contributions and detail how these contributions make a real difference.
- Submitted by UN Volunteers
Share Your Recognition Idea
Volunteerism Quote
"There is only one thing worse than training your volunteers and having them leave - and that's not training them, and having them stay."
- unknown
Submitted by Eileen Macmillan, American Friends of the University of Edinburgh, CA, USA
Share Your Quote
Energize Volunteer Management Update
November 2009


November Hot Topic: Media Blitz vs. Media Noise: What Are We Trying to Accomplish?

We've just ended the Entertainment Industry Foundation's attempt to mention volunteering in all types of media. What's important is not which popular shows carried the volunteering message or even how well. Susan raises key questions about the goals and outcomes of the supposed media blitz.

Read this Month's Hot Topic
You can subscribe to the Hot Topic as a podcast or RSS text feed -- or listen to the audio online.



Special Discount! Happy International Volunteer Managers Day - November 5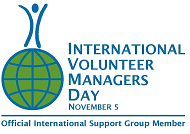 Energize salutes all our colleagues around the world who daily support and further the work of millions of volunteers so enthusiastically! To show our appreciation of all of you, Energize is offering a

25% discount

on any purchase in our Online Bookstore! This offer is good from now through Saturday, November 7th.

So, take a moment to cheer yourselves! Send congratulations to friends in this amazing profession of ours. Let your organization's leaders know about the IVMD Web site to recognize how your efforts fit into the bigger picture. And make use of your bookstore discount!



Contribute to OurSharedResources.org

Tony Goodrow of Volunteer2 has just opened a brand new Web site called OurSharedResources.org that promises to be a real contribution to the volunteer field. This is a free service where those who work in the field of volunteer management will be able to add useful resources and others in the field will be able to access them. As the homepage says, "With many people contributing a little, we avoid re-inventing the wheel time and time again." Resources can be:

Downloadable, real-world examples of forms, manuals or position descriptions
Templates and tools for creating resources
Tips, ideas and how-to articles
Everyone always wants to see examples of real-life materials that colleagues have worked hard to develop and already proven useful (energizeinc.com will link to this new site because it collects material we do not). But OurSharedResources.org will only work if

you

post to it as well as take from it!



Needed: Responses from the Field to the "Reimagining Service" Report

A collective of civic and corporate leaders have just issued the next generation of their report on "Reimagining Service," following up their work on this subject last year. This is an important document which deserves attention - and response! There are some wonderful things in it and also some potentially disturbing points. See what you think. Go to ReimaginingService.org and click on the full report. Then become part of the discussion.



We Made It onto the

Complete Idiot's Guide

List!

What's an indicator of public acceptance? Becoming a topic in the ever-growing

Idiot's Guide to...

catalog. So applaud the publication of The Complete Idiot's Guide to Recruiting and Managing Volunteers
by colleague John Lipp. We're lucky that he was tapped to write the book because he has done a great job. Working with their standard template, he has crammed a lot of very useful information into 304 pages, all in bite-sized chunks. Of course, the big question is where the book will be placed in general bookstores since they do not have a shelf for nonprofit management, let alone volunteer management. Best guess? It will be with the business management books. Ask for it and get your local bookstore to carry it.



Susan's Tip of the Month: "Bring the Media Blitz Home"

Chances are, at least for anyone watching American television, that you told volunteers to be on the lookout for mentions of service on TV and elsewhere during the week of October 19th. Even though the media blitz was something of a bust, you can still make use of it as a conversation starter. Here are some ideas:

Run a contest for who saw the most mentions of the word "volunteer" and where.
Hold a brown-bag lunch to discuss what volunteers (and paid staff) thought about the storylines or public service announcements they saw. Did they feel the messages represented them? How or how not?
Talk about how volunteering for your organization might be incorporated into the storyline of a popular show. Which characters would make good volunteer additions to your team? If you like the ideas generated, write them up and send them to the show's producers, with a copy to the Entertainment Industry Foundation. You never know!
Again if some fun ideas surface, "act out" the scenarios at your next volunteer party or recognition event. Find pictures of the actors involved and make masks for the skit players to wear as they speak the lines of fantasy dialogue the characters would have in doing or talking about their volunteer work.
About Us
Energize empowers and inspires leaders of volunteers worldwide. Our specialty is creating and selecting the most relevant, innovative resources in volunteer management. We're advocates for the power of volunteers and for the recognition of the leaders who unleash it.

Energize, Inc.
5450 Wissahickon Ave. C-13
Philadelphia PA 19144
Phone: 215-438-8342
Fax: 215-438-0434
info@energizeinc.com
Pass It On!
Pass on this update to interested news groups and others who work with volunteers.


Material may be re-posted or printed without additional permission, provided credit is given to Energize, Inc., and our Web site address is included: http://www.energizeinc.com/.