Learn More About Online Training

Online training for you or your entire organization to work successfully with volunteers!
Learn More





Join a




Free Conference Call


to Learn More
February 25, 2pm ET
March 2, 10am ET
March 5, 5pm ET



Receive the
Book Buzz

If you live in the US, you know that we're celebrating President's Day -- a day for commemorating the lives and remembering the words of the nation's Founding Fathers. Even if you're not American, why not take a cue from President's Day and explore the visions of Ivan Scheier and Marlene Wilson -- two pioneers in volunteer management who can be rightfully counted among the "Founding Fathers and Mothers" of the volunteer management field.

Both Ivan's and Marlene's writings continue to be insightful and practical because neither focus solely on the exigencies of the day. Their works go beyond how-tos and explore deeper, and ultimately more important, questions such as:

What unique skills and personal qualities must we develop to become effective leaders (not just managers) of volunteers?
How can we expand our vision of volunteer engagement to involve more people and have greater impact?
Can we escape from the "numbers game" of counting volunteer hours and holistically assess the value of volunteer effort?

"Better Together" Offer
Purchase Marlene Wilson's
Vision
ar
y Leadership in Volunteer Programs

and get Ivan Scheier's

Exploring Volunteer Space

for free!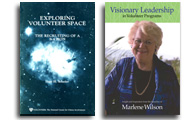 Add both Exploring Volunteer Space and Visionary Leadership in Volunteer Programs to your cart in our online bookstore. On the final page where you confirm your order, enter the discount code

buzzfeb09

and click "recalculate" to apply the discount.

Expires March 15 2009.




Ivan Scheier's
Exploring Volunteer Space: The Recruiting of a Nation

You may be familiar with some of Ivan Scheier's books, such as Building Staff/Volunteer Relations, but have you read his "masterpiece"

Exploring Volunteer Space?



Although it was written almost 30 years ago, it is incredibly prescient and relevant today. In his review of the book in

e-Volunteerism

, Steve McCurley says "While

Exploring Volunteer Space

is a highly conceptual work, it also has great relevance to practitioners who think about the development of their volunteer programs. . .In it, Ivan outlines much of what volunteering can be and a great deal of what would happen in volunteering in the future. . .Consider it as our version of

The Hitchhiker's Guide to the Galaxy

. In it you will tour parts of the volunteer universe that you never knew existed and see how volunteer programs can boldly go where no programs have ever gone before." (Subcribers to

e-Volunteerism

can read Steve's full review at http://www.e-volunteerism.com/subscriber/quarterly/09jan/09jan-researchfull.html.)

Buy Now!
Paperback: $5.00 or FREE with the purchase of


Visionary Leadership in Volunteer Programs


DISCOUNT CODE: buzzfeb09



Limited paperback copies are available and are shelfworn but otherwise in good condition

Marlene Wilson's
Visionary Leadership in Volunteer Programs

Visionary Leadership in Volunteer Programs compiles 16 of Marlene Wilson's most popular presentations from 1974 to 1999 in one book. Throughout her career, Marlene has urged all who lead volunteers to move beyond thinking of themselves as managers to thinking of themselves as

leaders

-- those who develop vision for volunteer programs and impart that vision throughout an organization. In today's financially-uncertain and time-crunched climate, her call to lead with soul and vision is an

especially

important reminder to all of us:

Since many of you have told me that you, too, are feeling burned out and uncertain about your work and future (in volunteer administration, or any other career) let's take a few moments for you to explore two questions:
1. Why did I enter this profession in the first place?
2. Why have I stayed?

The answers to these two questions may lead you to the third and most critical question:
3. Do I still want to be in it?

What helped me to finally realize that I truly did want to fan the embers, blow on the coals and stay in this field is when I realized I am still totally committed to what I believe this work is all about and why I've loved it for so many years.

What do I believe our field has to give to others that is ours uniquely? To give hope! These are angry, confusing, violent times of change and transition. People feel overwhelmed and lost. Too many feel they have no control over their lives and no impact on others. Volunteering, when it's done well, can be an antidote to people's feelings of alienation and hopelessness. When people volunteer, they experience firsthand that they can make a difference in other people's lives and especially when they join with others taking back responsibility and control of their own communities and neighborhoods. They begin to see and experience the good in themselves and others. This is democracy at its best!

Buy now!


e-book: US $9.00




paperback: US $16.95



__________________________

Permission is granted for organizations to reprint this excerpt. Reprints must provide full acknowledgment of the source, as provided:

Excerpted from

Visionary Leadership in Volunteer Programs

by Marlene Wilson © 2008, Energize, Inc. Found in the Energize, Inc. Online Bookstore at http://www.energizeinc.com/store/1-218-E-1.

Energize, Inc.
5450 Wissahickon Ave., C-13
Philadelphia, PA 19144
info@energizeinc.com
www.energizeinc.com

Energize empowers and inspires leaders of volunteers worldwide. Our specialty is creating and selecting the most relevant, innovative resources in volunteer management. We're advocates for the power of volunteers and for the recognition of the leaders who unleash it.
About Us