Receive the Book Buzz


Online training for you or your entire organization to work successfully with volunteers!
Learn More






Energize, Inc. is proud to announce the upcoming release of Marlene Wilson's new book,

Visionary Leadership in Volunteer Programs

. Marlene, one of the true pioneers of volunteer management, offers this collection of her most memorable speeches from the 1970s to the present.



Projected Publishing Date: September 1, 2008



Pre-order the book NOW and save!




Receive 20% off the price if you order before September 1st.
Featured Book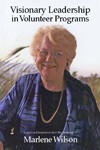 Visionary Leadership in Volunteer Programs: Insight and Inspiration from the Speeches of Marlene Wilson

Building on her greatly-valued book,

The

Effective Leadership of Volunteer Programs

, in this brand new publication, Marlene Wilson moves from the

hows

to the

whys

of leading volunteer programs. She urges all who lead volunteers to move beyond thinking of themselves as managers to thinking of themselves as leaders - those who develop vision for volunteer programs and impart that vision throughout an organization.

She has compiled 16 of her most popular presentations from 1974 to 1999 into one book, including:
Musings of a Chronologically Gifted Crone
The Case for Effective Management of Volunteer Programs
Motivation: Placing Right People in Right Jobs
Influencing Outcomes You Care About
Polishing the Potential of Volunteer/Staff Teams
What Are You Marketing? VISION Is the Job of Leadership
Leading with Soul and Vision
Projected Release Date: September 1, 2008



Pre-order the book NOW!
Save 20% on your choice of editions:
Paperback,

$16.95 USD

$13.56 USD
e-book,

$12.00 USD

$9.60 USD

Book Review

As one who has heard many of these speeches in person, I reveled in the retelling, in the rereading. Marlene's body of work challenges us in the profession of volunteer administration: we are prodded to excellence, to improvement, to soul-deepening, to servant-leadership. For those who have not connected with Wilson's speeches before, what a wonderful gift of wisdom she has given you! Your way of looking at your vocation will never be the same! This book restores hope, prompts to excellence, invites reflection and rouses energy.



-

Suzanne Lawson, Principal of Suzanne Lawson and Associates and former Executive Director, ALS Canada
More Resources on Leadership
An Asset Builder's Guide to Youth Leadership
Sensible and inspiring advice for adults who truly want to engage young people in meaningful leadership volunteer roles, with how-to tips on everything from recruitment to intergenerational meetings.

Are You a "Manager" or a "Leader" of Volunteers?
This

e-Volunteerism

article discusses how volunteer managers can see themselves as leaders, not just managers, and provides tools and suggestions for developing leadership skills.

Where Have All the Leaders Gone?
Why are people reluctant to answer the cry for leadership? The authors of this

e-Volunteerism

article believe it results not from a lack of courage or competence but from outdated notions about leadership.

Book Excerpt

Keeping Soul in Our Work

By Marlene Wilson
Excerpt from Marlene Wilson's book

Visionary Leadership in Volunteer Programs

, to be released in September 2008.

Now let's talk for a moment about the concept of soul. . .and especially what it has to do with your work as volunteer managers. An amazing phenomenon has been occurring the past two to three years. The word "soul" is creeping into almost all the new leadership and management literature - and it is coming from the secular world. Whole books have been devoted to the topic, and others include chapters on it; many are ending up on the best-seller lists, including:


Care of the Soul

by Thomas Moore
Leading with Soul

by Lee Balman and Terrance Deal
The Heart Aroused

by Stephen Whyte
The Art of Leadership

by Max DePree
The Servant as Leader

by Robert Greenleaf

I especially recommend an excellent collection of essays, entitled

Leadership in a New Era

, edited by John Renesch. It is one of the most thought-provoking books I have read in a long time. In one of the essays, there is this excellent illustration of the relationship of soul to work: "This was observed about Louis Armstrong. . .He is the greatest figure in the history of American jazz because he brought so much joy, happiness and love to people. There was no barrier between his horn and his soul."

What a lovely tribute to a life! Perhaps one of our challenges is to examine honestly if there are barriers between our souls and our work that filter out our joy in serving. If so, what are they and how can we remove them? I have realized that in those times that I have personally come close to burnout (when there seems to be more on my mind that there is room for and more to do than there is time for), I have been in grave danger of losing the soul in my work. It becomes just work. The passion, energy, dedication and excitement is crowded out and I find myself asking, "Is all this really worth it?" My joy diminishes and so does the quality of my work.

One thing that replenishes the "fire in the belly" for me is to revisit the vision and the purpose of what I believe volunteerism and volunteer leadership is all about. When I am clear about the

why

and infuse my work with heart and soul, I find people frequently commenting on how obvious it is that I love what I do. I am always somewhat taken aback when that happens and am tempted to respond "of course I love it, otherwise why would I be doing it?" There are many other things each of us could be doing and we also know we pay a price to work in this field (especially regarding salaries). So, are we crazy, or just not too bright?

Kathryn Graham once said, "To love what you do and feel that it matters - how could anything be more fun?" That is a gift beyond price. You are embarking on one of the most challenging and fulfilling jobs anyone could ever undertake - please don't ever forget that!

My goal is that you leave here not just equipped with the vital tools needed to ensure your competency but also with a clear, personal statement of vision and a commitment to invest your soul and spirit in the tremendously important work that you do. Wow! Is the world really ready for you?


Permission is granted for organizations to reprint this excerpt. Reprints must provide full acknowledgment of the source, as cited here:
Excerpted from

Visionary Leadership in Volunteer Programs: Insight and Inspiration from the Speeches of Marlene Wilson

© 2008 Marlene Wilson. To be released in September 2008 in the Energize, Inc. Online Bookstore at http://www.energizeinc.com/bkstore.html.
Energize, Inc.
5450 Wissahickon Ave., C-13
Philadelphia, PA 19144
info@energizeinc.com
www.energizeinc.com

Energize empowers and inspires leaders of volunteers worldwide. Our specialty is creating and selecting the most relevant, innovative resources in volunteer management. We're advocates for the power of volunteers and for the recognition of the leaders who unleash it.
About Us