Financial Household Resiliency Workshops
Every Wednesday from April 4th to April 25thnd from 5:30-7:30, 2025 Lloyd Center Mall, Portland, OR 97232
IDA Orientations
Wednesday, March 21st from 5:30-7:30pm
and
Tuesday, March 27th from 6-8pm
2025 Lloyd Center Mall, Portland, OR 97232
Stay tuned for our March Innovative Connections Issue on:
Kids and Money
Greetings!
In our workshops we discuss prioritizing our needs and wants as a first step to creating a realistic budget. Often, we hear that savings is seen as a need but a need that is not being met. Savings gets pushed behind a million other needs and, although a goal in most peoples' minds, it's hard to prioritize saving over paying a bill or buying a new pair of comfortable shoes. We understand this dilemma (we've been there ourselves), but wanted to stress in this issue (and always) how important it is to save.
Our goal at IC$ is to help you plan for a strong financial future, and savings is a key ingredient towards getting ahead and feeling stable and secure for generations to come. In this issue we hope to get you thinking: How do I make savings goals that are do-able and gratifying? What can I do to get the ball rolling on savings? And, Once I have savings, what are some strategic ways to utilize it?
This issue on savings is timely, as it is America Saves Week. We are celebrating in full force and want you to join in! Throughout the week we are collecting stories, tips, anecdotes and ideas on savings and would love to hear from you! These will be posted on our website, facebook and twitter on a daily basis, so check them out!
Happy America Saves Week!
Tip of the Month: Make SMART Goals!
Send us your tips! Each month we will collect your innovative money management tips -- these could be about resourceful ways you've saved money, thrifty activities you enjoy, helpful
insights into living on a tight budget, etc. We will enter these tips into a pool and if selected, your tip will be featured in the next Innovative Connections and you will win a $20.00 Fred Meyer gift card.
Although we are already two months into 2012, it's never too late (or too early) to make a New Years resolution or set goals for yourself and take steps to accomplish it! In order to be successful, set SMART goals. SMART goals are:
They must tell exactly what is expected, why is it important, who's involved, where is it going to happen and which attributes are important.
ex: Short-term goal: I want to save $300 for car repairs.
ex: Long-term goal: I will save $5000 for a down payment on a house and get my finances in order to qualify for a good mortgage.
Measurable:
A measurable goal helps you stay on track, chart progress and know when you have (or are getting close to) achieving your goal.
ex: Short-term goal: The brakes on my car will be fixed and work properly.
ex: Long-term goal: I will close on a house that is in my price range and meets my criteria.
Actionable:
You can start taking steps today and know your future steps!
ex: Short-term goal: I will make a budget today to ensure that I can save $50 from each of my pay checks.
ex: Long-term goal: I will pull my credit report and make a plan to build credit so that I can eventually qualify for a low cost mortgage. Then I will start incorporating savings into my budget. I will save to pay back debt and then save for a my down payment. I will start thinking about what area I want to live in and what my criteria for a house is.
Reasonable/Relevant:
Your steps are easily incorporated into your life.
ex: Short-term goal: If I am careful about my spending, $50/month will work with my budget. Having a working car is important to me.
ex: Long-term goal: I may not be able to pay back all my debt right now, but I can look at my credit report and will work towards repairing my credit. Owning my own home is a extremely important to me.
Time-based:
Steps are based on achievable and specific time-frames that you can hold yourself accountable to!
ex: Short-term goal: I will save for six months, and get the repairs done once I have saved up enough money.
ex: Long-term goal: I will buy a house within three years from now.


Save for your SMART Goals

The bottom line to start building your savings to reach those financial goals is as simple as: cutting expenses or earning more income. For many of us it can be frustrating to look at a budget and think there is just nothing left to cut out or nothing you'd want to give up. Reaching that point is where most of us fall off the track towards reaching our goals. But, when looking at the big picture, a dollar saved is much easier work than a dollar earned.

Of course as humans we are creatures of habit. Now it's time to take advantage of our nature and turn our spending habits into savings habits. As with any task the hardest part is taking that first step. The tips outlined below are not ground breaking but are a great reminder of what you can do to help you start your savings habit and set you on the path to reaching your SMART goals.

Wait: Although this is certainly not a new tip, it is a very powerful one. When confronted with an impulse to purchase things that you don't need, simply wait one week. By removing yourself from the store and giving yourself time to reflect on the purchase you will make more thoughtful decisions.

Action: Give yourself one week to reflect on purchasing decisions.

Cable: Start watching money flow back into your budget by cutting the cable in your household. There are much less expensive entertainment options available such as Netflix or Hulu that can bring just as much satisfaction.

Action: Take a step towards your goals by doing a little research on other forms of entertainment.

Cook at Home: One of the biggest expenses in a budget is the cost of eating out. For instance those $8 sandwiches for lunch everyday or the weeknight meals out when there isn't anything in the house to cook.

Action: Take an hour on the weekend to plan out your meals for the week and arrive at the grocery store armed with a plan and a shopping list .

Avoid Fees: As we all know there are many ways to rack up fees such as ATM fees, overdraft fees and late payment fees. With a little organization and planning you can stop paying those expensive fees.

Action: Create a paycheck planner that will allow you to organize the timing of your income and expenses.

Contact our office for assistance setting up a budget and paycheck planner to get you on your way to accomplishing your SMART goals!

Written by Elizabeth Crowe
When it comes to building wealth, no amount is too small to start!
Ideas for Savings
Start with $5, $20, or $50, but start! Every dollar can be put to good use and be the start of a ongoing habit of stashing away more $5 to $50 amounts. It doesn't seem like much, but saving a small amount on a regular basis is the key and you'll be astonished at how quickly it grows. The worst thing you could do is think "it's not enough so I'll just spend it". Here are some steps to launch into saving!:
Pay off debts:
The only disadvantage of paying off debt is that it's not obvious that the payment has accomplished anything. You can't see it grow, so there's no instant gratification for doing the right thing. But by far the best use of savings is to pay off high cost debt. You can do this a few dollars at a time. You don't need to set up special accounts, or get anyone's approval. Creditors will (almost) always take extra money early without a charge.
Use those extra dollars to pay down an outstanding credit card balance. If you have several accounts, paying off the one with the highest interest rate first. The interest expense you save will become the beginning of your savings plan.
Open up a savings account (online or with a bank or credit union):
Set the account up as your personal account where any excess dollars are stashed. It could be money a relative sends, a bonus, income tax refunds, lottery winnings or funds saved from giving up smoking or cutting down on buying coffee. Use it for emergencies if necessary (but only true emergencies) and then when the account gets large, apply all or a portion towards one of the following ideas.
Set up a retirement fund and make a personal contribution to it:
If your company offers a 401(k) or other retirement accounts, don't think that just because the company is 'contributing' money on your behalf, that you will be financially secure in retirement. The more you contribute towards your own retirement fund, the better off you will be when you do retire, especially if the company matches all or a portion of your personal contribution.
Let's say the company matches 50% of your contribution. You get an immediate 50% return on your investment. Taking advantage of company matching is a great use of your money. Don't forget, the money you and the company contribute to the retirement plan continues to work for you until you take it out. If this is a pre-tax retirement fund, its use will be limited to retirement. A word of warning: A lot of funds have high management fees (they pay themselves from your money), so make sure you are in a low-cost fund.
Improve your home or start the initial planning to become a home owner: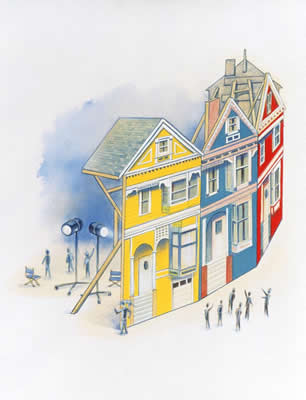 If you are lucky enough to own your own home, fixing it up generally is a good investment, even in today's poor real estate market. Improve the energy efficiency of the home. The new energy efficient light bulbs, a new fridge, increased insulation or skylights improve the value of the house and save power. Most of the tax advantages for buying and installing energy efficient improvements have disappeared, but a few may still be available. Plus, you cut your gas and electric bill even if you don't own the home yourself.
Invest in yourself!:
Finally, remember that improving your own skills is an investment in you. Consider a public speaking or a writing course because communicating is a very valuable skill. Being up to date with computer or networking skills is now almost a requirement. While today's job market is challenging, whether you have a job and want a raise or promotion, or you don't have a job and are looking for one, you want to stand out from other candidates. A smart outlay to improve your skills will pay for itself in career advancement in the long run.
Written and compiled by Roger Metzler
Innovative Changes Now Offering Individual Development Accounts for Post Secondary Education!
To mark America Saves week, we are excited to announce that we will be providing Individual Development Accounts (IDAs) to foster goal oriented savings. These matched savings are for those aiming to further their careers and household resiliency by pursuing higher education. The IC$ IDA program offers a 3:1 match for those saving to attend an institution of higher education. Participants must meet IDA criteria specified below to be eligible to apply. Spots are limited and we expect they will go fast!
Who qualifies for an IC$ IDA?
Must be at least twelve years old
Household net worth must not exceed $20,000, excluding one vehicle and a primary home
Adjusted gross annual income of the household must not exceed one of the following by household size: 80% of area median income by county of residence, 80% of state median income, 200% of poverty.
Household must provide documentation of all earned income
Pre-savings: IC$ requires that applicants demonstrate their ability and commitment to the savings program by maintaining their own savings account and making deposits of at least $25 a month for two months in a row, without withdrawals.

Potential Savers who are borrowers in IC$' loan program must be in good standing with their loan(s) in order to apply. Being in good standing means that their loan is not in default.
After attending the orientation, participants will be invited to apply based on IC$' current enrollment priorities.
If you meet the criteria above and are interested in learning more about our IDA program, sign up for an orientation today!
The IDA orientations will be at 2025 Lloyd Center (on the 3rd floor between the food court and Nordstroms) on:
Wednesday, March 21st from 5:30-7:30pm
Tuesday March 27th from 6-8pm.
To register for one of these orientations click here or call Misha at 503-249-5205.
For more information on our IDA program please visit our website or contact Talia, talia@innovativechanges.org.
Upcoming Financial Education:
Upcoming Seminars:
Tax Time 101: Be Prepared!
Monday, March 5th 2012, 6:30-7:30,Midland Library
Wednesday, March 7th 2012, 6:30-7:30,Kenton Library
Please join IC$ staff and trained CASH Oregon volunteers for an hour packed full of information to get you ready to do taxes and ensure you are making informed choices when you are filing for and receiving your refund. Topics will include: An overview of taxes and the mechanics of filing your taxes, available tax credits, what documents you will need when filing, where to do your taxes for free or low cost and how to stay in control of your paycheck, refund and expenses throughout the year!
These seminars are free and open to the public!
*These seminars are part of our ongoing monthly seminar series covering special topics of interest to our clients. We are now partnering with the Multnomah County Library to provide these seminars to a broader audience. For more information about our seminars visit our website here.
Upcoming Financial Household Resiliency (FHR) Workshops:
We are nearing the end of our winter series of FHR classes and are pleased to announce our Spring FHR classes. Sign up soon, spots may go fast! Here is the schedule:
Spring FHR Class Schedule:
Wednesday, April 4th 5:30-7:30 pm: Making Ends Meet
Wednesday, April 11th 5:30-7:30 pm: Budgeting and Saving
Wednesday, April 18th, 5:30-730 pm: Hands-On Banking
Wednesday, April 25th, 5:30-730 pm: Building, Repairing and Protecting Credit
Our classes will be held near our Lloyd Center office on the 3rd floor of the Lloyd Center Mall (between Nordstroms and the food court), 2025 Lloyd Center.
To Register:visit our website or call or email Misha at (503)-249-5205/ misha@innovativechanges.org.
The classes and the seminar are open to everyone. The classes can be taken individually or as a series. They are $5 each and $15 for all four classes. Fee waivers are available for those who qualify.
Where to get Your Taxes Done for Free


There's no reason to pay to get your taxes done when there are several FREE options out there equipped with volunteers who have passed stringent requirements in order to help you do your taxes!

Check out these programs:
CASH Oregon
, in conjunction with AARP, can help most tax payers. See the Frequently Asked Questions
for who qualifies, where to go for help, and other pertinent questions. A list of sites where you can sit down with someone and they will fill out your return based on information you provide can be found at:
http://www.cashoregon.org/taxprep/sites.htm.
Volunteer Income Tax Assistance (VICA) and Tax Counseling for the Elderly are programs for low income (maximum AGI of $49,000). Both CASH Oregon and AARP coordinate with these programs and may refer you to one or the other. Cash Oregon's number is 502-243-7765, and AARP's number is 888-227-7669.
The military has a strong VITA Program. The Armed Forces Tax Council consists of the tax program coordinators for the Army, Air Force, Navy, Marine Corps, and Coast Guard. The AFTC oversees the operation of the military tax programs worldwide, and serves as the main conduit for outreach by the IRS to military personnel and their families. Call 800 TAX 1040 for more information on a AFTC/VITA site for the military.
Resources compiled by Roger Metzler
We Can ACH Your Loan Payments!
You can have IC$ automatically withdraw funds from your bank account to make your loan payment.This is called Automatic Clearing House (ACH) and is an electronic network that allows you to set up regular withdraws of your loan payments that gets sent to our account. If you would like to sign up for this, please fill out the form on attached here and send or fax it back to us (please do not email for security reasons). ACH is a good idea if you have a bank account and a reliable balance in your account on your monthly loan due date. If this does not fit you, ACH is not the best option. If you have any questions, as always, feel free to give us a call: 503-249-5205.
For Our Borrowers
Are You Receiving Your Payment Reminders?
If you chose to receive your payment reminders by email, make sure that they are coming to your inbox and not your junk mail. If you would like to change the way that you receive reminders (by mail, by email, or by phone call) let us know! Call Misha at
503.249-5205
.
How to Make Your Loan Payment
You can mail your payment by check or money order to: Innovative Changes, 4610 N. Trenton St., Portland, OR 97203 or 2011 Lloyd Center, Portland, OR 97232.
You can drop off your payment (check, money order or cash) at the New Columbia Opportunity Center Front Desk- Mon- Fri, 8am-5pm
The front desk person has envelopes and is authorized to collect payments on our behalf if we are not in. If you are paying in cash and need change, you must contact Talia in advance to arrange a meeting time.
You can drop off your payment (check, money order or cash) at the Lloyd Center, 3rd Floor, Suite 2011 (2011 Lloyd Center Mall, Portland, OR 97232) Mon-Fri, 9am-5pm or drop it through our mail slot on other days/times.
You can also pay via pay pal by following directions on our website here. Please note, it asks you to fill in a donation amount, but this is not a donation, it will go towards your loan payment.
We Are Here to Help!
Are you having trouble making your payment this month, or afraid that it might be a little late? Let us know! We understand that unexpected events and expenses can make it hard to keep your finances on track, and Innovative Changes wants to be there for you in such cases. Innovative Changes is flexible and willing to work with our borrowers to satisfy loan obligations, and in return we ask for honest and timely communication. Remember, if you know your payment is going to be late, let us know ahead of time and we might be able to avoid charging a late fee, or sending out a late notice.