Farmer Flood, Forage & Feed Meeting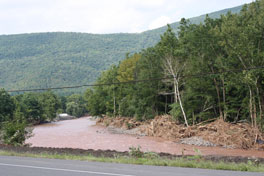 TOMORROW


Wednesday, September 141:00 pm at Grand Gorge Civic Center
(formerly the school) State Route 30, Grand Gorge

7:30 pm at Delhi Fire Hall
140 Delview Terrace Extension, Delhi
This multi-agency meeting targets the needs of farmers affected by the recent flooding from Hurricane Irene and Tropical Storm Lee. Staff from the Watershed Agricultural Council, CCE Delaware County (CCE-DC), Delaware County Soil & Water, USDA Natural Resource Conservation Service and Farm Service Agency will be on hand to answer questions and talk about the financial and technical assistance available to landowners.

Among the items to be covered:
-- Completing the
Emergency Forage Assessment form
-- Planning Feed Needs for your farm
-- Lining up emergency forage
-- Exploring other resources, troubleshooting and making site visit appointments.

These multi-agency meetings are free and open to the public, but will focus on the needs of local farmers and how federal, state, regional and local agencies and partners can provide technical and financial assistance. Call (607) 865-6531 for more information or to make accommodations for special needs.
Impacts of the Flood

Visible structural damage, road closures and pasture invasion are the obvious aftermath. But how flooding impacts a farm's operations, cash flow and long-term feed needs also demands immediate attention. CCE-DC estimates over $1-million in crop loss (see below). That means hay, silage and baleage too -- the primary foodstuffs of livestock -- is in tight supply for farms wintering livestock: dairy cows, beef cattle, sheep, goats and others. You can help in two ways:
1) CCE-DC is collecting information about forage available in the area. Many farms lost significant amounts of hay and feed and will need to find additional sources for feeding their animals this winter. These farmers will need to connect with farms with surplus forage, or who have late cuttings of hay that could be harvested. Farms with forage resources who are willing to sell surplus should submit the
Emergency Forage Assessment form
. CCE will compile a list of local forage sources for farmers in need that will be posted to the WAC and CCE-DC websites.
2) USDA FSA is asking farmers to report their crop losses, regardless if they have crop insurance. Your numbers will be added in to figure the extent of crop damage and to help draw attention to the regional need for feed and financial assistance.
Delaware County Preliminary Estimate for Flood Damage Crop Loss Summary compiled by CCE Delaware County

Field Crops: 1073.5 acres worth approximately $685,900
Other Crops: 93.2 acres worth approximately $220,200
Stored Feed: 46 tons worth approximately $9,200
Grand Total: $915,300

as of 5:00 pm 9/2/2011
---