ABOUT THE DISH
Looking for the latest restaurant openings, weekly wine tastings and drink specials or other culinary happenings?
Whatever makes your mouth water,
Melissa Libby & Associates
will point you in the right direction.
up-to-date on new and ongoing restaurant events around Atlanta!






Get On Board for The Pinewood's Nightcap Specials
The large, neat writing on a chalkboard menu spells out the new Nightcap specials each evening at
The Pinewood
. Homespun food specials change nightly, satiating the salivating late-night crowd beginning at 10 p.m. on weeknights and 11 p.m. on weekends.
Nightcappers at the downtown Decatur bar and restaurant recently filled up on the "Hatch + Cheddar" burger ($12), gumbo and grits ($8), "Trout Sammy" ($10), fried okra ($6), chicken and waffle ($10) and loaded hash browns with or without a farm egg ($9/$7). Cocktails, PWTR porch punch, wines by the glass or bottle, draft beer and non-alcoholic beverages slake that thirst. No question, it's worth making The Pinewood the last stop of the evening for Nightcap grub and a tippling cup or two.
Kaleidoscope is Hot Stuff - Wins Brookhaven Chili Cook-Off
Wowing spoon-bearing chili samplers, Kaleidoscope Bistro & Pub took first place in the first annual Brookhaven Chili Cook-Off. More than 50 chili-stirring contestants and vendors participated in the event that benefitted the Brookhaven Arts Alliance. Kpub's award-winning chili is not on their usual menu, but heat-seeking diners can fire up their palates with "hot" items such as house-roasted cashews and peanuts with Thai chili and scallions, Thai-style beef jerky with bird's eye chilis, Springer Mountain chicken wings with Kaleidoscope sauce and bleu cheese, "Firecracker" ahi tuna or mahi tostado with green chili grits. Good to know Kaleidoscope has plenty of chilled beverages to go counterpoint.
Give Marlow's Tavern Your Best Rib Shot, and You May Win a Gift Card during Their Ribs & Whiskey Facebook Photo Contest
Having sauce on your chin and some shreds of luscious "Drunken Chicken" or slow-cooked St. Louis-style ribs between your teeth only adds to the charm of your photo entries in the Marlow's Tavern Ribs & Whiskey Photo Contest going on through October 16. Enter a photo of your favorite item on the Ribs & Whiskey menu or a succulent shot of you and your friends enjoying your meal. During the Ribs & Whiskey promotion, Marlow's will pick one winner each week to highlight on their Facebook page and receive a $25 Marlow's Tavern gift card.
Ray's at Killer Creek is in on Awesome Alpharetta $1000 Dining Card Giveaway
The Alpharetta Convention and Visitors Bureau is giving away a $100 gift card to 10 of the city's most popular restaurants - all to one very lucky winner.
Ray's at Killer Creek
is providing one of the prized $100 gift cards. Through October 31, register for the contest
online
or stop by the Downtown Alpharetta Welcome Center located at 178 South Main Street. The winning entry will be drawn on November 1. Read more on the contest and learn about all of the awesome things to see and do in Alpharetta at
www.awesomealpharetta.com
.
Abbondanza Celebrates the Harvest at
La Tavola Trattoria
Abbondanza goes straight to Italy's heartland and brings its rich spectrum of ingredients - fruits, vegetables, meats and cheeses - to
La Tavola Trattoria
in Virginia Highland. Executive Chef Brent Banda celebrates the abundant harvest on La Tavola's fifth-annual Abbondanza menu, which is only available Wednesday, October 3 through Saturday, October 13. Order Abbondanza as a $35 three-course prix fixe dinner (plus tax and gratuity) to savor the full spectrum or pick and choose à la carte. A quick peek at the
Abbondanza menu
reveals appetizers ($8-$12) such as grilled duck sausage and beet and farro verde salad; entrées ($16-$24) that include Sangiovese-braised short ribs risotto and angolotti del plin with roasted pumpkin, Grana Padano brodetto and pumpkin seed oil; and a sweet-salty torte di mele -- a salted caramel and Grana Padano gelato for dessert ($7). Are you there yet? Click
here
for reservations or call 404-873-5430.
Casting Call Beckons Cooks, Foodies and
Food-trepreneurs
So you don't think you can dance and you're nobody's singing idol, but you have a mean meatloaf, an unmatchable grill gift or a food product that is to die for (if only you could market it to buy in a store). Here's an Atlanta casting call especially for you! The creators of "Undercover Boss" and "Project Runway" are now casting culinary innovators for a new reality competition series culminating in a potentially life-changing prize package. This could be your big chance to put your product on a global supermarket shelf. The open call will be held on Sunday, October 14 from 10 a.m.-2 p.m. at the W Atlanta Midtown. Before attending the call, you must send an email that includes your name, phone number, occupation, short description of your dish or culinary product, a recent photo of yourself, and a photo of your creation or product. If you are unable to make the call date, the website has instructions for submitting a home video. Is this your recipe for success? You'll never know unless you go for it!
Experiencing Atlanta is a Mouthful as Taste of Atlanta Takes Eats to the Streets October 5 - 7
Streetwise advice for the October 5-7 weekend is to move your mojo to Midtown for Taste of Atlanta surrounding Tech Square. Bantam + Biddy, Ecco, Kaleidoscope Bistro & Pub, JCT. Kitchen & Bar, No. 246, The Optimist and Ray's Restaurants are a few of the more than 80 restaurants participating in the big foodie and sampling festival. Chill out with chefs, cocktails and grills gone wild at "The Big Grill" Friday night party at Tech Square. American Spirit Whiskey will shake up cocktails, beer and wine will flow and more than 20 restaurants will be represented at the kick-off event, including Ecco, JCT. Kitchen & Bar, No. 246 and The Optimist.
There's excitement brewing on the Home Plate Main Stage Saturday and Sunday as chefs go spoon to spoon. See Ecco's Craig Richards at 1:45 p.m. and No. 246's Drew Belline at 3 p.m. Saturday. JCT. Kitchen & Bar's Ford Fry will hit the stage Sunday at 12:30 p.m. for "Food that Rocks." The Optimist's Adam Evans will be in The Kitchen Workshop on Saturday at 1:15 p.m. followed by The Cook's Warehouse's Mary Moore at 4 p.m. Will Harris of White Oak Pastures and Lance Gummere of Bantam + Biddy will lead a poultry session on Sunday at 1:15 p.m. Kaleidoscope Bistro & Pub Chef Joey Riley tackles tailgating by building steak sandwiches at 1 p.m. Saturday in The Grill Dome. Some events are over-21 only, but most are family friendly, including the Family Food Zone, which sizzles with fun classes and activities for all ages. Purchase tickets here.
Get Fired Up for Kevin Gillespie's "Fire in My Belly" Cookbook Release Party at Woodfire Grill on October 9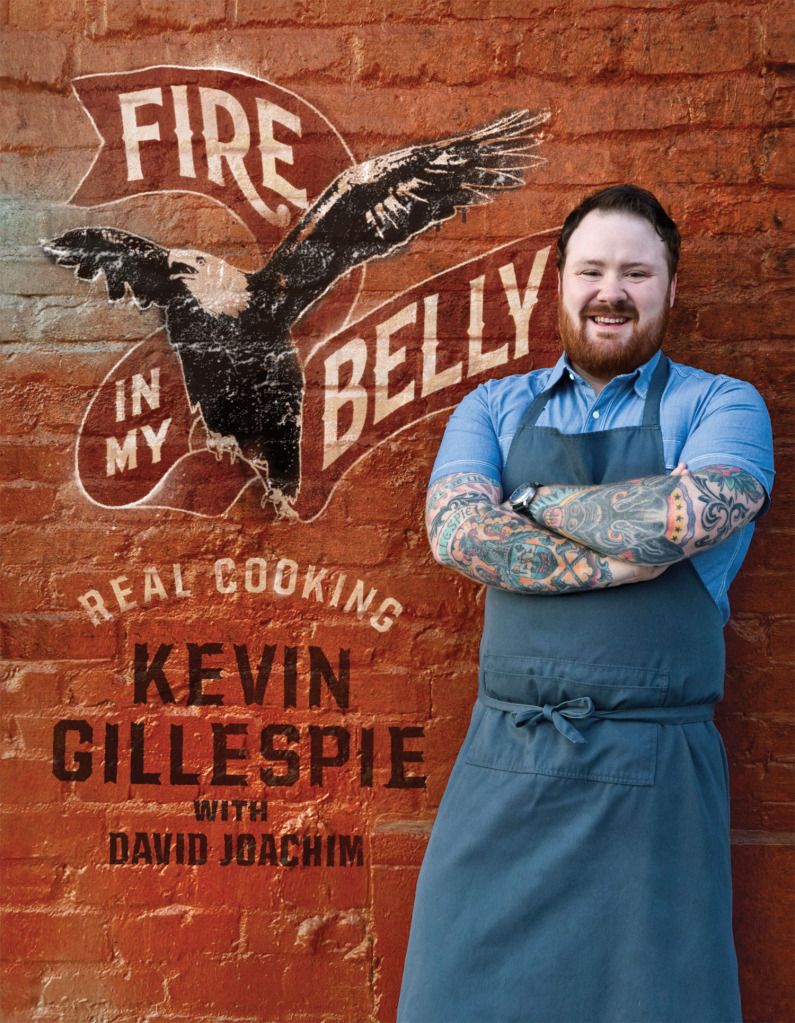 We hear your tummy rumbling about "Fire in My Belly," Kevin Gillespie's new cookbook. Feed the flames of desire by attending the "Fire in My Belly" cookbook release party at Woodfire Grill on Tuesday, October 9 from 6-10 p.m. Gillespie will be at the party to sign books and mingle while guests sample Southern bites from some of the easy-to-make recipes featured in the gorgeously informative and entertaining cookbook. Buy a $35 general admission ticket (does not include book) or a $75 ticket and book package. Purchase tickets online through Thursday, October 4; $90 at the door, pending availability.
Southern Food Tour Features JCT. Kitchen & Bar, The Optimist and American Spirit Whiskey
On Thursday, October 11, four of Atlanta's best chefs will pour on their Southern culinary charm for the Southern Food Tour, a guided walking tour aimed at building awareness and community around Southern food heritage. Ford Fry of JCT. Kitchen & Bar, Adam Evans of The Optimist, Anne Quatrano of Bacchanalia and Linton Hopkins of Restaurant Eugene are all participating. Each chef will prepare one of their restaurant's most iconic Southern dishes and will share their unique stories of what Southern food means to them. The chefs also will pair their dish with a whiskey cocktail from American Spirit Whiskey. Space is limited to 30 guests; tickets are $200 per person and are available online. More info on Facebook.
Eat it and Tweep: My Little Foodies Tweets Where to go to Play with Your Food
This is good scoop! Follow Lauren Harris (@Mylittlefoodies) as she uncovers yums like High Road Craft Ice Cream's tasting room and factory tour, half-price meal deals and sushi making.
Sample Tweet: This looks to be a really fun and interesting event. Great Japanese food vendors, sumo wrestling, kite making,... http://fb.me/20Tkpdr3P
MLA Taste and Tell: Sit Down to Italian Street Food at Ammazza
Amy, our media relations manager, visits newly opened
Ammazza
in Atlanta's Old Fourth Ward and details her experience in our latest
Taste and Tell
. The menu is inspired by Italian street food; the table and chairs, by a friendly desire to sit a while over chat, chew and maybe imbibe a few brews.
What's New on Pinterest: Pizza Party
Are there too many zzzz's in pizzazzing up pizzas? No time to snooze. Join our Pinterest pizza party, and you'll feel the "knead" to turn out dough and compile your "top-this" list. Pimp my pizza, anyone?