ABOUT THE DISH
Looking for the latest restaurant openings, weekly wine tastings and drink specials or other culinary happenings?
Whatever makes your mouth water,
Melissa Libby & Associates
will point you in the right direction.
up-to-date on new and ongoing restaurant events around Atlanta!






Alon's Bakery and Market Hosts Wine Tastings and is Part of the Spread at "A Vintage Affair" Gala
On Thursday, September 27, Frederick Miller, Alon's Bakery and Market's new wine director (joining Alon's from Bone's), will host Francisco Carrau of Uruguay's Carrau wineries for a wine tasting with light fare at the Dunwoody location from 7-8 p.m. $20 per person. Miller will be in the Dunwoody store every Tuesday through Saturday with weekly wine tastings and in-store samplings each day.
Speaking of vintages, Alon's is a donating sponsor for the Community Assistance Center's "A Vintage Affair" on September 29. The bakery's scrumptious Moroccan chicken sandwich will be part of the spread of foods from local restaurants that gala guests will enjoy. For the past 25 years, the Community Assistance Center (formerly known as the Community Action Center) has served those in need in the Sandy Springs and Dunwoody areas and is supported by 28 congregations of all faiths.
Chicken and the Egg Roosts at Cobb Signature Chefs Auction for March of Dimes
Fifteen top area chefs will serve tastings of their popular dishes and donate dining and culinary packages to be auctioned off at the March of Dimes Cobb Signature Chefs Auction in Marietta on September 27. Marietta's own Chicken and the Egg will help sustain guests for those bidding wars by providing plenty of their fresh regional fare. The event begins at 6:30 p.m. and takes place at the Marietta Country Club. Purchase tickets online, $150 individual or $1500 per table for 10 guests.
Fabulous Show of Fall Facial Foliage? Enter the Hairy Man Contest through September 26 and You Might Win $300 for an Ormsby's Bar Tab
Hold off a day on trimming the Fu Manchu, mutton chops or flavor saver. Snap an Instagram pic of your stache and enter it in the Hairy Man Contest sponsored by Ormsby's and Riverview Landing. Include #UrbanHoedown and #YourName in the caption plus the hashtag that best defines your beard or mustache: #MostUnruly, #MostGravityDefying or #MostEpic. Option two: enter by posting the picture on Facebook. Last day to enter is September 26. Each title winner earns a $300 credit at Ormsby's to spend with friends hairy, bald or in between. The winners will be announced at the Urban Hoedown at Riverview Landing on September 28, and you must be present to win. Who's the hairiest of them all? It's sure to be a close shave.
Score at Atkins Park Tavern Virginia Highland for Monday Night Football and Smyrna for Pigapalooza Pigskin Weekend Action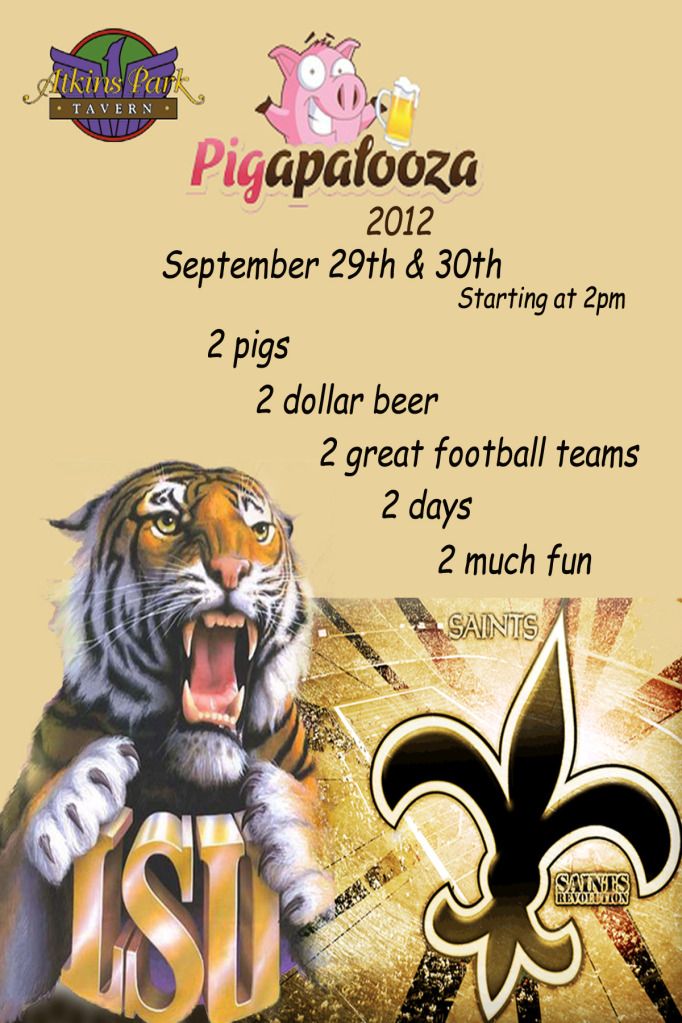 There's a reason why they play college football on Saturday. Monday nights are school nights made for NFL viewing and brewing at Atkins Park Tavern Virginia Highland. Practice that receiver arm by hoisting $3.50 Fu Manbrew pints while keeping an eye on the big screen game views. Enter to win a VIP tour package for four to the new Monday Night Brewery.
Intercept the "Grid Iron Eats" menu at the Virginia Highland location for chewing with viewing on Sundays from 3-11:30 p.m. and on Monday nights from 5:30 p.m.-12 a.m. Strong arm some sweet chili-glazed smoked pork spareribs with fries (1/2 rack $12, full rack $20), smoked pork and roasted poblano quesadilla ($9), mushroom and meatball sliders with provolone and marinara ($6), pulled chicken taquitos with avocado salsa ($9) or green chili cheese fries with shredded beef brisket ($10). On Monday nights, add Fu Manbrew tempura-fried veggies with sesame citrus ponzu ($8) to the fuel food list.
Saints alive! Pigapalooza plows through Atkins Park Tavern Smyrna this weekend when the LSU Tigers barrel down the field on Saturday, September 29 and the New Orleans Saints march toward the goal on Sunday, September 30. Way "two" much fun starting at 2 p.m. each day: two pigs, $2 beer and two football teams. Bring a buddy and make it a twosome.
Eat Your Greens. A Field of Greens Welcomes Chefs, Farmers, Artisans and You to Whippoorwill Hollow Farm on September 30
Meals from the Market at Field of Greens 2011
Whippoorwill Hollow Farm is a 74-acre certified organic farm located 45 minutes east of downtown Atlanta and is home to the annual
Field of Greens
down-on-the-farm food festival. Fun has deep roots this year at the September 30 event, starting with the legendary Chef's Tent featuring 30 chefs from Atlanta- and Athens-area farm-to-table restaurants.
Alma Cocina
,
Bantam + Biddy, Chicken and the Egg, Ecco, JCT. Kitchen & Bar and Woodfire Grill
will all be under the big top with samples from 12:30-3:30 p.m. (or until the food runs out). There's lots more to see and do: an interactive Kids Village, live music, a festival
market
, exhibits, craft demonstrations, silent auction, trails to hike, and the "Meals from the Market" where you can chat with local farmers about what they're growing and pick up simple recipes. Festival hours are 11 a.m.-5 p.m.; see the complete
schedule
for event times.
Tickets are $20 in advance or $25 at the gate and include unlimited tastings from the Chef's Tent. Children 12 and under enter for free. Rain or shine, but sorry Fido, not this time.
Sake It to Me: RA Sushi Pours $1 Hot Sake on International Sake Day and Picks Kiwi for Fall Sashimi and Cocktail Pairing
According to the ancient Chinese zodiac system, also followed in Japan, the new sake brewing season is upon us. What good karma to designate October 1 as International Sake Day, a global day to celebrate all things sake. Sake is the ultimate sippable go-with for sushi so you can imagine how huge this special day is at RA Sushi Bar Restaurant in Midtown. From 11 a.m. until close on Monday, October 1, guests can sip $1 hot sake -- $2 off the regular price. Lift your cup and toast "Kanpai!" in Japanese or "Cheers!" in English.
Along with sake-brewing season comes the autumn harvest of apples, pumpkins and fuzzy-skinned kiwifruit. Huh? Yes, that fruit that lends its fresh green color to fashion trends is equally at home on a plate or in a glass at RA Sushi. Their kiwi scallops sashimi plate and Kiwi Kismet cocktail pairing (pictured) for $18 highlights the sweet-tart fruit. On the plate, kiwi befriends premium Hokkaido scallops, peppery arugula, sautéed cashews and orange tobiko vinaigrette. Each sparkly green Kiwi Kismet cocktail amplifies kiwi by muddling then adds Kai Lemongrass Vodka, sweet sparkling sake and fresh lime and pineapple juices. Get fresh with the pairing from October 1 through November 30.
Throw in a Dollar for Special Olympics Georgia at Marlow's Tavern
Pocket change can make a big change in the life of a Special Olympics Georgia athlete. That's why all nine Atlanta-area Marlow's Tavern locations are inviting guests to add a dollar to their tab as a donation to Special Olympics Georgia throughout the entire month of October.
Here's a Book to Devour this Fall - "Raising the Bar: The Future of Fine Chocolate"
We give elegant boxes of artisan chocolate as love tokens. Simple chocolate kisses heal boo-boos. And please pass another square of that extra-dark antioxidant-laden cacao bar. A world without chocolate would be bland indeed, yet the best-tasting chocolates in the world are facing extinction. From bean to bonbon, farmers, scientists, manufacturers and artisans all have a stake in "the bar." A new book, "Raising the Bar: The Future of Fine Chocolate," releases October 1 in hardcover and eBook formats (Wilmor Publishing Corporation; October 2012; Hardcover; $19.95; eBook; $9.95; ISBN: 978-0-9691921-2-1 (Print); 978-0-9691921-3-8 (eBook). Co-authors Pam Williams and Jim Eber take readers on a fascinating global journey with stops to interview some of the most important people in the chocolate business. A master chocolatier herself, Williams is founder of Ecole Chocolate Professional School of Chocolate Arts. Bedside, kitchen, coffee table, gift - this "bar" is at the top of our must-consume list. Pre-order a copy now on Amazon.
Eat it and Tweep: Food & Wine Travel Editor Jets Off with Twitter in Tow
Twitter is the ideal travel companion for Food & Wine Travel Editor Gina Hamadey. Her traveling tweets (@gina_hamadey) relay discovery excitement, they don't beg a micro bite then take a mega bite from your plate, and they don't push up the check-through baggage weight.
Sample Tweet: prepping for trip to Lyon by obsessing over flavors at this ice cream shop http://www.terre-adelice.eu/gammes.php?filter=gamme picholine, piment d'espelette, roquefort...
MLA Taste and Tell: Mercier Orchards Calls for a Drive to North Georgia Mountains
Why buy apples from New York, Michigan or Washington State this time of year when there are bushels of Georgia apples waiting to be picked, purchased, peeled and pie-d a few miles up the road in Blue Ridge? Our Social Media Director Mandy road-tripped up to Mercier Orchards, one of several apple houses and pick-em places a short drive north of the metro area. Grab an apple from your fruit bowl to munch and bite into her YouTube Taste and Tell.
What's New on Pinterest: Pumped about Pumpkin
pumpkin bread recipe | a few of my favorite things - atlanta
Jackie O'Lantern and Peter Peter Pumpkin Eater all turn to our Pinterest board for recipes, menu finds and ideas. You'd be out of your gourd not to carve out some time to do likewise.