ABOUT THE DISH
Looking for the latest restaurant openings, weekly wine tastings and drink specials or other culinary happenings?
Whatever makes your mouth water,
Melissa Libby & Associates
will point you in the right direction.
up-to-date on new and ongoing restaurant events around Atlanta!






Get Meaty. Get Saucy. Get Some Marlow's Ribs & Whiskey Starting September 18
You know autumn has arrived at Marlow's Tavern locations when the friendly tavern unleashes its Ribs & Whiskey menu pumped with Jack Daniels-infused dishes and drinks. The menu, available September 18 through October 22, will tickle appetites light and hearty over lunch and dinner. Saucy starter specials ($6-$15) include "Kickin' Chicken" verde soup, Marlow's smoke-house flatbread, "A Pig with Buns," BBQ blazed Cobb salad or "Drunken Chicken." Order slow-cooked Smithfield James River St. Louis-style ribs by the half or full rack ($16.50/$24) or Marlow's Ribs & Whiskey "Hookup" of ribs and "Drunken Chicken" with sides ($25). Bourbon bread pudding with a splash of Honey Jack is a sippy-sweet dessert ($7). Rib-ticklin' drinks ($3-$9) include "A Kick from Ginger," Georgia peach lemonade, R&W S'weet Tea, Black Cabin Smoked Ale, Red Rock Ginger Ale, Villa Wolf Pinot Gris or Cartlidge and Browne Pinot Noir.
Special Olympics Georgia gets the Gold at California Pizza Kitchen Fundraising Night on September 20
Be a champion for Special Olympics Georgia and chow down at any Atlanta-area California Pizza Kitchen restaurant on Thursday, September 20. Print out this event flyer, give it to your CPK server when ordering and 20 percent of your purchase will be donated to Special Olympics Georgia. Plan your menu strategy by visiting cpk.com; dine in or order online and take out (catering and beverages included; gift cards and merchandise excluded). Your participation helps some of Georgia's most dedicated athletes attain their Olympic-sized goals.
Chews Two: Bantam + Biddy Victuals and White Oak Pastures Film "CUD" at Atlanta History Center Folklife Fest
Wouldn't be folksy without some socializing and food, and that's what the Atlanta History Center Folklife Fest Kickoff is all about this Friday, September 21 from 7-10 p.m. Select Atlanta restaurants devoted to using local and sustainably raised and produced ingredients will be in charge of the food, including Bantam + Biddy. Shaun Doty supports Georgians for Pastured Poultry and crows that regional, all-natural pastured chicken will star on the menu when he opens Bantam + Biddy in Ansley Mall next month. Folklife Fest Kick-Off tickets are $60 for Atlanta History Center members, $75 for nonmembers and include food and beverage. Save $20 by using promo code "FOOD" during checkout. More participant and mixologist fodder here.
Get a good night's sleep because the Folklife Fest on Saturday is jam-packed with attention grabbers from 10:30 a.m.-4:30 p.m. The Southern Foodways Alliance will show four Joe York short films about local farms and producers, including "CUD" about Will Harris of White Oak Pastures in Bluffton, Ga. Harris is the cattle rancher who swears by grass-fed cattle and pastured poultry. He should know because his family has been working the family farm for five generations! Look for lots of good old-fashioned fun, from folk art exhibitions to food trucks, local craft beers, demonstrations of traditional crafts and skills, storytelling plus old-time and blue grass music by Little Country Giants and Sourwood Honey Band. Purchase tickets to either or both events online.
Kaleidoscope Bistro & Pub Competes Against some Mean Beans and Wannabeans at Inaugural Brookhaven Chili Cook-off
Grab your Beano and take MARTA to Brookhaven on Saturday, September 22 for the inaugural Brookhaven Chili Cook-off. Kaleidoscope Bistro & Pub is one of a dozen or so restaurant teams entering and 50 total teams going bean-to-bean to see who is the best among restaurant, amateur or most-spirited teams as well as the always-coveted "People's Choice" award. In addition to Kaleidoscope Bistro & Pub participating in the cook-off, executive chef and co-owner Joey Riley will be a guest judge for the amateur cook-off division. The same guys who organize the Brookhaven Beer Fest are behind this 11 a.m.-7 p.m. blowout loaded with three bands, a Go Cornhole tournament, Kid Zone, college football on TV and chili-chasing cold beverages, in addition to the aforementioned gallons of chili. Chili tasting is from noon until 3 p.m. or until the chili runs out. Pay $5 for your spoon online, check in at the gate then taste away and throw in your vote for the bean counters to tally. Leave the car at home and walk north on Apple Valley Road from the Brookhaven MARTA station to get the most from your Indian summer day.
Achtung, Baby! Oktoberfest Begins September 22 at Alon's Bakery and Market
Attention! Good news! Oktoberfest begins September 22 in Munich, Germany and right here in Atlanta at Alon's Bakery and Market. Both Alon's locations -- Virginia Highland and Dunwoody -- will open up their bevy of Oktoberfest specials this Saturday and will continue the fest through Sunday, October 7. Pick up Terrapin Pumpkin Ale and à la carte items such as chicken schnitzel, German potato salad, braised red cabbage and apple strudel. "Wurst" case scenario, you buy too much flaky strudel and have to eat it all yourself. Bummer.
$25 Buys Three Courses at Marlow's Tavern and South City Kitchen during Vinings Restaurant Week, September 23-29
Two of Vinings' friendliest restaurants are on the list for the September 23 - 29 Vinings Restaurant Week. Marlow's Tavern - Vinings and South City Kitchen Vinings are both offering three-course prix fixe menus for $25 (not including tax, gratuity or beverage). Your meal at Marlow's Tavern encompasses asparagus fries with tarragon and citrus aioli; southwestern grouper served with jalapeño corn grits, black bean and corn salsa, roasted tomato broth and crispy tortilla strips; and concludes with fried cheesecake with strawberry Anglaise drizzle. South City Kitchen Vinings fills its menu with Southern choices: mixed baby lettuces with toasted pecans, Caesar salad with garlic grit crouton and fried okra or Old Charleston She-crab soup; buttermilk fried chicken, shrimp and grits or crispy catfish; and banana pudding, chocolate drunken voodoo zombie cake or the daily selection of High Road craft ice cream. Deliciously difficult decisions!
How 'Bout Them Apples? They're All Good at No. 246 Backyard Apple Festival on September 23
Before autumn leaves turn, the apples fall and a whole bunch have fallen into the hands of the No. 246 staff in Decatur. "How 'Bout Them Apples?" they asked and immediately planned a backyard festival with apples at its core. Join No. 246 and its Decatur neighbors Leon's Full Service and Brick Store Pub on Sunday, September 23 from 2-7 p.m. for an apple-solutely fantastic afternoon of food, cocktails and fun. No. 246 Chef Drew Belline will roast a whole pig while Chef Eric Ottensmeyer of Leon's Full Service fixes sides. Apple sweets will abound, including caramel apples, apple upside down cake, caramel apple cake, apple-powdered kettle corn and apple candies. Beverage Director Lara Creasy will mix up a cider punch with fresh-pressed cider, Italian brandy, vermouth di Torino and spices (could get apple-soused with several of these). Leon's is creating an apple cocktail, and the over-21 crowd can go for a six-cider tasting. Everyone can enjoy fresh-pressed cider made from North Georgia apples, and Georgia farmers will educate guests by sharing samples of their apple varieties. Bobbing for apples, face painting and twisting balloon animals will keep kids happy.
Purchase tickets at No. 246 for $35 per person ($10 for children age 12 and under). Tickets include food and cider tastings; additional alcoholic beverages will be available for purchase at No. 246, Leon's Full Service and Brick Store Pub. Reservations are recommended as space is limited; call 678-399-8246 to reserve a spot.
The Pinewood Tippling Room in Decatur has Lunchtime Covered for Everyone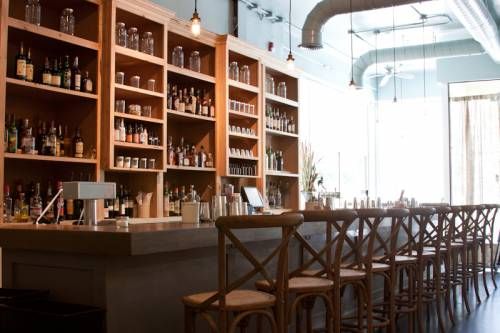 Lunch time again, and the energy bar doesn't look remotely appealing. Before you settle for that dreaded energy bar, The Pinewood Tippling Room in Decatur will serve you a lunch whether you're on a deadline at work or have time to sit down and mellow out on your break. Call in your lunch order or place it at the counter, then grab it and go or eat it there. Menu items range in price from $6 to $9.50 and include options such as the "Beaucoup Country Chicken Sandwich" made bánh mì style with buttermilk fried chicken, pickled vegetables, cilantro, soy mayonnaise on a buttered French roll, and "The Caveman" salad with mixed baby greens, local apples, Pinewood pecans, Belgian endive and smart dressing. Eat in or, well, you did put a "reserved" sign on the courthouse square bench, didn't you?
Ammazza Opens September 24, Tossing Together Italian Essentials and Local Ingredients for Phenomenal Napoletana Pizzas in Atlanta's Old Fourth Ward
When making true Napoletana-style pizzas, dough and sauce are key factors. Ammazza owners, the brothers Connerty, are ready and are importing essential ingredients such as "00" flour from Italy's Campania region. For meat and produce toppings, sustainable and local are best for a short commute from field through a wood-fired oven to hand-tossed heaven at 591 Edgewood Avenue.

Ammazza's Italian street food-inspired dishes go beyond 16-inch pizzas ($19-$22) to antipasto selections including house-made meatballs, insalata di limone and a classic meat and cheese board ($6-$10). Desserts ($3-$6) include cannolis, citrus-ricotta cream-filled sfogliatelle, flourless chocolate Torta Caprese and little dough balls of pasta fritta con canella. Pizza examples are Ammazzare with artisan Italian sausage, roasted peppers, Vidalia onion, fresh basil, tomato and house mozzarella; Terra topped with house mozzarella, wild mushrooms, goat cheese and truffle oil; prosciutto with roasted artichokes, fresh basil and house mozzarella; and Inferno with spicy sopressata, house mozzarella, tomatoes and Calabria peppers.

Fast and casual, Ammazza also hosts a full-service bar, bottled and draft beers, plus house-made limoncellos and Sprecher's gourmet sodas on tap. Rustic warehouse digs, reclaimed wood and a skylight set the backdrop for small tables and two 16-foot communal tables big enough for the whole crowd. Open at 5 p.m. nightly for dinner and staying open through midnight Sunday - Thursday and 2 a.m. Friday and Saturday. Plenty of parking in adjacent lot.
Woodfire Grill Hosts "Fire in My Belly" Cookbook Release Party for Chef/Author Kevin Gillespie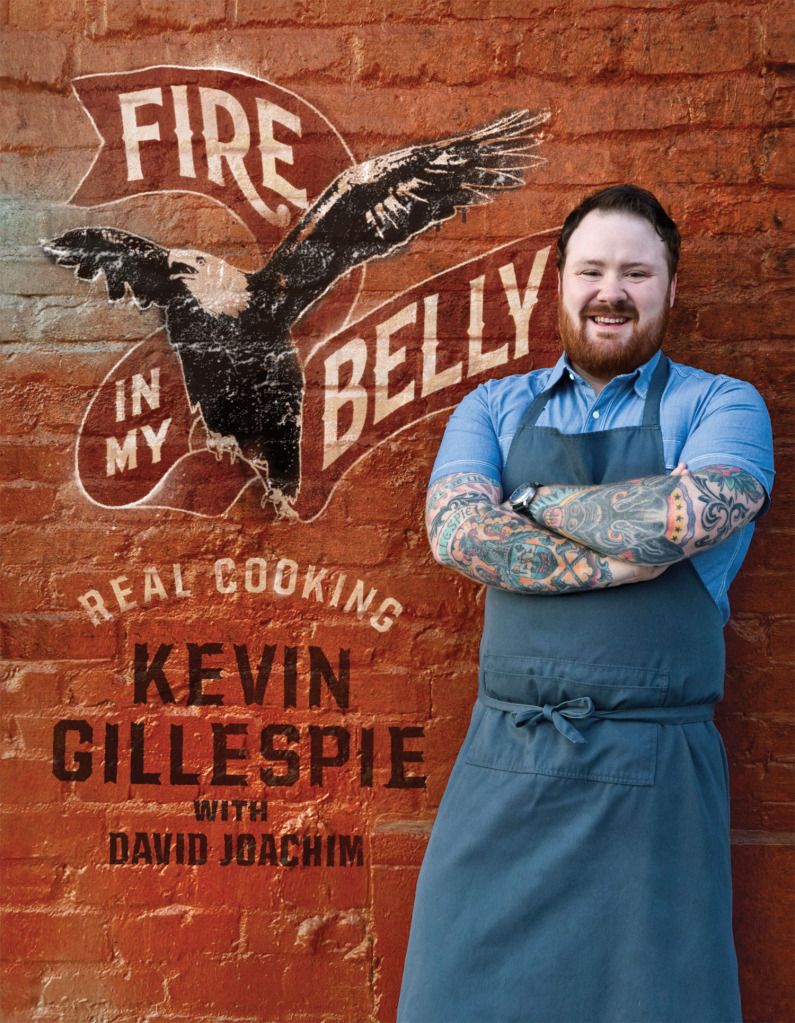 The man with the pig tattoo is getting ready to bare all - about using top-quality ingredients in a kitchen like the one he calls home at Woodfire Grill. Kevin Gillespie's new cookbook, "Fire in My Belly," showcases Gillespie's recipes and his passion for food pulled together with "heirloomesque" photos and 120 easy-to-make recipes for home cooks. Guests at the Tuesday, October 9 cookbook release party will taste hors d'oeuvre from recipes featured in "Fire in My Belly" including mushroom toast, fried green tomatoes, smoked trout puffs, ribs, chicken sandwiches, squash tarts and banana pudding. Cost for the 6-10 p.m. event is $75 in advance when purchased online by October 9 or $90 at the door pending availability. Ticket includes a copy of the cookbook to be personalized by Gillespie during the party; additional copies will be on hand for purchase.
Happy Birthday to Us! Atlanta-Based Melissa Libby & Associates Celebrates 20 Years in the Wining and Dining World
We're not shy about telling our age! Melissa Libby & Associates (MLA) turns 20 on September 22! Melissa and MLA staffers past and present have spent two decades drinking and eating -- a "job" that has gotten increasingly more delicious with each passing year.
"Twenty years have gone by in a flash," confirms Libby. "Atlanta's restaurant scene has grown and changed dramatically since 1992, and it has been exhilarating to be a part of that growth. I am so lucky to have found my passion early and to have been able to create a business around it. Chefs and restaurateurs are the best, most fun, most creative, craziest group of clients a PR person could ever wish for!"
We checked to see the most appropriate way to commemorate our 20th, but china and platinum seemed a little too traditional. So we ordered Koozies! Come by and get one or collect the whole set. Make sure to check us out on Facebook and Twitter soon to enter to win a fun prize. Thank you for your support of MLA!
Red Queen Tarts Reigns Over Kingdoms of Pure Taste and Responsibility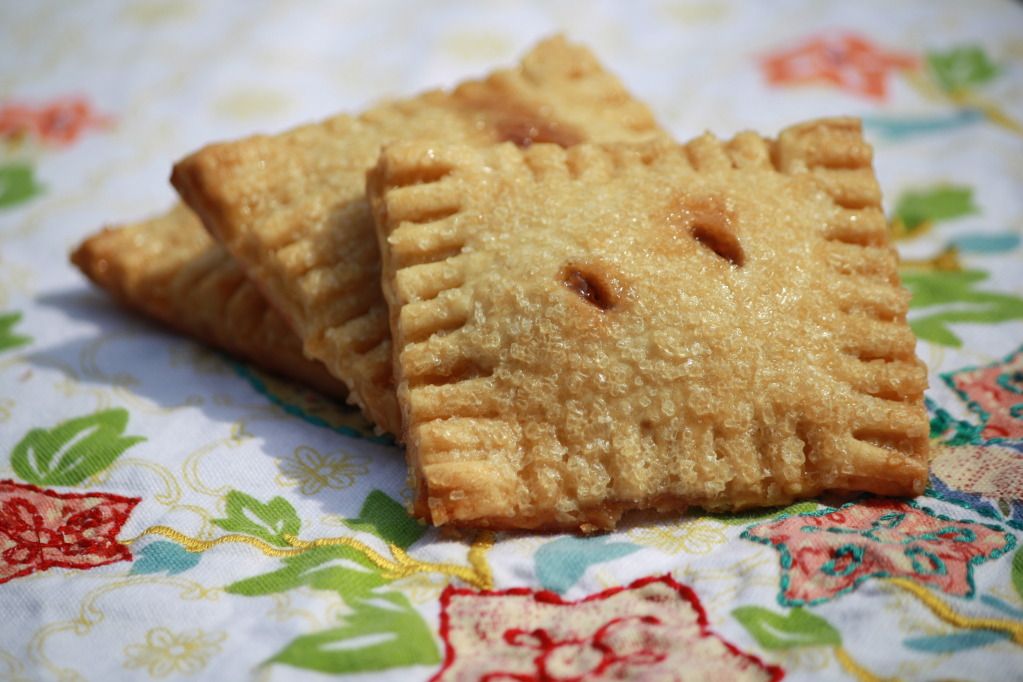 If you don't already have a box of Red Queen Tarts, that's a plain shame. How divine to munch on one while you're digesting this story about these purely delicious tarts that in no way resemble anything you'd buy in a box off the shelf except that they are rectangular. Founder Candice Reynolds experienced a way-too-healthy upbringing, working in the garden, canning and learning useful old-timey skills. All grown up now, she fully appreciates food free of artificial, GMO origin or additive anything. It's imperative to Reynolds that her tarts bear noble marks of the best organic, earth-friendly ingredients available so a crowning glory of genuineness shines in each buttery bite of the super-sized tarts. Reynolds rolled out Red Queen Tarts in 2010, and now you can find them at farmers markets, organic supermarkets and served by caterers and businesses on the East Coast. You can even buy them online (shipping fees apply). Seasonal flavors include prosecco fig and brie, blueberry, maple pecan, hazelnut chocolate, brown sugar and cinnamon, amaretto almond, strawberry, mixed berry, cherry, red plum, bourbon peach, caramelized pear and fig and Meyer lemon curd. Choose any six, and Reynolds will box them for $28. Red Queen Tarts is offering 25 percent off the first order for Dish readers with the coupon code DISH25! Look for them at the Peachtree Road Farmers Market and the Dunwoody Green Market.
Eat It and Tweep: Sports? Food? GT Gal has a Wide Range
Miss Kelley admits it's a good thing she runs because she loves food. She swoons over Georgia Tech sports, books, boot camp, crewing and the word "facetious." Watch out apostrophe users, Miss Kelley is policing your every insert. Look her up on Twitter (@misskelley).
Sample Tweet: yep, i'm that jerk on the plane with the smelly food. but this quiche is gooooood. #sorrynotsorry
What's New on Pinterest: All About Apples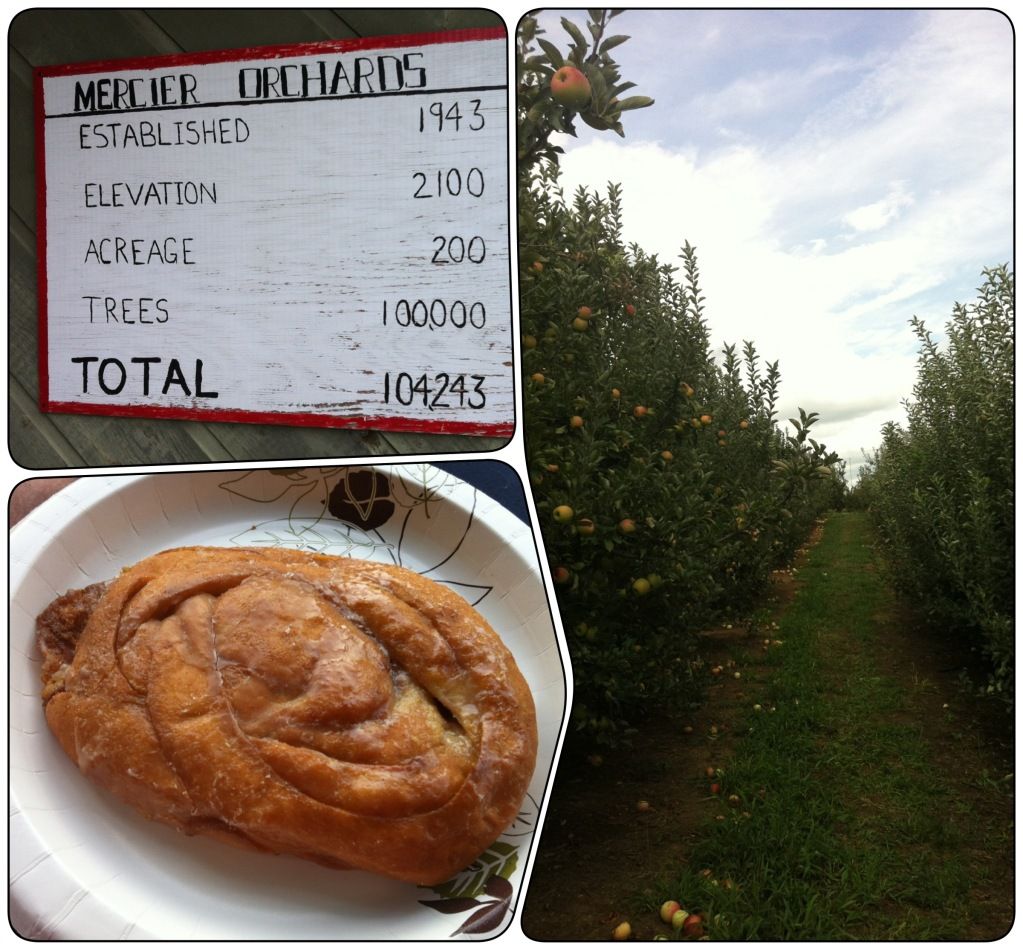 Aptly put, A is for apple and B (Braeburn) and C (Crispin and cider). We're not comparing apples to oranges, solely picking apples and more apple ideas to post on our Pinterest boards.
Appetizing Aperture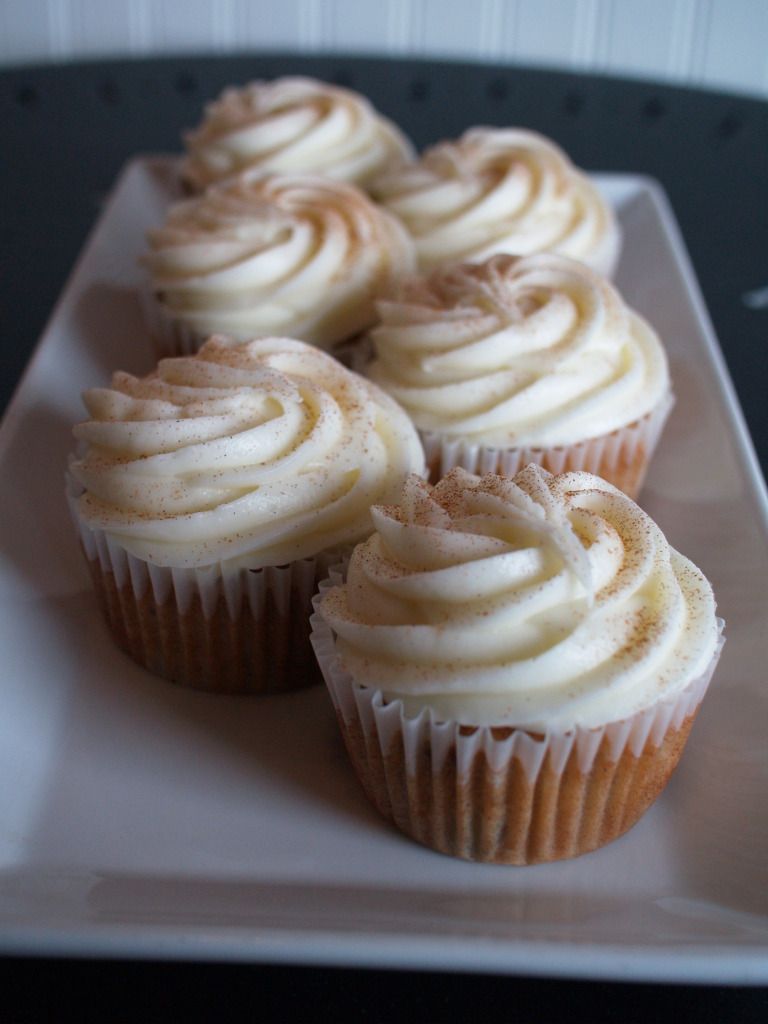 What's the strategy with these Little Cake Bakery cupcakes? Apples and Honey is a cinnamon cake folded around a cooked apple and honey compote crowned with cream cheese frosting and cinnamon. Pumpkin Spice Cake wears a pumpkin candy hat atop spiced cream cheese.