ABOUT THE DISH
Looking for the latest restaurant openings, weekly wine tastings and drink specials or other culinary happenings?
Whatever makes your mouth water,
Melissa Libby & Associates
will point you in the right direction.
up-to-date on new and ongoing restaurant events around Atlanta!






RA Sushi Ushers Summer Out the Door with a
So Long Summer Party on September 13
When that heat and humidity hug you like a steaming wet blanket, there's only one place to go - RA Sushi Bar Restaurant's So Long Summer Party on Thursday, September 13. Yes, it's time to say "sayonara" to summer's wilt with one last hurrah of scorching hot food and drink specials and some cool DJ mixes starting at 7 p.m. So Long Summer drink specials are a chill $5 each: Long Island iced tea, Frozen Fuzzy Momo Bellini, red/white summer sake sangria, the Dragon Bite featuring Bacardi Dragon Berry, strawberry purée, fresh lemon juice, yuzu and a splash of soda, or the Endless Summer Night with Sauza Tequila, Citronage, pineapple, orange and lime juice, and a splash of grenadine. Ice cold beers are $3 for Bud Light and Miller Light or $5 for Kirin/Kirin Light and sake. Savor summer faves such as the shrimp-laden Seaside Roll ($7), the spicy tuna- and cuke-filled Sunset Roll ($6), grilled beef skewers ($8), Summer School chicken nuggets ($6) and Kaisen ceviche ($7.25). Bonfire Shrimp ($9) fires up the night with crispy, spicy shrimp, shishito peppers, ramen noodles and black sesame seeds in a chili sauce. Facebook has more details.
Sample Smyrna's Best - Atkins Park Tavern Included - at Taste of Smyrna on September 15
The Taste of Smyrna - Festival of Delectable on the Village Green and in Market Village heralds the transition of summer into fall each September with food, fun, music and more for the whole family. Atkins Park Tavern in Smyrna wouldn't miss the event and neither should you. Nibble your way around the sample circuit from 11 a.m. until 8 p.m. Admission is free and samples are 50 cents up to $4 each. Kidzone? Sure. How about doing the Euro Bungee before filling up on samples?

There will be plenty of sound bites as well from acoustic musician Scott Thompson to the Francisco Vidal Band on the Main Stage at 7 p.m. Chip Jones keeps live music rolling at Atkins Park Tavern Smyrna after the festival goes to bed. Check for updates on Facebook.
Turn to Alon's Bakery and Market for Your
Rosh Hashanah Menu
Rosh Hashanah begins the evening of Sunday, September 16 and ends on the evening of Tuesday, September 18. Alon's Bakery and Market is offering a special menu to help busy families prepare for the Jewish New Year holiday. Pre-order your selections and pick them up one to two days before the holiday begins. All the traditional favorites are on the list, including beef brisket (pictured), round challah, chopped chicken liver and honey cake. Alon's will be open from 9 a.m. to 4 p.m. on Sunday, September 16 and closed on Monday, September 17.
1950s are Nifty as American Inspirations for Sterling Spoon Culinary Management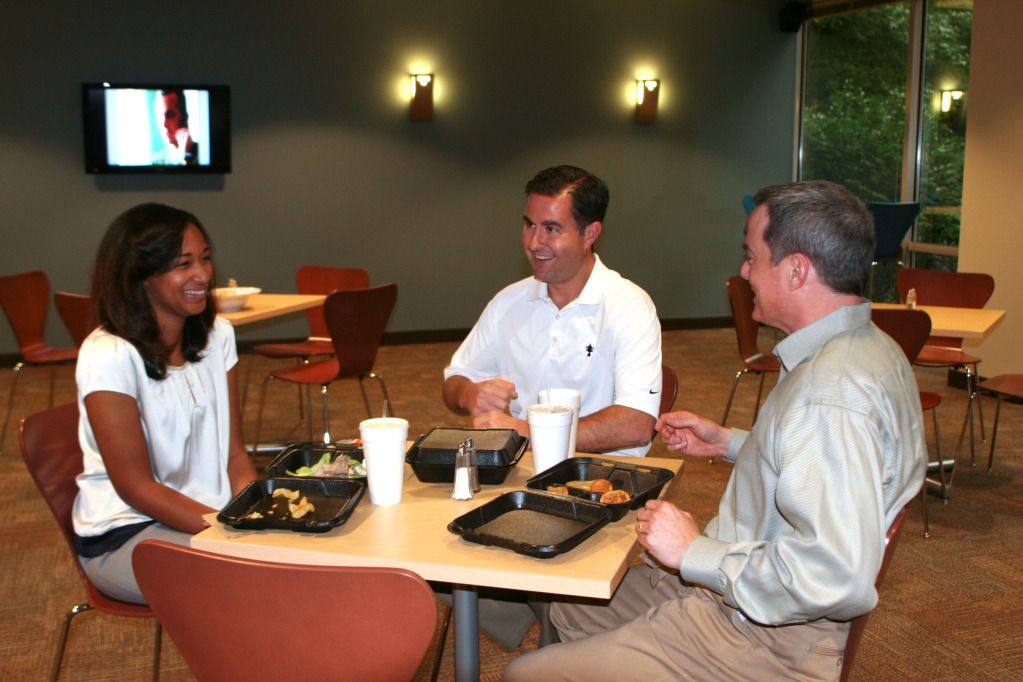 Lipton onion soup mix turned dipping into a social skill in 1952. Dinner and a channel were "in" as Swanson unveiled the first frozen TV dinner in 1954. In 1956, the electric can opener was cutting-edge technology. There's a lot more to 50s chow than meets the timeline, and those mid-century inspirations have tickled the fancy of the culinary staff at Sterling Spoon Culinary Management restaurants. Themes making a comeback during the "Nifty Fifties" promotion are "Drive-In Diner Days" entrées including roasted turkey, meatloaf frosted with mashed potatoes and turkey tetrazzini; "TV Dinner Meals" such as Swedish meatballs, American chop suey and Salisbury steak; "Happy Days Are Here Again" items such as a silver dollar slider bar, a hot dog bar and pigs in a blanket; and "Nifty Fifties" sandwich specials such as the Dagwood and fried all-beef bologna on a kaiser roll. Desserts include banana pudding, apple or pecan pie, blueberry cobbler, cherry crisp chocolate cake, Rice Krispies treats and more. We'll definitely be back for reruns at Market Street Café locations, Bistro 191 and Sanctuary Park eateries through October 27.
Drew Belline of No. 246 is in the Demo Booth at this Saturday's Peachtree Road Farmers Market
See what the farmers are bringing in, along with other artisan and handcrafted products, at this Saturday's Peachtree Road Farmers Market. Find your way to the demo booth at 10 a.m. (okay to nurse your coffee and nosh) to see what's new with Drew Belline of No. 246 in Decatur. Last year, Belline shared his recipe for baby tomato and cucumber salad with cucumber vinaigrette and was captured on video.
Aqua blue is 11 Years Young and is Counting on Celebrating Through September 16
The decade plus a year celebration is already underway at Aqua blue. You have until Sunday, September 16 to take advantage of the Roswell restaurant's three-course prix fixe menu at a celebratory price of only $20.11 or the special small plates and drink anniversary menu offering two items for $10. It's not a party without favors and games. All guests take home a special prize, and those who order an anniversary special are entered to win free dinners for a year. For complimentary champagne, cake and live music, too, come to the party on Wednesday, September 12!
Dine Out for Share Our Strength's "No Kid Hungry" at Marlow's Tavern, Aqua blue
and Ray's Restaurants
Childhood obesity grabs big headlines, but what about childhood hunger? Statistics show 16.2 million kids (that's one in five) in the U.S. struggles with it. Share Our Strength's "No Kid Hungry" campaign works continuously to ensure all children have access to nutritious food. This year, more than 8,000 restaurants nationwide are supporting the campaign with special "Dine Out for No Kid Hungry" promotions. Be a part of the solution by dining out at Marlow's Tavern locations, Aqua blue in Roswell and Ray's Restaurants (Ray's in the City, Ray's on the River and Ray's at Killer Creek) during "Dine Out for No Kid Hungry" week, Sunday, September 16 through Saturday, September 22. Ray's Restaurants extends the possibilities by donating a portion of the sales from their special three-course chef's menu to the cause through September 30. Invite friends to join in and spread the word with a few photos and social media. See the event website for restaurant details.
Aria's Gerry Klaskala Has a Pot for Every Chicken Part in His ACFB Simple Abundance Cooking Class at The Cook's Warehouse on September 17
Put that bird to work! Gerry Klaskala of Aria finds a tantalizing way to use every part of the affordable bird, and he's eager to share his ideas with attendees at a Simple Abundance cooking class at The Cook's Warehouse - Brookhaven on Monday, September 17. Anyone who has dined at Aria knows Klaskala's simple, modern dishes showcase the season's freshest ingredients. And comfort food? Klaskala is king of slow food cooking that teases out every drop of flavor. His menu for the class, also on Facebook, includes honey- and soy-glazed almond wings, chicken soup with quick noodles, caramel black pepper drumsticks, coconut, lemongrass and red curry tenderloins, slow-braised thighs with preserved lemon and green olives, and breast with sweet garlic and goat cheese. The demonstration and wine tasting featuring wines from Sherlock's Wine Merchant runs from 7 - 9 p.m., costs $55 per person and benefits the Atlanta Community Food Bank. Sign up online.
Chicken and the Egg Unleashed: Marc Taft Touches Down at Monday Night Football's Falcons vs. Broncos Game
Chef/Owner Marc Taft is trading the mild-mannered kitchen of Marietta's Chicken and the Egg for some hot gridiron cooking downtown at the Falcons vs. Broncos tussle on Monday, September 17. His winning strategy centers around cooking up some mouthwatering dishes at the 2View Restaurant located near Gate F in the Georgia Dome's east end zone executive concourse. Will his prowess fire up Falcons fans and distract Broncos from the game? We hope so! Kickoff is at 8:30 p.m. Between bites, fans can catch every tackle and turnover on 2View's big screens.
Cookbook Release Party Launches Rebecca Lang's "Southern Living Around the Southern Table" at The Cook's Warehouse on September 26
Photo: Renee Brock
Open the book and sit down to Rebecca Lang's world of Southern hospitality. "Southern Living Around the Southern Table" (Oxmoor House 2012) is downright delicious and crammed full with 150 recipes, stunning photos, essays from well-known Southerners (not just chefs) and ways to extend Southern hospitality. Lang will be at The Cook's Warehouse - Midtown on September 26 from 6 - 8 p.m. to sign books, offer up a short cooking demo and set out samples of recipes from the book such as sweet onion spread, whole fried okra, pimento cheese sliders and pecan tassies. No charge to attend; however, good manners require an RSVP so The Cook's Warehouse will be sure to have enough treats on hand for all guests.
12th Annual Afternoon in the Country at Serenbe is November 4 and
Tickets Sell Out Fast (Hint, Hint)
We're warning you - every year, tickets sell out fast to the Les Dames d'Escoffier International (LDEI)-hosted Afternoon in the Country at Serenbe. And who wouldn't want to be there with chefs and food from Atlanta's top restaurants, caterers and farms along with wines, micro-brews, select retailers, live bluegrass, silent auction, children's activities, hayrides and more in the gardens surrounding the Inn at Serenbe near Palmetto. Net proceeds benefit the Atlanta LDEI Scholarship Fund for women. Pull out the credit card and tap here to purchase tickets.
Eat it and Tweep: DMezzinator Edits Garden & Gun When He's Not Tweeting
If he's an editor, why is David Mezz holding a huge fish in his Twitter (@DMezzinator) picture? A tweet to testimony of being able to work anywhere. We're hooked. Now we'll have to follow his lines.
Sample Tweet: Nice fish, Chef! @MikeLata pic.twitter.com/XEnzwxzo
Pinterest - Better Breakfasts
Breakfast Quesadillas from Eat, Live, Run
A little bowl of soggy cereal with colored marshmallows just isn't going to cut it on our Pinterest board. You can do better than that. Breakfast like a king (or queen), and the world's your kingdom!