ABOUT THE DISH
Looking for the latest restaurant openings, weekly wine tastings and drink specials or other culinary happenings?
Whatever makes your mouth water,
Melissa Libby & Associates
will point you in the right direction.
up-to-date on new and ongoing restaurant events around Atlanta!






White is the Right Attire for a Party in the Kitchen Benefitting Open Hand
Wearing white after Labor Day is encouraged, even expected for this week's Party in the Kitchen on Thursday, September 6. Blend in with the white coats and toques of Aria's Gerry Klaskala, Chad Clevenger of Alma Cocina, Shaun Doty of Bantam & Biddy, Adam Evans of The Optimist and Kevin Gillespie of Woodfire Grill. These chefs and more will be cooking up some fun and raising funds for Open Hand at The Event Gallery at King Plow Arts Center. Event starts at 7:30 p.m. To purchase tickets, $175 each, click here.
Dine at Atkins Park Tavern Smyrna, Chicken and the Egg, Ray's on the River and South City Kitchen Vinings during Cobb Restaurant Week
Ray's on the River
Have you caught on to the benefits of following restaurant weeks around the ATL to sample our area's wide variety of awesome eateries at jaw-dropping prices? Cobb Restaurant Week takes the front burner September 8 - 15, showcasing some of the county's best restaurants as they offer special three-course lunch and/or dinner menus for $15, $25 and $35 per person plus beverages, tax and gratuity. Four places we heartily recommend are Atkins Park Tavern Smyrna ($25 dinner), Chicken and the Egg ($15 lunch, $25 dinner), Ray's on the River ($35 lunch and dinner; lunch option not available on September 9) and South City Kitchen Vinings ($25 dinner). Make reservations on Open Table's special Cobb Restaurant Week page. Follow along on Facebook.
Six Grill Masters Smoked the Rest, Now Marlow's Tavern Dunwoody Toasts Grill Contest's Six Best and Announces Grand Prize Winner at
September 8 Party
Earlier this summer during Marlow's Tavern "Red, White and Brew" menu days, grill masters and wannabes took the heat, showing off their grill recipes for the Marlow's Tavern third annual "Get up in Our Grill" recipe contest. Well, it's done and now it's time to party, celebrate the finalists' grill skills and announce the grand prize winner at Marlow's Tavern Dunwoody on Saturday, September 8 from 3 - 5 p.m.
Executive Chef John C. Metz determined the six finalists. They are Bennie Vann of Roswell and his Kentucky sausage-stuffed pork chops with bourbon-mustard glaze; Kim Youngblood of Lawrenceville and her Asian shrimp sliders; Eddie Sun of Norcross and his Asian dragon wings; Darren Standifer of Cumming and his stuffed roasted poblano pepper; Kevin Stovall of Austell and his spiced turkey burger sliders with smoked gouda and BBQ caramelized onions; and Billy Favara of Marietta and his fire-grilled corn on the cob with basil-Parmesan butter.
Party attendees can taste complimentary samples of the six winning recipes and enjoy drink specials. Top three winners will be announced at 4 p.m., and Marlow's Tavern staff will dole out a Big Green Egg for the grand prize winner, a $100 Marlow's Tavern gift card for second place, a $50 Marlow's Tavern gift card for third and "Red, White and Brew" limited-edition t-shirts for all winners. There is no charge to attend.
The newest Marlow's Tavern is located at 1317 Dunwoody Village Parkway, 770-559-7528. Hours are 11:30 a.m. to 12 a.m. Sunday through Thursday and 11:30 a.m. to 1 a.m. Friday and Saturday.
From "Bottle Wars" to "Last Call" Savings, September is a "Month of Discovery" at Fleming's Prime Steakhouse & Wine Bar
Another reason to cheer and steer to the top of the Perimeter this month is the "Month of Discovery" underway at
"Bottle Wars" pits eight to 10 wines from Fleming's 100 against each other as wine region rivals in four Friday night themed tastings. Professionally trained wine managers lead guests through the $25-per-person experience. A "Pinot Smackdown" is slated for Friday, September 7, "Battle of the Hemispheres" follows on September 14, "Old World vs. New World" squares off on September 21 and "Glass Warfare" compares premium and budget-priced wines on September 28.
"Last Call" uncorks 25 percent savings on premium wines by the bottle for the first two weeks of September.
A new prix-fixe three-course menu for two plays a delicious co-star to the new wine collection ($99 for two, $49.50 for one).
Each guest enjoys a triple entrée of
broiled filet mignon, herb baked shrimp and braised short rib, with shrimp bisque and a dessert
of frozen almond soufflé. An additional $25 per guest purchases a specially priced flight of three wines -- The Prisoner,
Primus Cabernet and Quintessa 2006 -- all from the Huneeus Vintners Portfolio.
No. 246 Chef Drew Belline Peps Up Weeknight Family Suppers and Demos Sweet Pepper Ideas at Morningside Farmers Market
Knowing family dinners are so important, time is precious and dollars are dear, No. 246 Chef Drew Belline has drawn up a special family style supper menu for early diners. On Monday through Thursday evenings, diners seated between 5 - 6:30 p.m. can order a four-course meal served family style (with the exception of the entrée) for $18 for adults and $6 for children 12 and under.
The Italian-inspired menu begins with toast with local roasted sweet peppers, local basil, shaved heirloom garlic, EVOO and sea salt, and a salad of local greens with house-dried oregano vinaigrette, pepperoncinis, small tomatoes, shaved local red onions and feta. Choose one pasta entrée per person: tagliatelle carbonara with bacon, local herbs and Parmesan; spaghetti and meatball with Parmesan, San Marzano and basil; squid ink tagliatini with Bemis and James bottarga, bread crumbs, chilies and mint; or spaghetti with arugula, basil and almond pesto. Tiny, doughnut-like zeppole with anise sugar is a classic dessert. The children's menu includes spaghetti with meatball, spaghetti with butter and cheese pizza.
On Saturday, September 8, you'll find Belline leading a chef's demo at 9:30 a.m. with Woodland Gardens sweet peppers at the Morningside Farmers Market. Market opens at 7:30 a.m. Shop first, chop later.
Healthy Dinner on the Fly: White Oak Pastures Rotisserie Chicken and Eggs at Whole Foods Markets; One-Day Sale on Grass-Fed Beef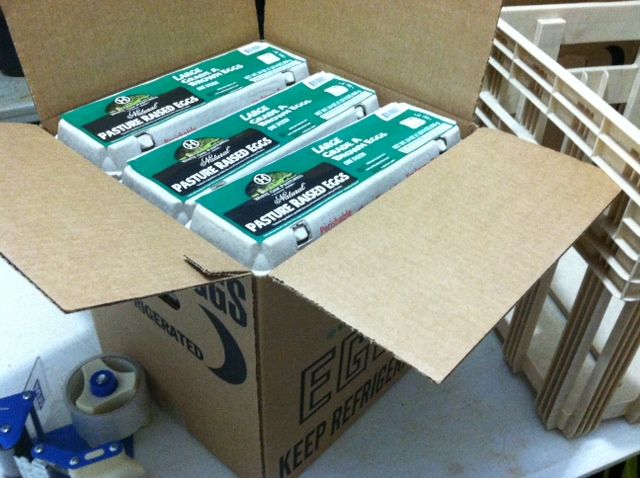 To be any easier, healthier or tastier, they would have to fly into your kitchen. Whole Foods Market on Ponce de Leon is now carrying White Oak Pastures' own pasture-raised chicken seasoned various ways and roasted on the rotisserie. Stop in and pick up one or two for a quick, healthy weeknight meal or easy weekend (good to the last drop of broth you're going to make from the frame). All Atlanta Whole Foods Markets carry White Oak Pastures eggs. The farm's heritage breeds dine free-range style on certified organic pastures, vegetarian specially blended feed and field-fresh veggies. Boiled, scrambled, frittata-ed for fresh taste and nutritious value, they're all they're cracked up to be and more.
Mark your calendar. Whole Foods Markets across the U.S. are having a one-day sale on White Oak Pastures ground grass-fed beef on Friday, September 7. At just $4.99 per pound, this is a great opportunity to stock up while supplies last.
Hey Bro, Not a Pro? This Amateur Chef Chicken Cooking Contest is for You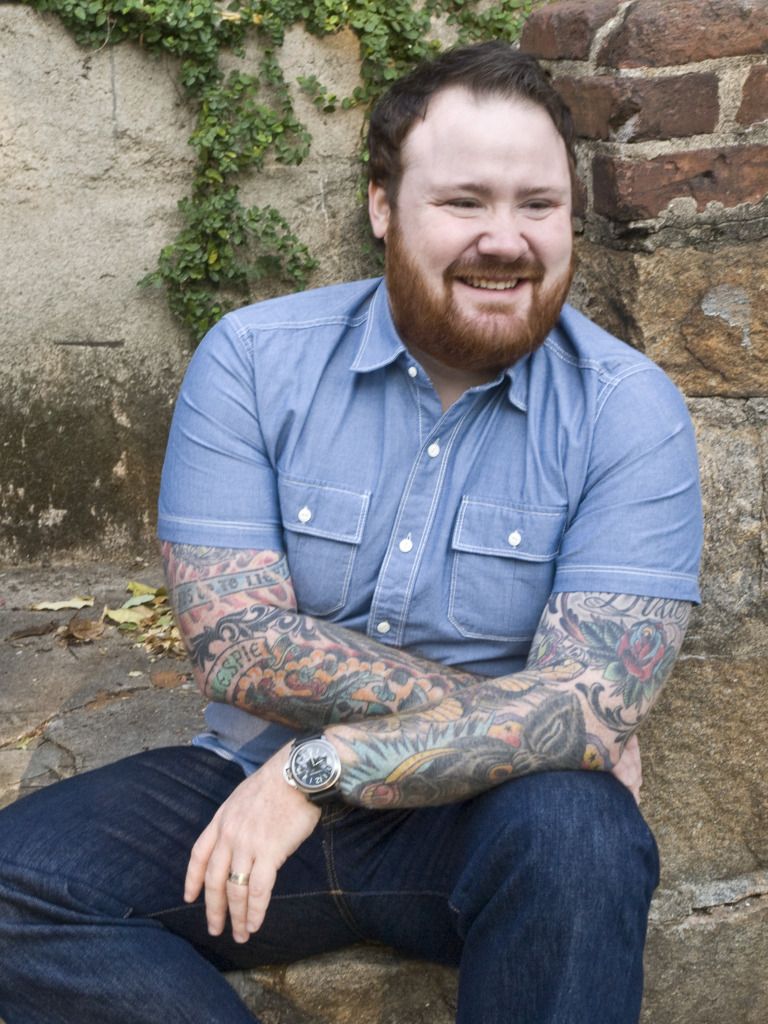 Photo by Angie Mosier
Cooks who are chicken of fixing chicken need not apply. If your tandoori-fried chicken (insert your renowned chicken dish here) is to die for then start brining, battering, marinating, trussing or doing whatever it takes to get ready for The Food Experiments' amateur chef contest coming to Atlanta on September 23. Kevin Gillespie of Woodfire Grill will be one of the four well-qualified judges deciding which non-pro chef will take home the title, cash and not-so-paltry prizes from Le Creuset, Anolon and Microplane as well as a free trip to Brooklyn to compete in the National Championships. Competitors receive $50 to take the edge off the ingredient purchases and a free beer. More beer will be available from Brooklyn Brewery. Two ways to handle this hot bird: either enter here or buy your tickets here.
What's New on Pinterest:
Chicken of Choice
Chickens at White Oak Pastures
Drumstick roll, please. We're clucking about chicken on our
Pinterest
board with recipes and chicken dishes. Take a wing and join our flock!
Eat it and Tweep -- A Reluctant Foodie in Northern Virginia Adores His Wife, Meatless Mondays and More
He's living the good life, blogging about food, loving craft beer, baseball and his good-cooking wife (maybe not in that order). Follow his ramblings for meatless manna ideas on Twitter (@ReluctantFoodee) or read his food and restaurant musings on A Reluctant Foodie blog.
Sample Tweet:
Stop wasting food! Use those Refrigerator Orphans to make something delicious - here's how we do it
http://ow.ly/djKMn
Appetizing Aperture - Battle of the Burgers
Atlanta restaurant burgermeisters are flipping out. Which one will win "Best Burger" at this Saturday night's Battle of the Burgers at John Howell Park in Virginia Highland? Assuredly, the rare competition will get juicy. Just look at Kaleidoscope Bistro & Pub's burger, pictured here. Every ticket sold enables Embraced to place gently used medical equipment in the homes of five more families around Atlanta and around the world. Read more about the 501 (c) (3) nonprofit at www.embracedatlanta.org.