You Oughta Be In Pictures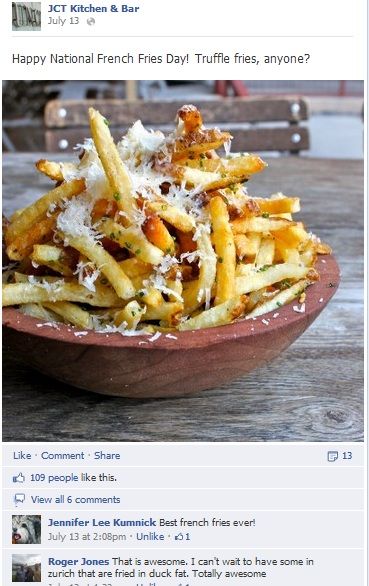 Good news for those of us who specialize in the visual - particularly in food and drink - as social continues to develop with a preference towards pictures! We recently attended a great seminar held by the
Atlanta CVB
that focused on how social media is increasingly becoming all about your photo shares on Facebook, Pinterest and Instagram.
As many people reach to social media for a quick break during the workday, they want to see fun pictures and easy-to-digest information that they can quickly relate to and "like." Make it easy for them with a delicious photo and brief information, and they're more likely to engage with you and your brand.
Whether it's a
casual iPhone snap of tonight's special
or
event photos from a recent party
at your restaurant, it's more important than ever to make your social presence known visually. Hiring a professional to take everyday photos of your interiors and menu items is also a great idea.
Feel unsure about your photo abilities? There are lots of great phone apps to accentuate your images, like the free
Photoshop
app. If you see a guest post a photo from your restaurant that you like, you can also ask them for permission to share on your page. (Be sure to credit and thank them if you do!) Blogger Mark Petko has also started a great resource for budding food photographers on the new site
Your Kitchen Camera
that's worth taking a look at to help make your photos shine!
An extra benefit to all this photo activity? Providing us with quality photos to use also helps us with our pitching efforts as we reach out to both traditional media and bloggers. So don't forget to get snap-happy at your restaurant!