ABOUT THE DISH
Looking for the latest restaurant openings, weekly wine tastings and drink specials or other culinary happenings?
Whatever makes your mouth water,
Melissa Libby & Associates
will point you in the right direction.
up-to-date on new and ongoing restaurant events around Atlanta!






Sanctuary Park Employees can now Eat Breakfast and Lunch with a Sterling Spoon at Three New Market Street Cafés

Alpharettans who work in and near
Sanctuary Park
office campuses - Lake View II, the Falls and Stone Bridge I - are already savoring the spoils of having three new, yummy dining options from
Sterling Spoon Culinary Management (SSCM). The Southeastern leader in on-site culinary cafés recently opened three casual Market Street Café locations within the office development. Each café is open from 7 a.m. to 2 p.m. Monday to Friday to fill early morning through afternoon hungries with chef-driven fresh, nutritious and delicious foods prepared from scratch right there in each café. Menus and hospitality satisfy mealtime preferences from boardroom to mailroom and carnivore to vegetarian. Sterling Spoon's signature HEALTHchecks initiative ensures menu items meet nationally accepted dietary guidelines for healthy and nutritious dining options. Atlantans are already familiar with SSCM dining concepts and catering services. Perhaps you've heard of Bistro 191 in downtown, Market Street Café in Buckhead, Aqua blue in Roswell and Atlanta-spanning Marlow's Tavern locations?
Beery Crafty: Alon's Bakery and Market in Dunwoody Hosts Craft Beer Tasting on August 9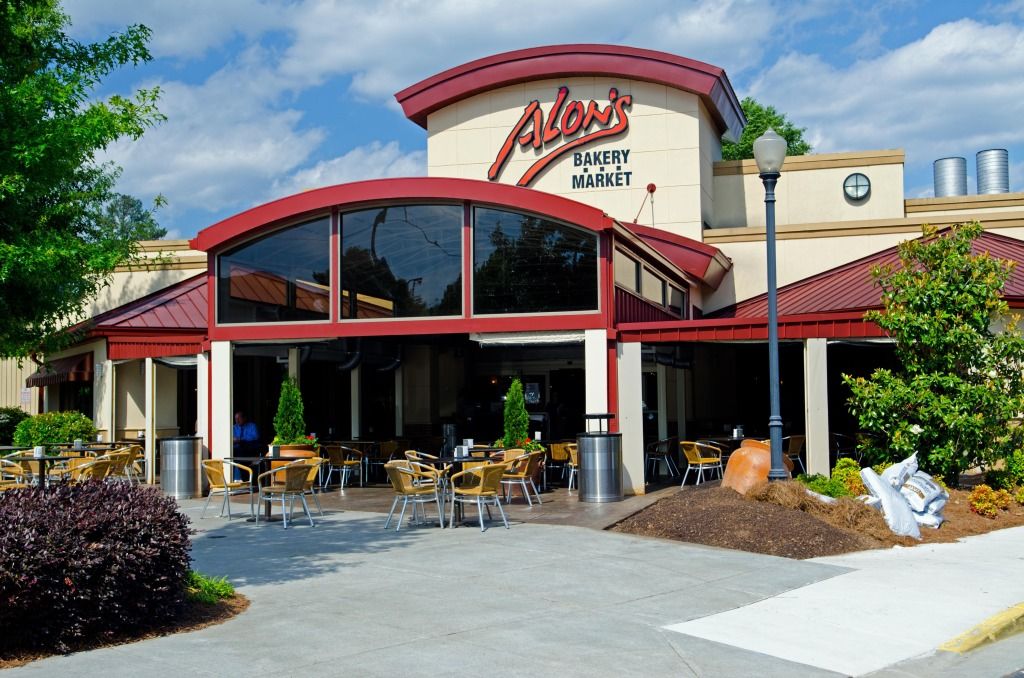 Set aside an hour for some artfully brewed crafts on Thursday, August 9 at Alon's Bakery and Market in Dunwoody. The 7 - 8 p.m. tasting highlights five craft brews from Cisco Brewers in Nantucket, Mass. and Minhas Brewery in Calgary, Canada. Try out the whole range from English-style Whale's Tale Pale Ale to the classic Bavarian-style Summer of Lager, along with a light-bodied American golden Sankaty Light Lager (named after a Nantucket lighthouse), malty-fruity Indie Pale Ale, and an amber-hued Vienna lager named Fat Cat Lager. $15 per person; call 678-397-1781 to reserve a spot.
Egg-ceptional Recipes? Roll 'em on in to Chicken and the Egg's First Anniversary Family Recipe Contest
A month-long first anniversary celebration of special promotions and events is flying high at Chicken and the Egg in Marietta. Last week, guests received plastic eggs containing prizes with their checks. And where would Chicken and the Egg be without family farms? Submit a favorite family recipe to the farmstead-fare restaurant this month. The winning dish will grace September's menu along with a small bite of info about the family behind it. A Facebook photo contest is in the works - look to the restaurant's Facebook page for more information. Teachers, Chicken and the Egg appreciates your long hours and dedication and eases you back into the school schedule with 15 percent off when you show your school ID. While you're there, enter to win a free class party!
We're Schnitzeling on a Promo for DeKalb Government Employees at 7 Hens in Decatur
Show your DeKalb County government ID at 7 Hens this month, and the restaurant will deduct 15 percent from your tab. The newly opened, fast-casual eatery located at the corner of Clairmont and North Decatur roads has plenty to crow about in the field of reasonably priced, globally inspired chicken schnitzel. If you would like your business to receive the same perk, why not stop by and tell them? They've just scratched the surface on this community-oriented promotion and would be glad to consider your business for a future promo.
Aria Wine Sommelier Jacob Gragg is one of Wine & Spirits' Best for 2012
Wine & Spirits magazine has popped the cork on its "bests" for 2012. Aria Sommelier Jacob Gragg is on this year's short list as one of the best sommeliers. The magazine will publish its list in the October issue. That gives you just shy of two months to wine and dine at Aria before the word is officially out.
Burgers Take Backseat as BLT Steals Show in JCT. Bar $10 BLT And Beer Special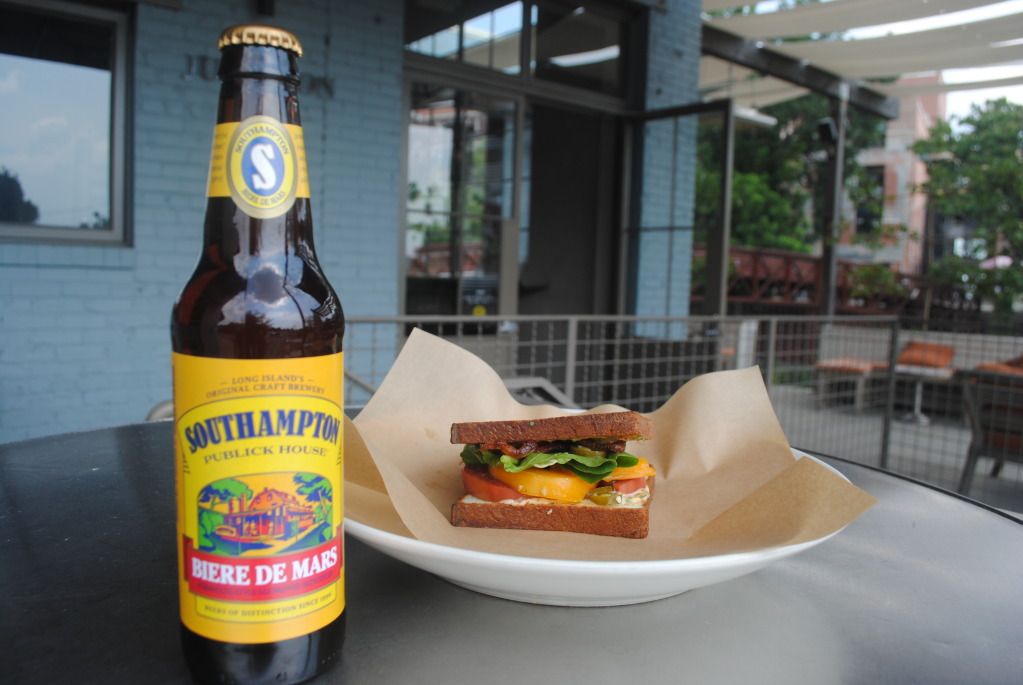 Slide over burgers, you're toast, for summer anyway. At JCT. Bar, 'tis the season for something even more rare and juicy - the heirloom tomato and its compadres, house-smoked bacon from Gum Creek Farms, peppery arugula and the punch of pickled jalapeno mayo. JCT. Bar pairs its BLT with a smooth, lager-like Southampton Biere de Mars for a summery version of the $10 "Beer and Burger" special every Tuesday through Thursday from 5 - 10 p.m. during tomato season. Cheap eats in price, priceless in the flavors of summer. The Attack of the Killer Tomato crowd would be proud. This offer is only available at JCT. Bar, located above JCT. Kitchen in Atlanta's Westside Urban Market.
When Dinner is a Pressing Matter, Marlow's Tavern Grilled Chicken Panini is an Easy Save
Summer evenings will fool you. It's lighter longer and maybe a little less heated than midday. And oh, my goodness, is it that late already? What's for dinner? Marlow's Tavern has a stay-cool menu of dishes and drinks and nine locations - including the newest location in Dunwoody. Always a good neighbor, Marlow's Tavern is glad to share its recipe for grilled chicken panini, a simple summer classic that will get dinner on the table fast and keep the cook cool as a cucumber.
Marlow's Tavern Grilled Chicken Panini
Serves 2
Ingredients:
1 loaf focaccia bread
2 grilled chicken breasts
4 slices fresh mozzarella
2 tbsp. basil aioli (see recipe below)
2 sliced fresh Roma tomatoes
1/2 cup fresh spinach
Method:
Evenly season each chicken breast with salt and pepper and grill chicken breasts until cooked through. Cut focaccia loaf in half to make two sandwiches. Spread both sides of each sandwich with one tablespoon of basil aioli. Build each sandwich from the bottom up, layering the ingredients in the following order: ¼ cup spinach, tomato slices, grilled chicken and two mozzarella slices. Place sandwich in panini press for 60 seconds or until lightly toasted. Alternatively, grill in a hot skillet until toasted and heated through.
Basil Aioli
Ingredients:
12 fresh basil leaves
½ tsp. garlic, chopped
1 scallion, chopped
1/8 cup olive oil
1 cup mayonnaise
Salt and pepper
Method:
Place all ingredients (except for mayonnaise) into blender or food processor and blend on high speed until pur
é
ed. Place pur
é
ed mixture into a mixing bowl and fold in mayonnaise until combined.
Vidalia Onions - Get 'em Before They're Gone
The sweet and delicious season for the Vidalia Onion is slowly but surely winding down. Store shelves will only stock the world's most famous onion for a bit longer. If we were you, we'd head out and load up our shopping cart before they're gone.
What's New on Pinterest: Peachy Keen
Coming back from the beach, you purchased a big basket of blushing peaches at a roadside stand. They're going to be delish, and they're going to ripen in unison. Peachy keen Pinterest posts are the pick of the crop for ways to make the most of your haul.
Eat it and Tweep: Find Farm Mobile and You've Found Atlanta's Mobile Farmers Market
John Deere tractors get the job done in the fields. Farm Mobile brings those veggies to the tables of metro urbanites. The mobile farm store operated by Riverview Farms stops at various places around town. Follow their tweets for locations and stops, head over, hop on and shop for produce from local farms. Follow on Twitter (@FarmMobile) to find them. More reads to pick at on the Riverview Farms website.
Sample Tweet: Whistle Stop Farmers Market today in downtown Norcross from 4-8pm, stop by and say hi! We'll be sampling our tomatoes and deli meat (smoked ham & corned beef) today!
Appetizing Aperture:
National Filet Mignon Day
National Filet Mignon Day is Monday, August 13. As easy to slice as butter, a tender filet mignon like this one served at
Ray's Restaurants
just about melts in your mouth. So what do you say? Steak knife or butter knife? You chews.
MLA Taste and Tell: Drink Up!
MLA Client Services Manager Tuan spills all on where to find the perfect summer beverages. Be sure to watch the whole
YouTube
snippet so you'll know where to go for the tropical - and reusable - tiki glass.