ABOUT THE DISH
Looking for the latest restaurant openings, weekly wine tastings and drink specials or other culinary happenings?
Whatever makes your mouth water,
Melissa Libby & Associates
will point you in the right direction.
up-to-date on new and ongoing restaurant events around Atlanta!






Marlow's Tavern Opens in Heart of Dunwoody on July 31
The newest location of neighborly Marlow's Tavern is sure to win the hearts of Dunwoodians when it opens Tuesday, July 31 at 1317 Dunwoody Village Parkway in a tree-shaded building reminiscent of a Williamsburg tavern. With its gourmet tavern fare, creative cocktails, generous interiors and patio space, and all-around fun atmosphere, the Dunwoody Marlow's is sure to become a regular stop for those who live or work in the top-end Perimeter city. What can the locals start salivating over? Marlow's varied menu packed with categories such as Start, Snack, Share; Crisp, Cool Salads; Tavern Favorites; Classic Tavern Burgers; Big Bar Sandwiches; Kid's Fun Foods and Sweet Stuff. Plates change seasonally, depending on what's fresh and local. Grilled turkey meatloaf, ahi tuna poke, a shrimp and crab nacho plate, and grilled chicken panini using Prestige Farms chicken are several current options. Marlow's extensive beverage menu features American and global wines, handcrafted cocktails and a simple but varied list of beers including local favorites such as SweetWater 420 and Terrapin Rye Pale Ale. Building community has always been important to Marlow's Tavern, both through local non-profit involvement and providing a comfortable, inviting place for guests to meet with big leathery booths, communal tables and plenty of covered patio seating. Dunwoody, the door's open -- come on in!
Chicken and the Egg Rolls Over One-year Anniversary
As of August 1, it will be official. Chicken and the Egg will have prepared, served and wowed Marietta diners with its seasonally inspired Southern farmstead fare through all four seasons. Special occasions deserve specials, and there will be plenty of specials and promotions. Like a birthday present, they will be a surprise and good ones at that. Keep an eye on their Facebook page for more details!
Summer Heat has met its Match: RA Sushi's Frozen Red Bull Cherry Bomb and Frozen Fuzzy Momo Bellini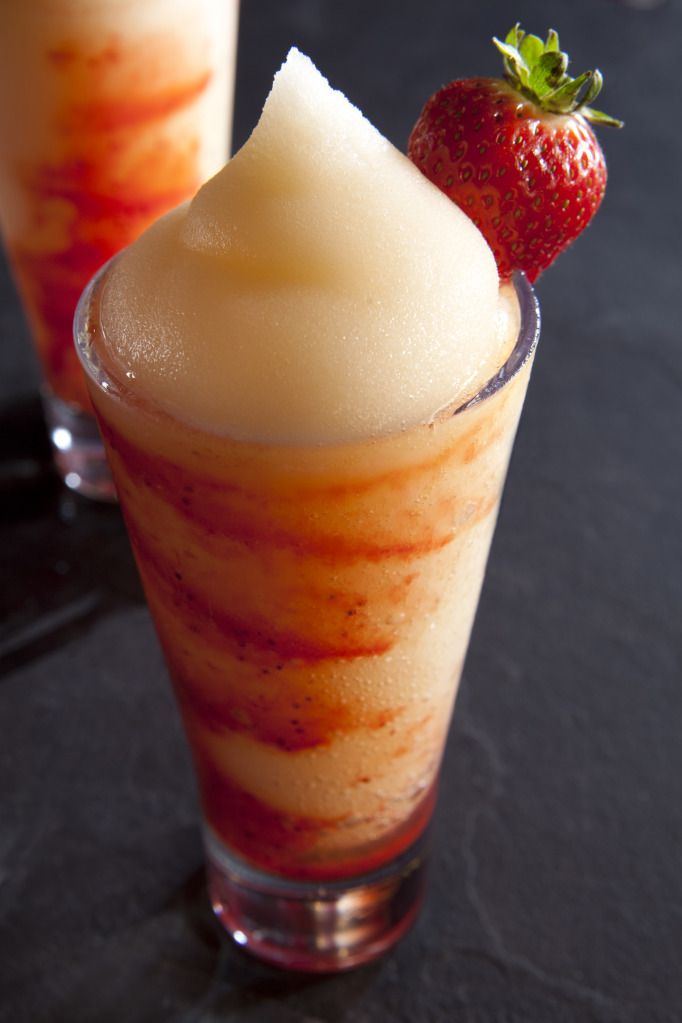 Don't let those back-to-school retail displays fool you. There's still a good month and a half of summer sun-days to sip your way through. RA Sushi Bar Restaurant in Midtown ushers in the first of August with two icy heat beaters. The Frozen Fuzzy Momo Bellini is the mixology crew's slushy take on the popular Italian cocktail that blends sparkling white wines, Cruzan Rum, yuzu and peach and strawberry purée. RA's Frozen Red Bull Cherry Bomb will shake off any siesta thoughts with a wild ride of Red Bull, a generous helping of Three Olives Cherry Vodka, TY KU Soju, orange juice and a splash of Monin Cherry. The chill-thrills are $8 each, much less than a new AC.
Mellow but no Jello. Third Annual Southern Chef's Potluck Benefit Plates Up on August 5 at The Inn at Serenbe
Of two things we're sure: you don't have to bring a dish and Jello salad will not grace the table when the Third Annual Southern Chefs Potluck takes over the pavilion and pastoral grounds of The Inn at Serenbe on Sunday, August 5 from 3 - 6 p.m. Almost two dozen of Atlanta's best chefs will handle the potluck part. Each chef will prepare a side, homemade pickles or relish and a dessert to add to the bountiful table. Guests can fork into Ford Fry's summer squash casserole with Georgia gouda and garlicky crumb; Shaun Doty's White Oak Pastures chicken galantines with herb vinaigrette; homemade moon pies toted in by E. J. Hodgkinson of Woodfire Grill and many other goodies. Mains include White Oak Pastures meats prepared by Jim 'N Nicks Bar-B-Q and fried chicken legs from The Farmhouse at Serenbe. Family style serving keeps things low key and casual at this benefit for Wholesome Wave Georgia. Guests will enjoy local beer, wine and cocktails created by top mixologists and served by members of the Atlanta chapter of the United States Bartender's Guild. White Oak Pastures' own Will Harris will auction off one-of-a-kind chef experiences. A raffle will send some lucky guests home with unique culinary items and experiences, and everyone will enjoy live music from Christ, Lord!, Lily and the Tigers and Under White Pines. For yummy photos and tickets to purchase, click here; $125 per person.
Beneficiary Wholesome Wave Georgia is a nonprofit organization that helps make healthy food accessible to all Georgia citizens while contributing to our local food economy.
And the Envelope, Please: Top Picks at Attack of the Killer Tomato Festival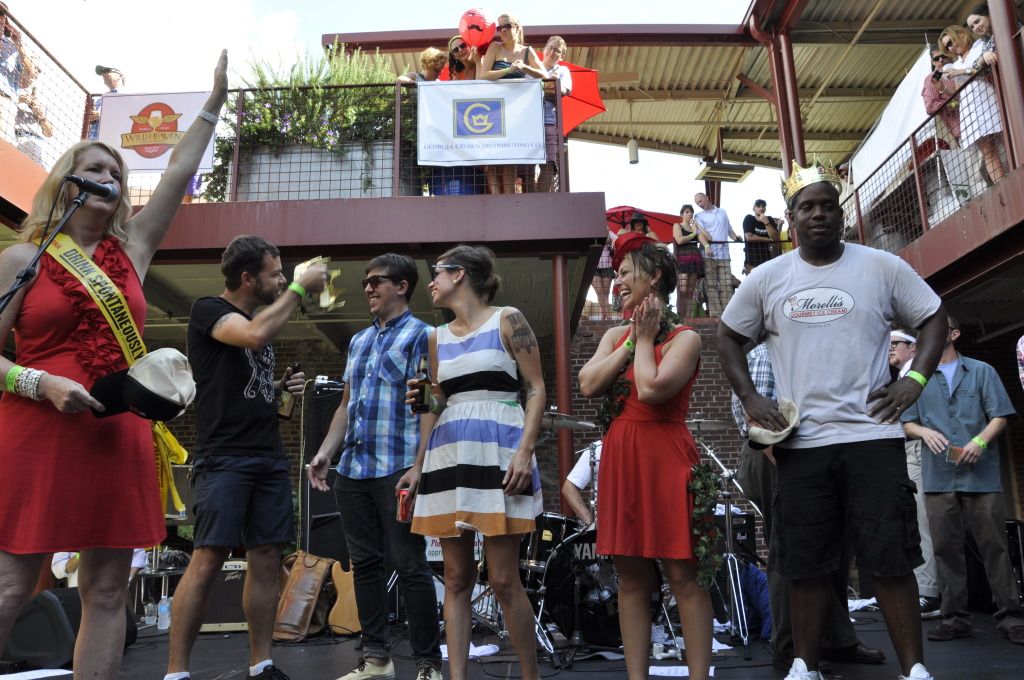 This year's Attack of the Killer Tomato Festival, held on July 22 at JCT. Kitchen & Bar, was another smash hit! Creative juices flowed, and several chefs and mixologists were especially victorious in the quest for top tomato honors. Judges' Choice and Fan Favorite awards went to Donald Sargent of Morelli's Gourmet Ice Cream & Desserts for Best Dish. Paul Calvert of Pura Vida took home the Judges' Choice for Best Cocktail while Miles Macquarrie of Leon's Full Service won Fan Favorite for Best Cocktail. In a tough tie, Sprig and H&F Bottle Shop share recognition as Best Booth.
National Collegiate Tailgating Championship Could be Biggest Bowl of all at Georgia Dome
on August 11
As collegiate football players sweat it out on gridirons and pump iron in weight rooms, die-hard fans are not standing idly by waiting for the season's first kickoff. They're strategizing over tailgate themes, decorations and menus for their own winning season. Honoring this sport before the sport is the National Collegiate Tailgating Championship, a day-long, preseason show down in the Georgia Dome parking lot on Saturday, August 11. Along with going for the win in more than 20 food and drink categories, diehard tailgater fans can compete for best in class of RV design, clothing, tent decoration, satellite dish cover, games, jewelry, pet attire and more. Touchdown that clicker finger here for more categories and entry information.
What's New on Pinterest: We Love Lunch
Sweet Vidalia Onion Pimento Cheese
Oh, bag it! Be it for back-to-school or back-to-cube, filling that lunch bag needs a little tender lovin' inspiration. Move over PBJ, here comes Pinterest.
Eat it and Tweep: Some Kinda Good is Some Kinda Wonderful
Rebekah Anne Faulk is sweeter on Georgia than a glass of sweet tea on the front porch. Loves Georgia, loves the South, in the culinary sense and beyond. Follow this Statesboro PR specialist, freelance writer and food blogger as she tweets (@SKGFoodBlog) or fill up your glass and sit a spell at her Some Kinda Good blog.
Sample Tweet: @ClassicGeorgia Back porch rockin', listening to the crickets, sippin' on sweet tea. #Southern #GoodTimes
MLA Taste and Tell: Bánh Mi
Oh me, oh my, bánh mi is on the mind of MLA Media Relations Manager Suong Nguyen. She's been from Atkins Park Tavern to Buford Highway trying out the Vietnamese sandwich that's top on the charts for munching right now. View her YouTube video while munching your lunch. Bet you'll go for bánh mi tomorrow.
Appetizing Aperture: Porchetta Sandwich at No. 246
You know it's back-to-school time when National Sandwich Month appears on the calendar. August is it -- 31 days to honor sandwiches. No. 246's porchetta sandwich plumped with porchetta, rocket, pickled red onion, aioli and doused in roasting juice fits the bill nicely and comes with a small rocket salad or garlicky fries.