ABOUT THE DISH
Looking for the latest restaurant openings, weekly wine tastings and drink specials or other culinary happenings?
Whatever makes your mouth water,
Melissa Libby & Associates
will point you in the right direction.
up-to-date on new and ongoing restaurant events around Atlanta!






A Shore Thing: Lure Opens July 17, Cruises Global Waters For Freshest Seafood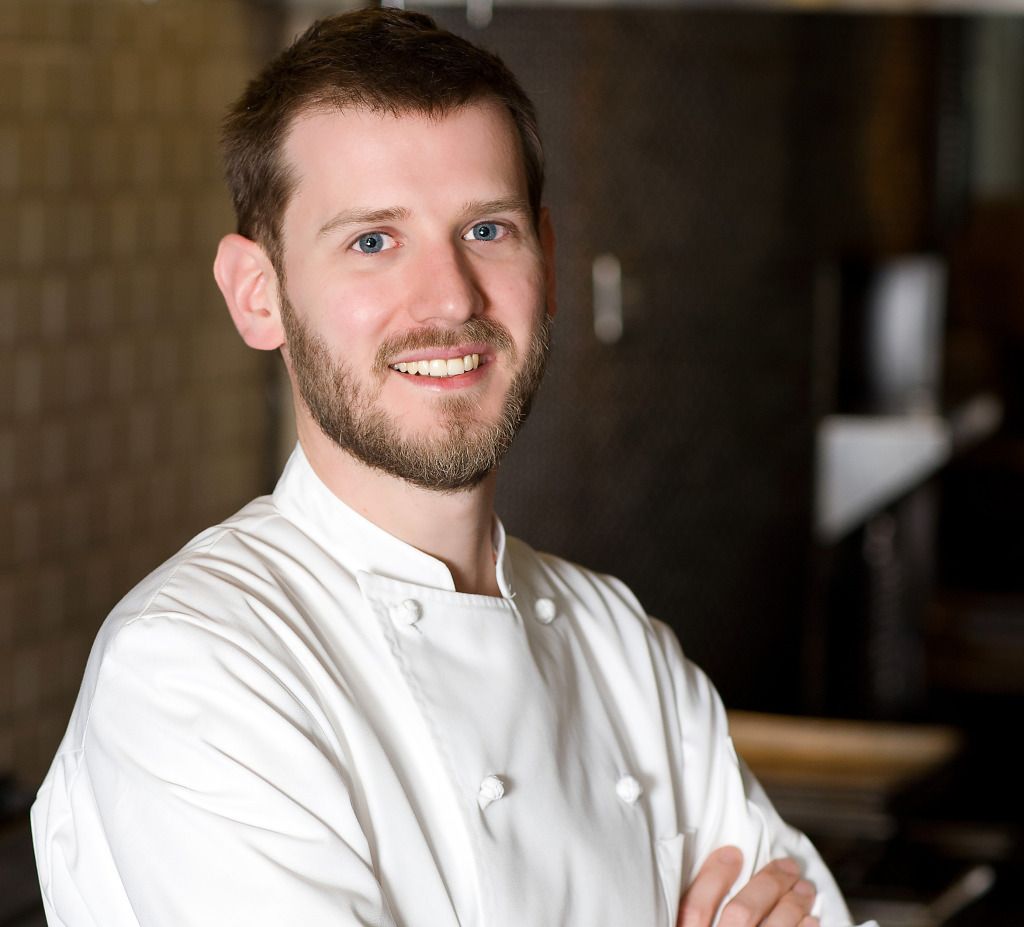 Midtown diners, Lure is quite a dinner catch. The 1920s bungalow at 1106 Crescent Avenue is almost oceanfront property, washed in cool, crisp colors of the sea, weathered woods and billowing sail cloth. With a menu inspired by American and global traditions, the newest keeper from Fifth Group Restaurants appeals to dressed-up sophisticates, casual beachcombers, the adventurer, the traditionalist, the hedonist - and the fresh-fish obsessed. Executive Chef David Bradley nets amazingly fresh seafood and seasonal produce for his three-part menu. "Raw, Marinated, Chilled" ($2-$20) offers the likes of cold water oysters on the half shell. "For You Or For Sharing" appetizer options ($4-$14) include tom yum shrimp bisque, crisp mushrooms and coriander and fried oyster slider with rémoulade and watercress on a soft bun. "Sizeable Servings" entrées ($19-28) include sautéed pompano fillet with Silver Queen corn, curry and spicy lime pickle and Georges Bank haddock with Georgia field peas, green beans, zucchini and ham hock broth. Lure serves dinner nightly, with lunch and weekend brunch service beginning in September.
On the watering hole side, Fifth Group Restaurants Beverage Director Vajra Stratigos constructed the beverage program that features an expansive list of draft and bottled beers, interesting wines, punch bowls and fun cocktails.
Snitching On Chicken Schnitzel -- Seven Hens Brings Worldly Fried Chicken Cutlet To
Emory Area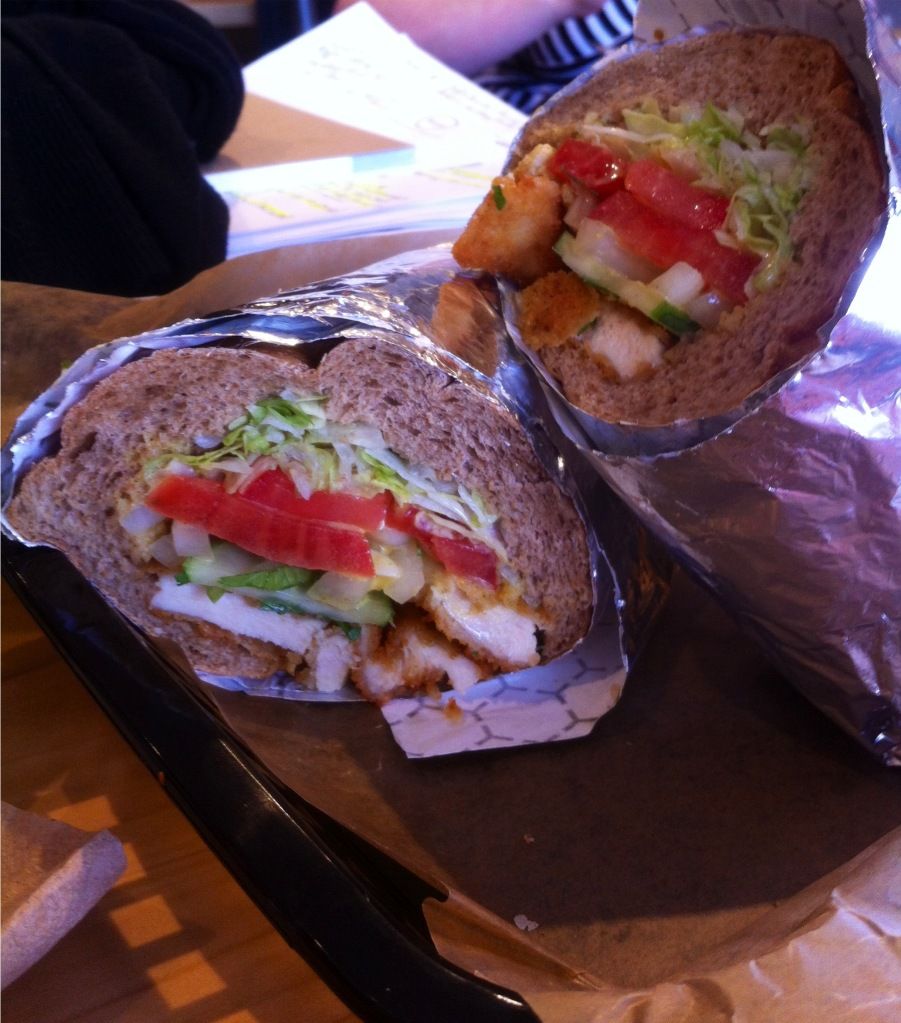 Swallow that southern pride. Fried chicken is a worldly bird. Overseas, it takes a pounding before the breading and frying dip to become the golden perfection known as schnitzel. In Germany, schnitzel is a term of endearment, as in "I'm crazy about you, my little schnitzel," and in Israel, it tops falafel as the top street food. In Decatur, fried chicken lovers in search of the schnitzel-ed bird for lunch or dinner will find it at fast-casual Seven Hens, recently opened in North Decatur Plaza. Seven Hens starts with local, all-natural chicken then pounds breasts into thin cutlets. Schnitzel is customized to order with suggested recipes and seasonings -- American, Mexican, Italian, French, Chinese, Indian or the design-your-own seasoned Traveler -- and fried crispy-crunchy on the outside and moist and tender inside. Cutlets then meet the Mezzaluna knife blade for precision slicing -- all in plain view. To escort bird to mouth, go with a locally baked white or wheat baguette ($7.49), wrap ($7.49), salad ($6.99) or on a platter with two sides ($7.99). Sides include fries, Seven Hens salad and chips and are also available separately. Finishing touches are a DIY array of house-made dressings, spreads, sauces, toppings and cheeses inspired by world cuisine. Guests not snatching up schnitzel will find dark meat, vegetarian (tofu) and grilled chicken options, and fountain sodas and bottled drinks are available to quench thirsts. Gotta go? Yep. Like our southern staple, Seven Hens schnitzel is a picnic waiting to happen.
20 Bottles, $20 Each On Tuesdays At Kaleidoscope In Brookhaven
Wow. Plunk down one of those bills from the ATM and try a wine from the 20 for $20 list each Tuesday night at Kaleidoscope Bistro & Pub in Brookhaven. There's a wide variety of varietals to consider. Wines include Belle Vallee Pinot Noir, Redwood Merlot, Maggio Petit Sirah, OZV Zinfandel, Grooner Gruner Veltliner, Fritz Zimmer Piesporter Riesling, Lamarca Prosecco and many more. Only question is, who you gonna share with?
Aria Helps Out In Summer In The City Benefit For Shepherd Center on July 18 At Piedmont Park
Gorgeous Greystone, overlooking Lake Clara Meer at Piedmont Park, is the setting for Summer in the City benefitting the Shepherd Center, Wednesday, July 18 at 6:30 p.m. Chefs from Buckhead beauty Aria will join associates from 11 other top ATL restaurants at specialty tasting stations. Wine tastings and a mixology bar keep spirits soaring. Attire is dressy casual. Click here to purchase general admission tickets at $80 each.
Celebrate Summer's Harvest At Milton's Midsummer Night's Garden Party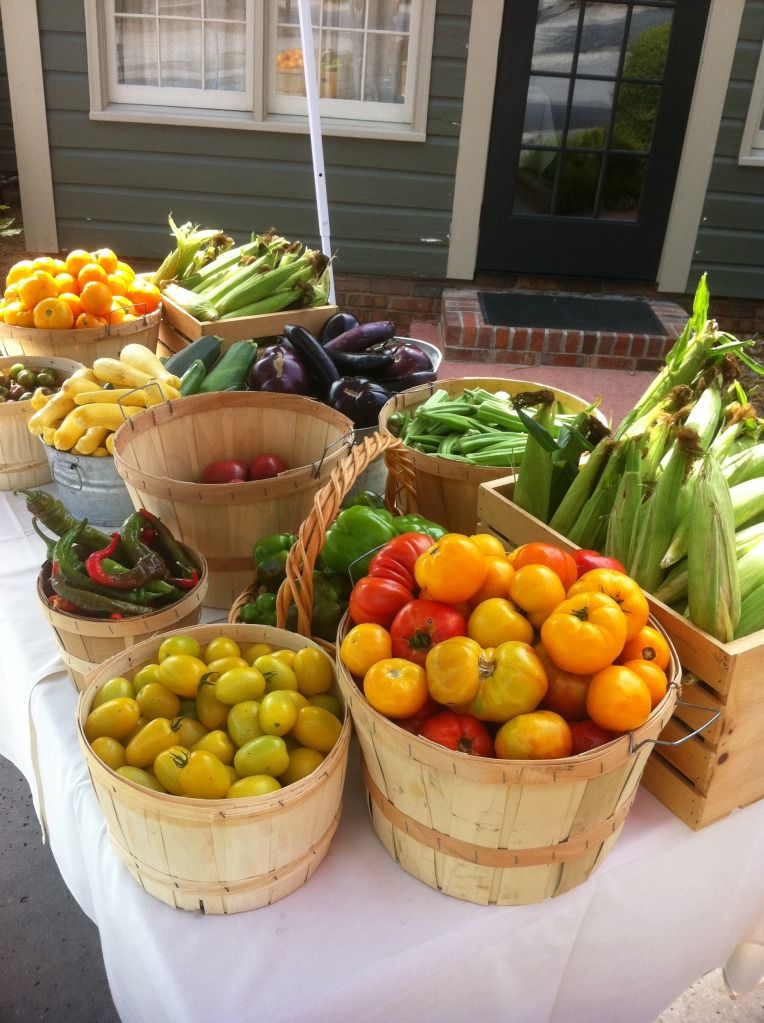 We do know where to get the best farm eats. This week, looks like A Midsummer Night's Garden Party at Milton's Cuisine & Cocktails in North Fulton's Crabapple Historic District is the place to rejoice over garden-fresh goodness on Wednesday, July 18 from 7 - 9 p.m. Steps from the 150-year-old farmhouse turned restaurant is Milton's Acre Garden, the birthplace of much of the produce Chef Shane Touhy uses in his seasonal, regionally inspired menu.
Fried Clemson spineless okra with stewed tomato aioli; fried squash chips and blossoms with saffron aioli and basil aioli; cucumber, tomato and mozzarella salad with purple thyme basil; and butter leaf lettuce salad with roasted icicle radishes, red satin radishes, julienne red onion and smoked bacon Gorgonzola vinaigrette are a few current menu items. Milton's is inviting The Dish readers to enjoy garden-inspired hors d'oeuvre and cocktails (yes, just picked herbs in drinks such as the Georgia Peach Basil Mojito) plus live music and Milton's Acre Garden tours. RSVP to Rebecca@melissalibbypr.com if you'll be there.
Cool Loire Valley Whites For Hot Atlanta Nights At Woodfire Grill Wine Tasting July 19
None of those Memorial Day to Labor Day rules, summer whites are refreshing anytime it's hot, and Woodfire Grill has planned this month's wine tasting to prove it. Loire Valley Vouvray, Muscadet and Sancerre wines will be poured this Thursday, July 19 from 6 - 8 p.m. Dinner guests may choose the eight-wine tasting to go along with their dinner. Woodfire Grill Wine Director Nicolas Quinones or Sommelier Cate Hatch will be present for tastings. $15 per person; open to 30 guests. Reservations are required; call 404-347-9055. Corks up - summer series concludes with Rieslings from Germany on August 16.
Look At Who's Cookin' At Farmers Markets This Week: Ford Fry And Adam Evans Of The Optimist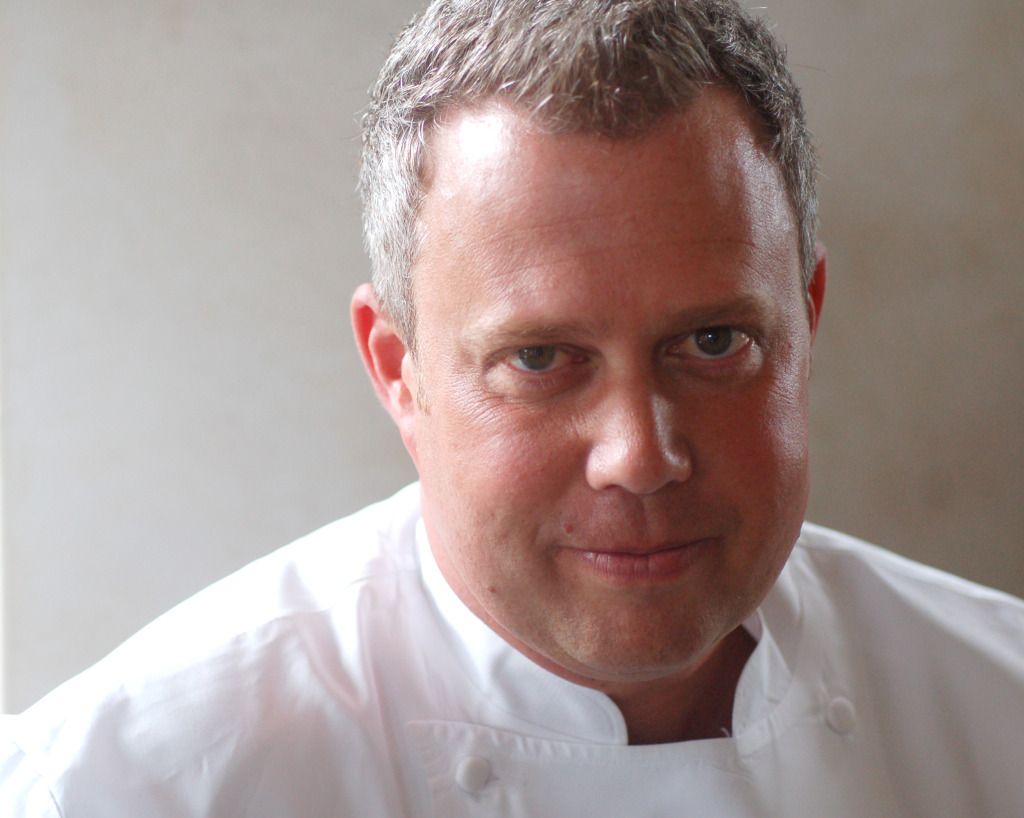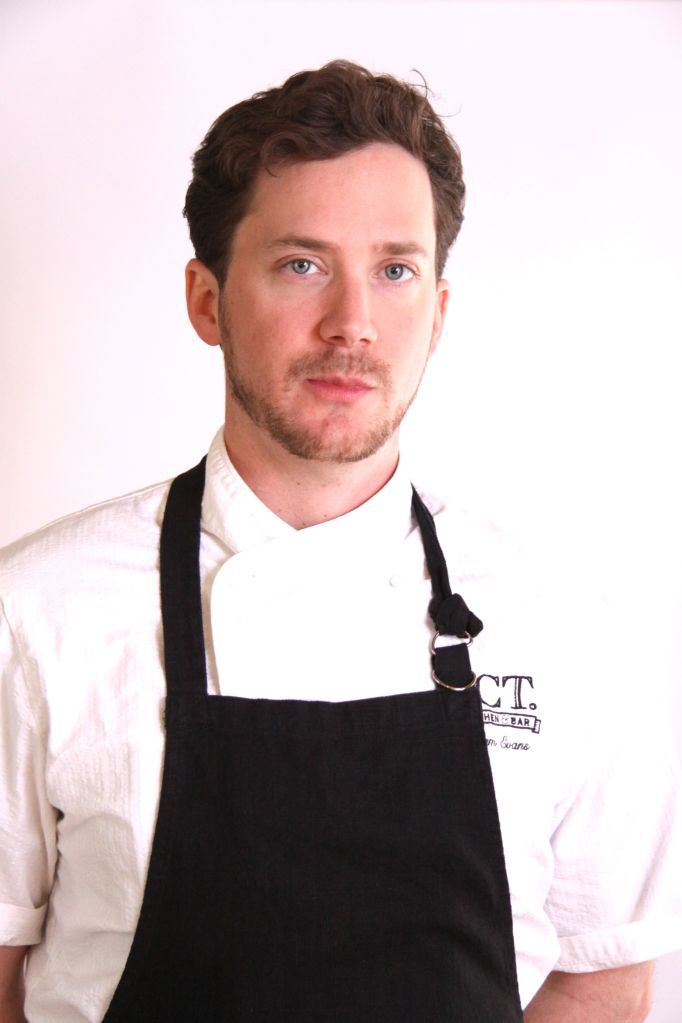 Stepping outside their kitchens for an extra hit of vitamin D for demos this week are chefs Adam Evans of The Optimist and Ford Fry of JCT. Kitchen & Bar, No. 246 and The Optimist. Evans steps into the show-me-how booth at the East Atlanta Village Farmers Market on Thursday, July 19. Across town, Fry will rise early Saturday morning, July 21, to get ready for his 10 a.m. demo at the Peachtree Road Farmers Market in Buckhead. Why choose? Shop both!
Ray's On The River Hosts Riverside Jazz Party For Upper Chattahoochee Riverkeeper On July 21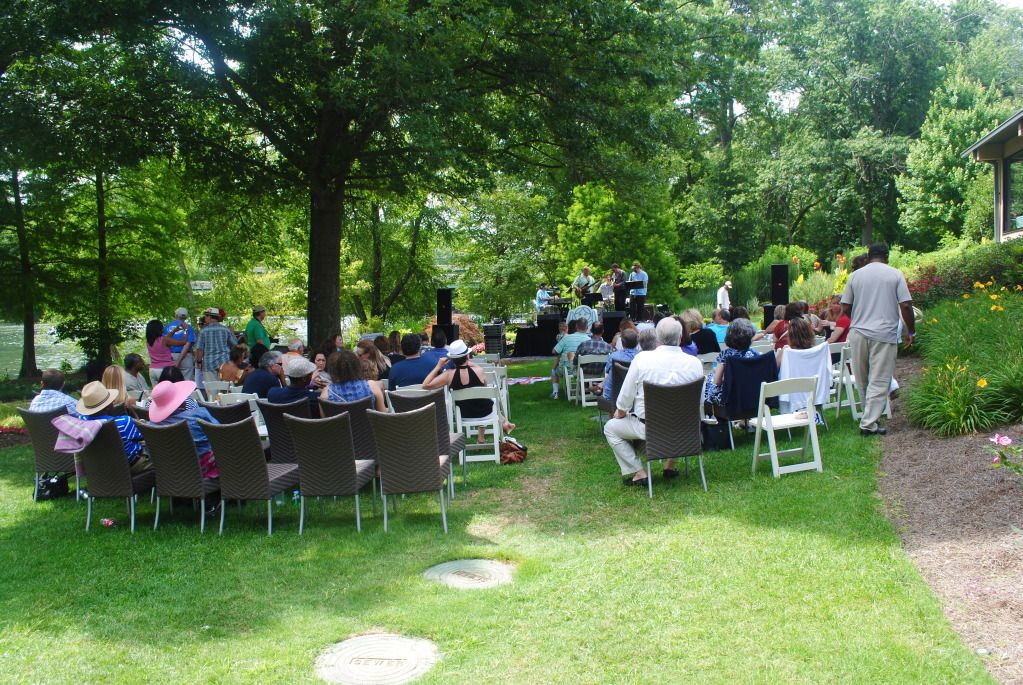 Don't miss the boat, so to speak, because the Ray's on the River summer jazz series heads down river after this last lawn concert benefiting Upper Chattahoochee Riverkeeper (UCR) on Saturday, July 21. Renowned trumpeter Joey Sommerville will be entertaining guests from 2 - 4 p.m., and American Spirit Whiskey will be providing the cocktails. Purchase tickets for $35 each on Eventbrite. Perched on the banks of the Chattahoochee River, Ray's on the River is keenly attuned to the river and applauds UCR's work to keep the waterway clean. Mike Ross, director of operations for Ray's Restaurants, shares that "the Chattahoochee was recently ranked third on the American Rivers' Most Endangered Rivers list, and we want to encourage everyone to help keep our waters clean." By the way, concert-goers can show their tickets to receive 20 percent off of their lunch tab that day; lunch seatings will be at noon and 12:30 p.m. Call 770-955-1187 to make reservations.
Dine At Alma Cocina And Ray's In The City During Downtown Restaurant Week, July 21-29
Nix the coupons, special cards and limited-time internet sales. Simply put, Downtown Restaurant Week, July 21-29, affords a weeklong opportunity to try out some of our city's best restaurants over a $25 or $35 three-course dinner. For contemporary Mexican fare, head to Alma Cocina in the One Ninety One Peachtree Tower. Ray's in the City is ideal for those drawn to classic seafood and steaks. The special prix fixe menus are $25 per person, plus gratuity and tax, at both of these terrific restaurants. Tables go fast for this popular event. For reservations, phone the restaurant or book online.
The Plot Thickens This Week As JCT. Kitchen Attack Of The Killer Tomato Festival Strikes On July 22
Such a juicy storyline: bushels of real tomatoes give in to the hands of a united front of 37 star Southern chefs, 12 maniacal mixologists and 30+ farmers whose toiling enables the whole coup. The victors? Georgia Organics, beneficiary of the fourth annual JCT. Kitchen Attack of the Killer Tomato Festival, and tomato devotees. The event will spill out of headquarters at JCT. Kitchen & Bar and into the Westside Provisions District complex on Sunday, July 22 from 1-5 p.m. Purchase tickets online through Xorbia for $70 per person. Last year's event raised almost $40,000 for Georgia Organics, and Ford Fry, owner/chef of JCT. Kitchen & Bar, No. 246 and The Optimist, hopes this year's event will grow even more greens for the group. The festival is ripe for people watching as judges include Garden & Gun Deputy Editor Dave Mezz, Esquire Restaurant Features Writer John Mariani, Food & Wine Associate Food Editor Daniel Gritzer and actor David Miller, who played Mason Dixon in the original "Attack of the Killer Tomatoes" movie. Co-masters of ceremonies are Angie Mosier, food writer, stylist and photographer, and Carolyn O'Neil, registered dietician, author and food journalist. Jump to live entertainment from The Spazmatics and local chef band Five Bone Rack. Get more juice on participating chefs, etc. at www.killertomatofest.com.
Head To Uncle Julio's For "Ole!" That Won't Put A "Hola!" In Your Pocket
Have more bucks left over for margaritas and guac when you take advantage of the peso-saving summer specials at both Uncle Julio's Fine Mexican Food locations. Buckhead guests will find 10 dishes under $10 each on the menu. Sundays sizzle at the Perimeter restaurant with chicken fajitas priced at $10 all day. The Perimeter location will also have Swirls, frozen margaritas and Julio's Gold for $5 on Sundays. At these prices, everyone will want to be a part of the fiesta. Can do -- Uncle Julio's has tables, patio space and niches for gatherings of all sizes.
Chicken and the Egg Cracks Open New Menu
When you're a modern farmstead fare restaurant, bountiful summer harvests stoke the kitchen crowd with inspiration for new menu ideas. Chicken and the Egg Chef/Owner Marc Taft and Executive Chef Joseph Ramaglia have added new items such as grilled Georgia shrimp with sweet corn ravioli, summer veggie lasagna, grilled skirt steak and eggs "rancheros," to name a few. See the complete menu on Facebook.
Eat It And Tweep: Wynn Westmoreland Is A Southern Belle With Global Reach And A Chihuahua
This Atlanta Dawg (yes, she's a UGA grad) loves life, laughs, books and Chihuahuas. The rest of the time she's a CNN journalist and contributor on CNN's Eatocracy blog. Follow her tweets (@WynnWs) to keep up with her take on news quips.

Sample Tweet: RT My newest story- CNN Taco Bell Truck airlifted into Alaska Town http://eatocracy.cnn.com/2012/07/10/tac ...
What's New On Pinterest: Tantalized By Tomatoes
Creamy Tomato Soup by Dixie Caviar
We'll take 'em, lots of them. Plump, sun-worshipping, vine-ripe tomatoes to slice, dice, drip juice down our chins and stain our tank tops. This week's Attack of the Killer Tomato Festival is homegrown tomato nirvana. Our pins are ripe for the picking!
MLA Taste And Tell: Blue Moon Pizza
Our intern Becca is bonkers about Blue Moon Pizza in Buckhead. She's crazy about their garlic rolls and their pizzas. Phone ready? After you watch YouTube, the number-one way to get her pizza raves off the brain is to call in and order one. Or two.