ABOUT THE DISH
Looking for the latest restaurant openings, weekly wine tastings and drink specials or other culinary happenings?
Whatever makes your mouth water,
Melissa Libby & Associates
will point you in the right direction.
up-to-date on new and ongoing restaurant events around Atlanta!






Atlanta's Rising Stars Shine At StarChefs.com Rising Stars Revue On June 13 At The Goat Farm
image via www.starchefs.com
Acquaint yourself with Atlanta's culinary up-and-comers at the 38th StarChefs.com Rising Stars Revue tasting gala and awards ceremony, taking place on Wednesday, June 13 from 6:30 - 9:30 p.m. at The Goat Farm Arts Center. Alma Cocina Chef Chad Clevenger is one of the event host chefs, and Rising Star recipient Adam Evans of JCT. Kitchen & Bar and now of The Optimist will prepare wood-fired Virginia clams with crispy pork belly and croutons for the tasting. Woodfire Grill Pastry Chef Chrysta Poulus and Taria Camerino, owner of Sugar-Coated Radical and pastry chef at The Optimist, also will be honored as Rising Stars. Guests will be able to see the work of acclaimed local artist David Baerwalde. Use the discount code RSATL12 at checkout to shave $10 off the price of each $85 ticket when you purchase tickets online. StarChefs.com, "the magazine for industry insiders" covers chefs, recipes, jobs and more.
Pastured Poultry Week Focuses On Helping Georgia Top The Pecking Order for Pastured Poultry Production And Consumption
Chef Shaun Doty demonstrates how to get the most out of a pastured chicken
The omnivore chicken's dilemma: seed, bug, plant or all of the above? A chicken feed diet nixes such decisions for factory farmed birds. While pastured poultry commute across pasture land each day, factory farms allot each bird about as much space as a sheet of notebook paper.
Georgians for Pastured Poultry (GPP)
is crying "fowl" and taking action! It's Pastured Poultry Week -- an opportune week to feather your cap with pastured poultry
facts
gathered by GPP and taste the difference in dishes featuring pastured poultry at
Ecco
,
JCT. Kitchen & Bar
,
No. 246
,
Woodfire Grill
and others. The sustainable method of raising poultry yields better tasting birds, and Atlanta chefs are leading farmers market demos this summer to show you how to use the whole bird. At this Saturday's Morningside Farmers Market, Shaun Doty will be sure shoppers learn where and how their chickens were raised. Take notes as he passes on kitchen tips he'll use at his own soon-to-open
Bantam & Biddy
restaurant where free-range and pastured poultry will rule the roost.
White Oak Pastures
, already a leader in the pastured poultry profession, is providing most of the chickens for restaurants and summer farmers market demos; purchase your own bird at Atlanta-area Whole Foods Markets. As Chef Doty explains, these birds have a slower growth period than factory farm-raised chickens (12 weeks versus six weeks), which leads to richer flavor and a higher cost. Doty feels each bite is worth it, and he's posted a
YouTube
video (above) showing how to roast them, make chicken stock and an easy chicken miso soup so you'll savor every morsel.
Price Saver Alert: Attack Of The Killer Tomato Ticket Prices Go Up June 15
You'd throw over-ripe tomatoes at us if we didn't advise you to save some money by purchasing your tickets for the July 22 Attack of the Killer Tomato Festival before the June 15 price increase. Ticket prices will go up from $55 for Georgia Organics members and $60 for non-members to $70 all around. Save now and spend more on juicy 'maters this summer. JCT. Kitchen & Bar hosts this annual "war" between the chefs as they partner with local farmers to put their best tomato dishes forward. Mixologists do likewise to stir up signature cocktails. This year, Garden & Gun Deputy Editor Dave Mezz, Esquire restaurant features writer John Mariani and actor David Miller, who played Mason Dixon in the original "Attack of the Killer Tomatoes" movie, will judge, as will you - if you purchase your ticket and save the date.
Hurray For The "Red, White And Brew" Menu And Grilling Contest At Marlow's Tavern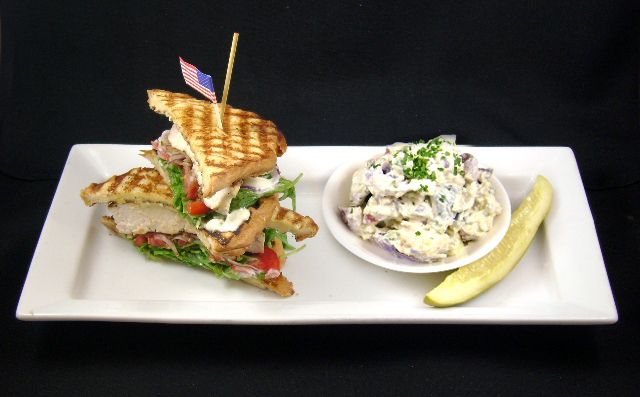 Chow down on the flavors of an Americana summer by choosing the "Red, White and Brew" menu offered at Marlow's Tavern locations through July 23. All eight locations of the neighborhood tavern (another American tradition) are plating up dishes and filling glasses with beverages that scream summer in the good old U.S.A. Start things off with a light beer and cheese soup, Firecracker deviled eggs or a watermelon, feta and arugula salad ($3-$9). Patriotic proteins include the Red, White and Bleu burger decorated with red pepper, Vidalia onion and Maytag blue cheese and served with American fries; Backyard blackened swordfish with Red, White and Blue potato salad; honey-glazed grilled chicken with chili-slathered corn-on-the-cob; and grilled skirt steak "hot-off-the-grill" with summer squash and jumbo Vidalia onion rings ($11-$18). Banana cream pie in a glass with house-made bourbon caramel is an all-star ending ($6). The "Brew" menu plays it cool with a "Summertime" watermelon margarita or Tommy's Favorite Sangria ($8) or a "red" Rogue American Ale, "white" Leinenkugel's Summer Shandy or "blue" Sweetwater Blue ($5-$5.50).
Those whose talents shine on the grills of summer will want to enter the third annual Marlow's Tavern Grilling Recipe Contest running concurrently with the "Red, White and Brew" menu through July 23. Enter your favorite recipe online or at one of the tavern locations. Executive Chef John C. Metz will review all entries and announce a winner in August. First prize wins a Big Green Egg. Second prize wins a $50 Marlow's Tavern gift card and third prize is a Marlow's Tavern "Red, White and Brew" limited-edition t-shirt.
Kevin Gillespie Fixes A Pig And Its Parts at Head-To-Tail Dinner Benefitting Wholesome Wave Georgia - But Will He Show His Pig Tat?
From snout to tail, let no pig part go to waste at the first of three Head-to-Tail dinners at H. Harper Station on Wednesday, June 13 at 7 p.m. Woodfire Grill Executive Chef Kevin Gillespie is one of the three chefs that the Reynoldstown restaurant's Chef Joseph Ward has invited into his kitchen for the evening. First, however, Ward charged them with creating a menu that uses as much of the pig as possible. Gillespie has a wild boar/pig tattoo on his left arm, homage to growing up in the South and fitting for this proponent of farm-to-table eating. A portion of Head-to-Tail proceeds will go to Wholesome Wave Georgia to increase EBT dollars at local markets while assuring farmers a fair market price. Buy a seat at the chef's table for $100 to enjoy the meal paired with wines chosen by H. Harper Station Owner and Mixologist Jerry Slater. For reservations, call 678-732-0415.
RA Sushi Rolls Out Big Plans For June 18: Complimentary Tootsy Maki For International Sushi Day And Summer Menu With New Appetizers, Shareable Plates And Cocktails
Somebody has to go first, so we'll begin with the new selection of yums appearing on the menu at RA Sushi Bar Restaurant in Midtown on Monday, June 18. For starters, RA Sushi Executive Chef Tai Obata is adding clam udon, sake-steamed clams served over udon noodles in a sake cream broth ($13.25) and edamame and spinach dip served warm with wonton chips ($5.25). Five new plates have been added especially for sharing ($9.25-$12.75). Holy Shishito Chicken is Asian-breaded chicken lightly fried and sautéed in a chili-sesame sauce, tossed with fried shishito peppers, onions, and green and red peppers. Drunken Clams ($12.75) and Drunken Black Mussels ($9.25) are steamed in sake and sautéed in garlic and seasoned soy sauce. Bonfire Shrimp pack heat, tossed in a chili sauce with fried shishito peppers ($11.75) while grilled salmon with garlicky green beans provides a lighter option, drizzled with spicy yuzu sauce. Always popular Asian chicken wings ($7.25) now come in three flavor options: sesame garlic, black pepper teriyaki and chili ponzu. New crispy Asian tacos come in five different flavors including spicy tuna, steamed chicken with Asian veggies, spicy salmon, "RA"ckin' shrimp and crispy white fish ($7.50-$9.25).
RA Sushi upholds its creative cocktail reputation with five new drinks ($8-$9). Strawberry purée joins Svedka Citron and Nigori sake in the Strawberry Saketini, and the Coconut Moshi Mojito muddles Cruzan Estate Light Rum with summer's fresh lime, fresh mint and coconut flavors. Waist watchers can sip three new skinny cocktails: the Cucumber Collins, Kiwi-berry Kiss and Lycheetini.
International Sushi Day was designated as June 18 in 2009 and was officially entered into Chase's Calendar of Events in 2010. Sushi lovers mark the day by eating more sushi. Anyone who "likes" RA Sushi on Facebook that day can print a special offer good for one complimentary Tootsy Maki between 11 a.m. and 7 p.m. on June 18. Like, save, eat sushi. Sounds good.
Prized Copper River Salmon Completes Arduous Alaskan Journey At Ray's Restaurants
Copper River salmon season in Alaska has salmon lovers running to
Ray's Restaurants. Atlantans have come to count on the three restaurants - Ray's on the River, Ray's in the City and Ray's at Killer Creek - to satisfy their cravings for the succulent fish that's naturally loaded with omega-3 oils. Copper River salmon runs are managed for long-term sustainability by the Alaska Department of Fish and Game. Copper River King, the most sought after of the Pacific salmon species, run through the end of June, followed by Sockeye in July and Coho in August and September. Catch more info at copperriversalmon.org. Lucky you, no need to swim 300 miles in the cold Copper River to catch this highly prized fish.
Market Street Café Fills New Thursday Happy Hour Menu With Mediterranean Small Plates
Turn the corner on the work week by capping Thursdays with happy hours starting at 4 p.m. on the patio at Market Street Café in Buckhead's Prominence Building. The new Mediterranean-inspired small plate menu is well suited to Atlanta's hot afternoons and warm evenings. Bruschetta selections change weekly. Antipasto brings an assortment of serrano ham, mortadella, chorizo, marinated olives and manchego cheese with herbed flatbread chips. More options include fried calamari, garlic prawns, albondigas (Spanish meatballs in a spicy tomato stew served with toasted baguettes), stuffed piquillo peppers filled with grilled summer veggies and goat cheese, bacon-wrapped dates and spanikopita. Prices range from $5-$12, so go ahead and bring a group and try them all. You know you want to.
Join Georgia Organics And Get $125 In Coupons To Spend At Area Restaurants And Markets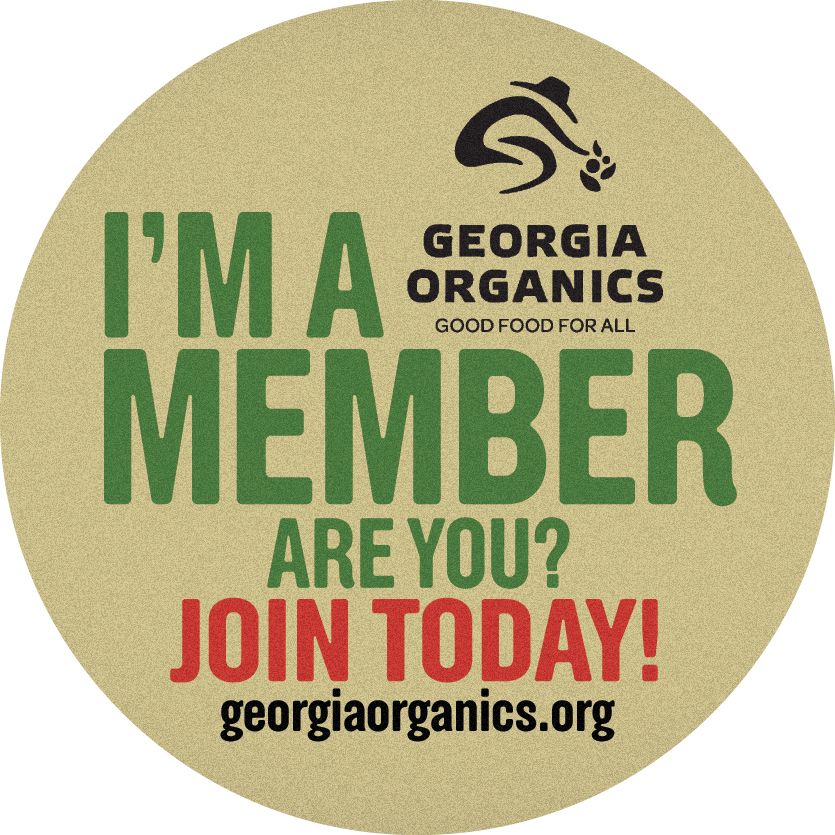 Join or renew your membership to Georgia Organics between June 15 and July 11, and you'll be rewarded with not only supporting an organization that connects organic food from Georgia farms to Georgia families but you'll also receive the Get the Good Food for All Coupon Book. This money-saver valued at $125 boasts $5 discounts to restaurants and businesses such as Chicken and the Egg, Alma Cocina and South City Kitchen Vinings. Simply join online and take your membership confirmation email to customer service at an Atlanta-area Whole Foods Market to receive the coupon book. Supporting quality food in Georgia and saving money at your favorite restaurants - it's a no brainer!
Be Prepared For Father's Day (Even If Dad Is Not A Boy Scout)
If you missed last week's list of Father's Day ideas, don't waste time fishing around to find it. Click
here
to jump to our blog for our full list of restaurant specials and lip-smacking ways to celebrate with the coolest of dads, yours.
What's New On Pinterest: Ways to Show Your Pops He's Tops
We're appointing dad as Chairman of the Board -- our Pinterest board. This week we're pinning ways to dote on dad.
Eat It And Tweep: Food Network Editor Gravitates Toward Good Food, Bad Music
Music is not her forte, but Food Network Editor Michelle Buffardi is right in tune with the foodie circuit of yummy shop-spots, recipes, cocktails, food conferences and way more. Park yourself in a lounge chair with a tall tumbler of iced coffee or tea and your internet cruiser of choice to check out Buffardi's
tweets
(@mbuffardi) or the mothership of food links on
FoodNework.com
.
Sample Tweet: love Bees Knees recipe @sassyradish http://ow.ly/b9BqL it's my fave cocktail; I always order it at @DutchKillsbar. now craving one!
Appetizing Aperture
Sit tight and salivate over this highly photogenic and mega-flavorful scallop crudo. Net the real thing when Fifth Group Restaurants opens Lure on Crescent Avenue in Midtown on Tuesday, July 17. The seafood-centric sweet spot will serve simple, high-quality seafood in a unique and fun atmosphere. Lure? Count us hooked!