ABOUT THE DISH
Looking for the latest restaurant openings, weekly wine tastings and drink specials or other culinary happenings?
Whatever makes your mouth water,
Melissa Libby & Associates
will point you in the right direction.
up-to-date on new and ongoing restaurant events around Atlanta!






Atlanta's Best Restaurants Frame High Museum's 20th Annual Vintners' Reception And Live Auction

Lucky are those High Museum of Art supporters holding tickets to the sold-out 20th Annual Vintners' Reception and Live Auction on Saturday, March 31. They'll be able to dabble in a delicious palette of dishes prepared by chefs from Atlanta's best restaurants while tasting wines from scores of top wineries. Then the bidding begins on everything from rare and collectible wine, dreamy trips, fine art and other one-of-a-kind finds. Marietta's Chicken and the Egg, Spice Market in the W Atlanta-Midtown, Double Zero Napoletana in Sandy Springs and Aqua blue in Roswell will all be there. If you're going, be sure to stop by their tables.
Sweet Eats Without A Suite -- Hotel Restaurant Week Affirms It And Spice Market Proves It
Hotel restaurants can fly under the radar when hometown honeys eat out. Hotel Restaurant Week sets out to change all that by spotlighting great restaurants in Atlanta hotels, including Spice Market in the W Atlanta-Midtown. From March 31 through April 7, participating restaurants will offer three-course prix fixe menus for $30 per person (not including tax or gratuity). The special menu at Spice Market starts with two spice chicken samosas with cilantro yogurt, features an entrée of Thai basil cod with Malaysian chili sauce, and ends with coconut cake with guava ice cream in salted caramel sauce. Don't sleep on it; make reservations online now.
"Let Us Entertain You" Fragile Hearts Celebration Will Be A Splash At The Georgia Aquarium March 31. Join Ray's Restaurants And Dive In
On Saturday, March 31, "Let Us Entertain You" Fragile Hearts Celebration is going to be the big fish in Atlanta's sea of weekend happenings, and Ray's Restaurants will be there. Ray's Restaurants (Ray's on the River, Ray's at Killer Creek, and Ray's in the City) are one of the sponsors for the annual fundraiser benefiting Fragile Kids Foundation, which will fill the Oceans Ballroom at the Georgia Aquarium beginning at 7 p.m. The entertainment line-up includes live music from Torsades Band led by Dr. George Raschbaum, comedian Trevor Williams, Ken Ford Children's Symphony, dance celebrity Kati Keyes and dance instructor Robert Frank of Atlanta Dance Lessons. There's also a silent auction brimming with trips, wine, jewelry and other treasures. General admission tickets are $125 per person and include a dinner buffet and an open beer and wine bar. VIP tickets are $250 per person and include pre-party cocktails, parking, a behind-the-scenes tour, reserved seating, open premium private bar, dinner buffet and a gift bag. Purchase tickets on the Fragile Kids Foundation's website. The 23-year-old non-profit organization assists families as they care for their medically fragile children. Funds raised provide rehabilitative and therapeutic equipment and help families obtain wheelchair lifts and other items not covered by Georgia Medicaid or private insurance.
Double Zero Napoletana And The Iberian Pig Plan Palatable Prank -- April Fool's Day Switcheroo
They're not trading places, but they are trading faces and recipes. For April Fool's Day dinner fun on Sunday, April 1, Double Zero Napoletana and The Iberian Pig are swapping all employees and some of their kitchens' greatest hits. It's not like they're releasing family trade secrets -- the Sandy Springs restaurant and the Decatur restaurant are siblings in the Castellucci Hospitality Group. Each eatery will offer some of the other restaurant's most popular dishes and drinks, as well as their own dinner menu.
Prank in point, some of The Iberian Pig items on the special swap menu at Double Zero Napoletana include pork cheek tacos, handmade veal shank ravioli and sweet churros. Drinks heading north are The Iberian Old Fashioned and a selection of Spanish wines.
Going to Decatur from Double Zero Napoletana are lobster pappardelle, lamb polpettine and Margherita pizza. Also visiting The Iberian Pig will be Double Zero chocolate cake, barrel-aged Negroni and a selection of Southern Italian wines. For full menu details on the swap, visit Facebook. April Fool's Day dinner hours are 5 - 9 p.m. at The Iberian Pig and 5 - 10 p.m. at Double Zero Napoletana. No foolin'.
RA Sushi's Monthly Sake And Sushi Social Is A Short Course In Fun On April 3
Sushi chef awe factor becomes sushi student a-ha moments at RA Sushi Bar Restaurant's monthly Sake and Sushi Social, coming up on Tuesday, April 3 at 7 p.m. During the interactive social, attendees learn sushi-rolling and sake-pairing basics while enjoying a selection of appetizers, fresh sushi and sake. $35 per person or $60 a couple covers lesson and four-course sampling and sake pairing. Be sure to get spots at the counter for you and your date or group by calling 404-267-0114. Team building exercises have never been so tasty.
Celebrate Easter Sunday Over A Real Feast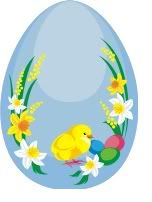 Easter is bigger than fluffy Peeps. After sunrise service, midmorning mass and Easter egg hunts, it's time to head out for Easter brunch and traditional holiday fare. We've put a lot of good eggs in our eatery basket to help you find your way.
Easter sweets and treats from Alon's will make any basket a happier one. Visit the Dunwoody or Virginia Highland location for your pick of chocolate bunnies, specialty chocolates and more.
For the first time, Alpine Bakery and Trattoria in Alpharetta will be open for Easter dining. Hop through the bakery beginning at 10 a.m.; the restaurant's first seating is at noon, offering a special Easter menu along with the regular menu. For more info, call 770-410-9883.
Aqua blue in Roswell is offering an Easter buffet from 10:30 a.m. - 3:30 p.m. Visit the carving station or enjoy a made-to-order omelet. The restaurant also has other breakfast favorites to choose from as well as fresh spring salads and delicious side dishes. Pricing is $29.95 for adults, $9.95 for kids ages 4-12 and free for children under 4. For reservations, call 770-643-8886.
Chicken and the Egg is open from 9:30 a.m. - 5 p.m. and will begin serving special Easter menu items ($12 - $25) at 11 a.m. For reservations, call 678-388-8813.
In Dunwoody, Fleming's Prime Steakhouse & Wine Bar is serving an elegant three-course menu from 11:30 a.m. - 3 p.m. Choose either a wedge salad or fresh fruit medley as an appetizer and an entrée course of filet mignon Benedict, New Orleans-style French toast, Fleming's frittata or steakhouse filet mignon Cobb. Each is served with potatoes O'Brien and sautéed green beans. To satisfy the sweet tooth, there's white chocolate bread pudding, crème brûlée or walnut turtle pie for dessert. $34.95 per adult; children's version for $16.95 (tax and gratuity not included). The new Blood Orange Fizz cocktail is $6.95. Traditional menu also is available. For reservations, call 770-698-8112.
Sneak a riverside photo op at Ray's on the River where brunch will be served all day, from 9 a.m. - 8 p.m. $39.95 for adults, $19.95 for kids ages 5-10 and free for children 4 and under. Reservations: 770-955-1187. Ray's at Killer Creek in Alpharetta is serving Easter brunch from 9 a.m. - 3 p.m. $29.95 for adults, $14.95 for kids ages 5-10 and free for children 4 and under. Guests also may order off the regular dinner menu from 5 - 9 p.m. Reservations: 770-649-0064.

Easter grass is pretty; grass-fed lamb from White Oak Pastures is divine when you prepare your own traditional roast lamb dinner at home. Order lamb, grass-fed beef and free-range poultry online or by calling 229-641-2081. Hop to it. Orders must be placed by Monday, April 2 for delivery before Easter.
American Spirit Whiskey Awarded International Review of Spirits Silver Medal Award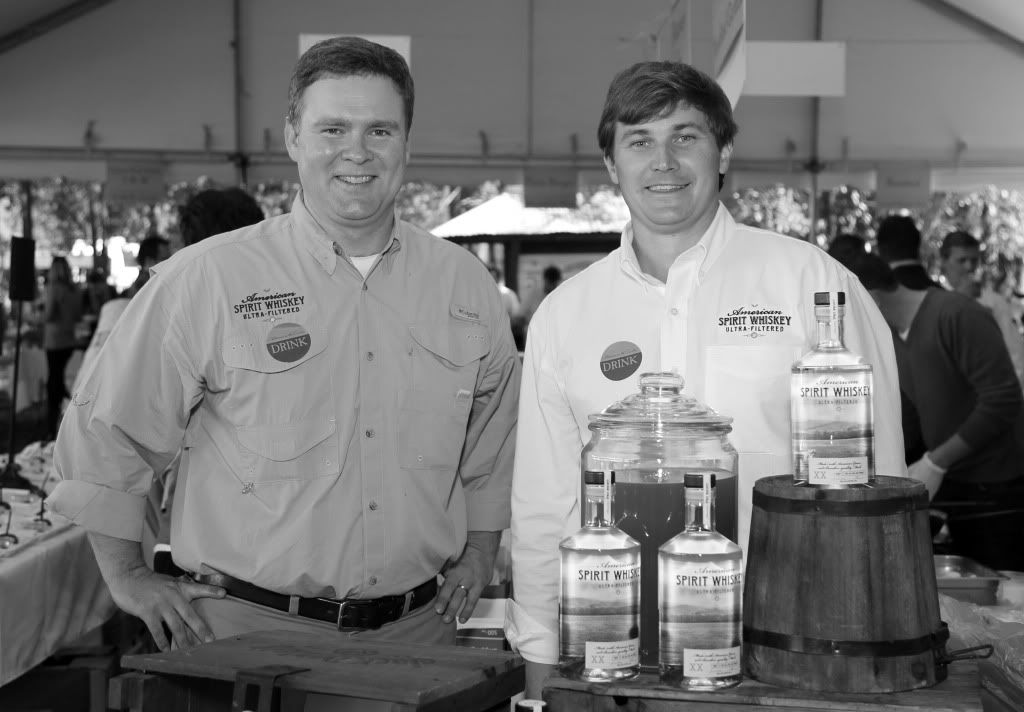 Cutting-edge American Spirit Whiskey recently received its first rating from the Beverage Testing Institute and Tastings.com - an International Review of Spirits Silver Medal Award. Here's an excerpt from the review: "Clear. Mild aromas suggest tarragon, sweet grass and clay with a silky, soft dry-yet-fruity light-to-medium body and a warming, floury golden raisin scone, wet grain, and mineral accented finish. Interesting." Born in Athens, based in Atlanta and refined in Charleston, S.C., it's easy to toss back this "white dog" spirit with an overall rating of 86 (Highly Recommended).
Eat It And Tweep: Ali Rosen Sidetracks From
The Daily Meal


She has a long-standing love affair with food and a new found love in Twitter. Ali Rosen is a video producer for NYC's The Daily Meal
(@TheDailyMeal) in her other waking hours. Follow her on
Twitter
(@Ali_Rosen) and fill your plate with food articles at
The Daily Meal
website
.
Sample Tweet: New video with @yasminfahr on tips for hosting a @Mad_Men party! We magically take over the Draper kitchen...#madme
Appetizing Aperture
Hippity-hoppity, Easter's on its way. This year, the Easter Bunny has something new from Krispy Kreme in his basket to share with all the good little girls and boys. Hightail it down the bunny trail to pick up these treasures.