ABOUT THE DISH
Looking for the latest restaurant openings, weekly wine tastings and drink specials or other culinary happenings?
Whatever makes your mouth water,
Melissa Libby & Associates
will point you in the right direction.
up-to-date on new and ongoing restaurant events around Atlanta!






Humuhumunukunukuapua'a Is Hawaii's State Fish. RA Sushi Spring Luau Is Easier To Say -- Even After A Few Bikini Martinis
We became a little tongue-tied studying Hawaiian words and phrases in preparation for RA Sushi Bar Restaurant's Spring Luau on March 22. Ended up bagging the vernacular -- turns out we really only need to know a few key phrases for the Midtown luau. Master the names of tropical drink specials ($8 each): Bikini Martini, layering Blue Curaçao, Kai Young Coconut Shochu, vanilla vodka, pineapple juice and a splash of lemon-lime soda; Pineapple Express featuring Kai Young Coconut Shochu, St. Germain Elderflower Liqueur, pineapple juice, lemon juice and some bubbly prosecco; and Baby Umami Punch mixed with Southern Comfort, cold sake and tropical fruit juices. Memorize some of the menu specials: the Tropical Roll with cucumber, mango and avocado ($8); spicy shrimp mixed with masago and mango salsa ($8); pineapple cheese wontons ($7); and spicy pineapple chicken with ramen noodles, bell peppers, spicy chili sesame sauce and black sesame seeds ($8). Tiki torches and a guest D.J. keep things fired up at the 8 p.m. until close party. Wear a Hawaiian shirt or lei and you'll fit right in as you hula away at this big beach bash. More on Facebook.
New at RA Sushi: the restaurant has opened a "Geisha Lounge" on the upper level overlooking the dining room. It has its own bar menu, tall tables, three TV screens, a DJ booth and lots of beer, wine, sake and cocktails. The lounge is open Fridays and Saturdays each week. First come, first served; no reservations.
She Crab Vs. Clam Chowder? Yes, A Southerner Can Win The New England Country Soup Challenge March 24 At The Art Institute of Atlanta


Now that all-natural New England Country Soups are available on Publix shelves, the Vermont-based creator of healthy, "tastes as good as homemade" soups has extended its Soup Challenge contest to the Southeast. Southern soup lovers have been submitting original and family soup recipes online, and this Saturday, March 24, five regional finalists will slide into aprons to cook up their soups at The International Culinary School at The Art Institute of Atlanta. Local souper-stars Jenny Levison of Souper Jenny and Chef Jim Gallivan of The Art Institute of Atlanta will help judge the 11 a.m. - 2 p.m. stockpot showdown. The finalist who comes closest to matching the taste and nutrition of New England Country Soup offerings will win a foodie weekend getaway at The Hob Knob Eco Boutique Hotel on Martha's Vineyard. The tantalizing smells alone make this free event worth adding to your weekend buzz list. You'll need a free ticket to hold a seat; email [email protected].
Lights, Cameras, Action (But No Dinner) As No.246 Closes For Five-Day Filming Then Cranks Up Live Music On Weekends
Dinner and a movie, hold the dinner until after the filming is finished. No. 246 in Decatur will be closed to the public from all day on Sunday, March 25 until 6 p.m. on Friday, March 30 as film crews shoot a movie called A.C.O.D. on the premises. No. 246 Owners Ford Fry and Drew Belline apologize to fans for the inconvenience, and they'd love for guests to come enjoy live music at the restaurant when it re-opens to the public. Music starts at 10 p.m. on Friday and Saturday nights. Be patient and plan your meal in anticipation; menus are on the web. The movie? Initials stand for "Adult Children of Divorce," a comedy starring Amy Poehler, Adam Scott, Jessica Alba, Mary Elizabeth Winstead and Jane Lynch. When it releases, dine at No. 246 then see the movie so you can say "been there, ate that."
Double Zero Napoletana Hosts Balcones Distillery Dinner On March 27. Small Batch Whisky Packs Big Flavor When It's From Texas
Small batch whisky and small plate yums co-star when Double Zero Napoletana hosts a dinner featuring award-winning Balcones Distillery on Tuesday, March 27 at 7 p.m. The Waco, Texas distillery produces small batches and uses blue corn. It's also the first-ever craft distillery "Icons of Whisky" award recipient. Balcones' whiskies are not the "Lone Star" at the dinner. Executive Chef Chad Crete is lining up a delicious series of small plates to complement the evening's whisky selections. Enjoy sautéed Brussels sprouts, bacon lardons and brown sugar peaches paired with Balcones Single Malt; red pepper and saffron arancini, caramelized onion aioli and ginger honey paired with Balcones Rumble; biscuit BLT with pancetta, spicy tomato jam and arugula paired with Balcones Baby Blue; La Tur, toasted bread and pomegranate caramel paired with Balcones True Blue; and smoked sweet potato puree, apple braised crispy pork belly and orange-mint marmalade paired with Balcones Brimstone. $59 per person (excluding tax and gratuity). For reservations, call 404-991-3666.
Meet And Greet New Spirits At Atkins Park Tavern And Ray's At Killer Creek
Both Atkins Park Tavern locations in Smyrna and Virginia Highland invite you to come try their newest spirit, privately labeled Atkins Park Tavern Vodka. Not yet sold in package stores, Atkins Park Tavern Vodka comes in two flavors - house vodka and black pepper vodka. These special spirits are produced by Terressentia, a distillery located in Charleston, S.C.
Ray's at Killer Creek is creating its own refreshing liquor infusions for lounge and restaurant enjoyment. The $10 libations are shaken over ice and served in a glass -- perfect for spring sipping. Kiwi-cucumber infusion contains Fris Vodka, kiwi, cucumber and melon liquor. Pineapple infusion unites Fris Vanilla Vodka, coconut rum, simple syrup and pineapple. Chill, bro.
Join Ray's On The River In Helping Prom Princesses Find Gowns. Drop Off Gently Used Prom Dresses And Receive An App Or Dessert
Be a modern day hero(ine) and help damsels in distress - girls with proms coming up who are unable to purchase dresses for the exciting evening. If you have gently used prom dresses and evening dresses in current styles idling in your wardrobe, drop them off at Ray's on the River before April 30. They'll be donated to Fairy Tale Endings, a local organization that provides prom makeovers for girls who might not be able to attend their proms due to financial limitations. Sweet ending for you: a complimentary appetizer or dessert at Ray's on the River and more space in your closet.
Speaking of proms, Rays on the River has a special prom menu planned. Priced $30-$50 (including tax and gratuity and choice of coffee, tea or soda), entrées include vegetable stir fry, oven-roasted chicken, slow-roasted prime rib, broiled cold water lobster tail and charbroiled filet mignon. Guests may select a starter of field green salad or classic Caesar salad, and except for the vegetable stir fry, which comes with white rice, the other entrées are joined by goat cheese and chive whipped potatoes and seasonal vegetables. Dessert is available for an additional charge. For reservations, call 770-355-1187.
Fleming's Prime Steakhouse & Wine Bar Spring Break Celebration Features Filet Mignon And Lobster Tail Combo For $34.95 Through April 7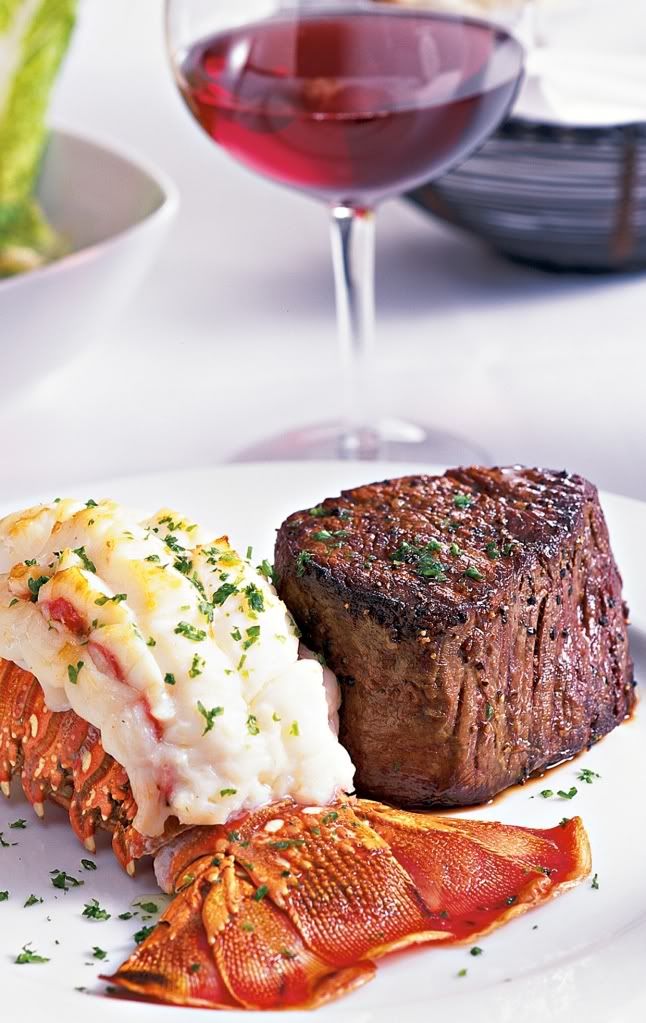 College kids, take on Florida's white sand beaches. Leave the Spring Break Celebration at Fleming's Prime Steakhouse & Wine Bar to the rest of us. We'll savor the double-entrée price "break" and dine on a three-course meal that includes your choice of The Wedge salad or French onion soup; filet mignon AND North Atlantic lobster tail for the entrée; and French green beans or Fleming's mashed potatoes on the side. $34.95 per person (excluding tax and gratuity). This offer is not on the regular menu so mention the special when calling 770-698-8112 for reservations or reserve online. The Spring Break special is available through April 7. And if you are headed to Florida, you will be in luck if Sandestin is your destination - the Fleming's location there will also be featuring this celebration menu!
Eat It And Tweep: SocietySocial Tweets It's Better To Be Absolutely Ridiculous Than Absolutely Boring
Do we hear an "amen" for that? Cut loose and incorporate some shop humor in your life, as in shopping, shopping, shopping. Get the quick tweet (@societysocial), or for serious shopping news out of NYC, peruse the Society Social website and blog.
Sample Tweet: Best sammies and chocolate cake ever! - at Eisenberg's Sandwich Shop http://t.co/kN1yB22z
Appetizing Aperture
Double dipping is so tempting when you're facing RA Sushi Bar Restaurant chips and salsa on National Chips & Dip Day (Friday, March 23). Pinwheels of wonton chips hug a mound of spicy tuna tartare mixed with cukes, avocado and fresh salsa and sprinkled with bell pepper confetti. Dip once and devour entirely, lest someone get a chip on their shoulder over your brash behavior.