ABOUT THE DISH
Looking for the latest restaurant openings, weekly wine tastings and drink specials or other culinary happenings?
Whatever makes your mouth water,
Melissa Libby & Associates
will point you in the right direction.
up-to-date on new and ongoing restaurant events around Atlanta!






Share Your Atlanta "Best Of" Experiences With Jezebel And About.com
It's time to spread the word about your favorite Atlanta restaurants by nominating them for "Best of" in Jezebel. Nomination deadline is March 14. Our own memory joggers for various categories include The Dish faves for Best New Restaurant -- Alma Cocina, Bar Games -- Ormsby's, and Best Annual Event and Festival -- Attack of the Killer Tomato Festival at JCT. Kitchen & Bar. Those who are the chefs in their own kitchens should check out the 2012 About.com Readers' Choice Awards for Best Cooking Equipment. The Cook's Warehouse, Atlanta's culinary headquarters, is on the slate alongside some national vendors for Best Kitchenware Retailer.
Alon's Dunwoody Forecasts Warm Weather Wine Tasting On March 15
Are you ready for spring? Alon's Bakery & Market, located in Dunwoody's Park Place, prepares you for the picnic and patio season with a sampling of warm weather wines and light fare on Thursday, March 15 from 7-8:30 p.m. Alon's is a staple for gourmet prepared foods, cheese, wines, artisan baked goods and European pastries, chocolates, coffees, gelato and much more. Become familiar with all that Alon's offers at the tasting and stash that info for easy entertaining and relaxing this spring and summer. $20 per person; purchase tickets online. Tucked away off Ashford Dunwoody Road, Alon's has an expansive covered patio of its own that's well situated for people watching over coffee and sweets, a sandwich or something more substantial.
Support The Childhood Autism Foundation By Attending Or Donating To The 27th Annual Candlelight Ball And Auction On March 17

Autism is found in every country around the globe and in families from all racial, ethnic, religious and economic backgrounds, according to The Childhood Autism Foundation (CADEF). The annual Candlelight Ball and Auction is the group's largest single source of funding, lighting the way for Georgians affected by autism and providing support for their families. Now in its 27th year, the 2012 Candlelight Ball rolls into the Intercontinental Hotel in Buckhead on Saturday, March 17. That's St. Patrick's Day -- you're going to celebrate anyway so here's a chance to be a doubly good leprechaun. There's still time to add your spark by purchasing tickets to the event or by making a donation.
No Sham, These Rock: St. Patrick's Day Festivities At Fadó And Atkins Park Tavern - Smyrna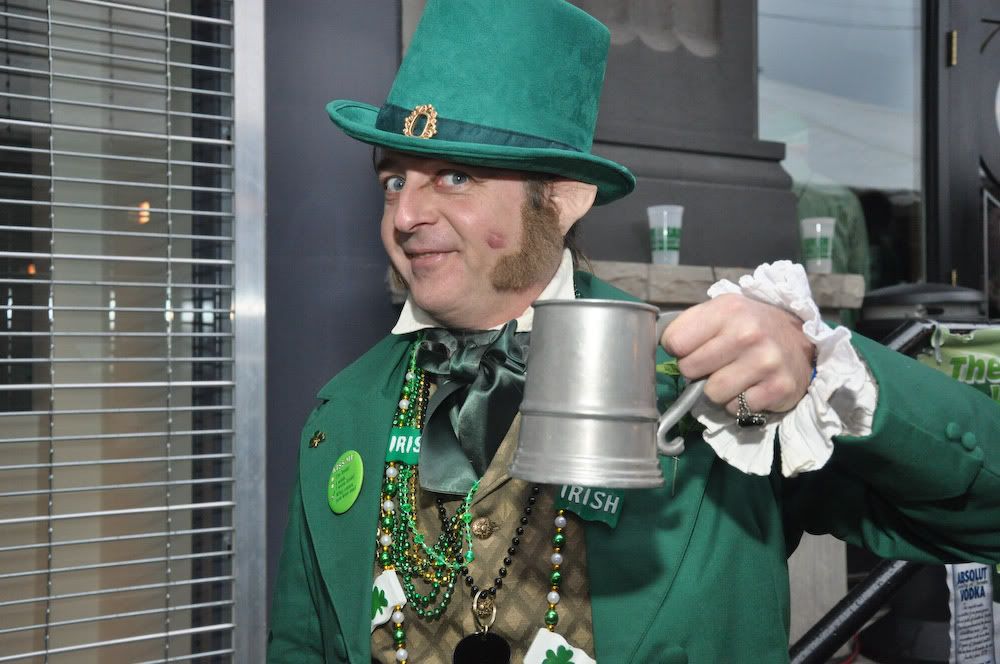 Top o' the morning to ya, and how's that Irish Breakfast tea you're nursing? Wake up to the realization that St. Pat's is coming up this weekend, and it's time to solidify party plans. Get your Irish mojo going by looking over the pre-St. Pat's online events schedule at Fadó Irish Pub & Restaurant. You'll noticed that close shaves are in style on Friday, March 16 as the Buckhead pub sets up four barber chairs and hosts the 11th annual St. Baldrick's Foundation charity event to raise funds for childhood cancer research. Before going under the blade, shavees seek donations from friends and family. Last year's shave raised more than $102,000. See video footage here.
On Saturday, the authentic Irish pub continues its "Paddython" tradition of hosting Atlanta's biggest St. Patrick's Day Party, an almost 24-hour-long shindig that spills out onto Peachtree. Doors open at 7 a.m. on March 17 so rugby fans can catch live, non-stop RBS 6 Nations Rugby tournament play, including the final match of Ireland vs. England. There's a $10 cover charge starting at 8 a.m. for access to the special viewing area. (No cover charge for the rest of Fadó until noon). Come the noon hour, doors open out to the Fadó street festival with beer tents, bagpipers, Irish dancers and live music by Van Morrison cover band Astral Freaks, U2 cover band Desire, and Justin. A DJ spins inside until the wee hours. We suggest purchasing pre-sale tickets for $10 online as history shows they sell out fast. Tickets will be $15 at the door while they last.
A Blarney Stone's throw away in Smyrna, Atkins Park Tavern will host the Smyrna St. Patrick's Day Fest. Watch March Madness games at the tavern and toss back some ale or bring the family for plenty o' outdoor fun at the traditional Irish festival. There's something for leprechauns of all ages including carnival-style rides, a Redhead Contest, Mayor Max Bacon's annual (green) dyeing of the fountain and plenty of food from Atkins Park Tavern Smyrna, Zucca Pizza and The Village Café. There'll be live music featuring Homefront from 2-6 p.m., Andrew Black & Pine City from 6-10 p.m. and Elizabeth Reece from 10:30 p.m.-2:30 a.m. Fido is invited, but leave strollers, backpacks and coolers at home. Tickets are $15 at the door - save $5 by purchasing them online in advance.
Devour New Three-Course Spring Menus At All Ray's Restaurants And Sunday Lunch At Ray's At Killer Creek
Spring officially begins next week, and we're already basking in the extra hours Daylight Savings Time seems to generate. Join the chefs at Ray's Restaurants in making the spring-shift by coming in for new three-course menus pulling from the season's freshest market offerings. These prix fixe menus are available every day and are a tad different at each restaurant. Choose one selection for each course; wine selections, tax and gratuity are not included in the menu prices. Sommeliers are ready to help you choose complementing wines to enhance your dining experience. At Ray's at Killer Creek, Executive Chef Tracey Bloom's $30 menu boasts entrée choices of roasted chicken breast with bacon risotto and porcini mushroom sauce, Atlantic salmon with herb butter sauce and hand-cut pasta with grilled shrimp and garlic butter. A few miles south on the Chattahoochee, Ray's on the River Executive Chef Josh Warner's menu includes entrée choices of goat cheese- and fennel-stuffed airline chicken breast with celery root purée and watercress salad or Moroccan spiced hangar steak joined by Lyonnaise potatoes and Vidalia spring onion. Cost is $39.99 per person. Downtown, Executive Chef Ugo Okpareke at Ray's in the City offers entrée choices of mango grilled salmon with a mango BBQ glaze, sesame sautéed spinach and crispy Asian noodles or flat iron steak with blue cheese whipped potatoes, grilled asparagus and wild mushroom demi glaze. $35 per person. Rest assured that appetizer and dessert selections at each of these restaurants are equally as tempting.
Sunday lunch at Ray's at Killer Creek provides reasonably priced sustenance to precede your leisurely Sunday afternoon. Sit and soak up the rays with a $5 Bloody Mary in hand from Sunday's available-all-day Bloody Mary list. The lunch menu offers classic French onion soup, crab bisque or soup du jour ($5-$7); meal-worthy salads such as tuna niçoise salad and Chinese chicken salad ($15-$17); a soup and salad combo ($12); soy flounder sandwich with spicy Sriracha aioli ($13); jumbo lump crab cake with roasted corn salsa, mashed potatoes and grilled asparagus ($17) and shrimp and grits prepared with bacon, mushrooms, red peppers and Gouda and Asiago cheeses ($15). Ray's $10 lunch menu keeps it short and sweet and includes iced tea, coffee or soda in the set price. Selections include a cheddar burger, hickory burger, vegetarian pasta, chicken sandwich, Caesar salad with calamari or grilled chopped Black Angus beef steak.
Look Who's Rolling In Dough -- You, At Double Zero Napoletana's Pizza Making Class On March 19
Saucier than your girlfriend, more flexible than your yoga instructor, the monthly pizza making class at Double Zero Napoletana tops the food-craft popularity charts month after month. The Sandy Springs restaurant will host two separate class seatings on Monday, March 19, beginning at 6 p.m. and 8 p.m. Learn trade secrets for making the ultimate Neapolitan pizza and baking your masterpiece in Double Zero's hand-built Stefano Ferrara ovens. Class size is limited to 15 attendees. $39 per person includes glass of wine and crafted-by-you pizza. For reservations or more information, call 404-991-3666 or visit the website.
Eat It And Tweep: Kitchen = Playground For College Gal/Tweeter Sami Rivard
She's graduated from swing sets to the college set, although cereal is still her favorite after-dinner meal. Sami Rivard likes to play around in the kitchen, and she has some darn good, darn easy ideas for home and dorm diners. Feast on her tweets (@SamiRivard) or her blog, A Teenage Gourmet .
Sample Tweet: Thai Coconut Soup: Tom Kha Gai http://wp.me/pWnFN-r3
Appetizing Aperture
"Pi" Day is limited to March 14, but every Wednesday is Pie Day at Alpine Bakery. Pi (p) is a key ingredient in mathematical formulas, but alas, lacking in flavor. Fresh baked pies -- apple, peach and blueberry crumb -- are the answer every Wednesday at Alpine Bakery & Trattoria in Alpharetta. Pie baking is not a formula but an art here, and the usual array includes rustic apple, delicious banana cream, rich peanut butter, creamy chocolate mousse, authentic Key lime, sweet coconut cream and more. When the problem calls for pie, Alpine Bakery is the answer, no matter how you slice it.