ABOUT THE DISH
Looking for the latest restaurant openings, weekly wine tastings and drink specials or other culinary happenings?
Whatever makes your mouth water,
Melissa Libby & Associates
will point you in the right direction.
up-to-date on new and ongoing restaurant events around Atlanta!






Early Birds Pay Less For Atlanta Food & Wine Festival With Pre-Sale Pricing
Stuff a Valentine card with tickets to the Atlanta Food & Wine Festival, returning to Midtown May 10 - 13, 2012. Think of the salivation and anticipation your gift will evoke. The South has never tasted so good, and the prices will not be lower this festival season. Several ticket options satisfy a variety of desires whether you're looking for a couple of learning experiences and tastings to total submersion in Southern culinary classes, foods, wines and dinners. Per person options with early bird (now) and full pricing after March 29 (later) include a tasting tent pass ($85 now/$100 later); day pass ($135 now/$185 later); three-day pass for Friday, Saturday and Sunday ($375 now/$500 later); and the connoisseur day pass, per day ($565 now/$700 later). The all-out lavish three-day connoisseur pass features three connoisseur breakfasts, private dinners Thursday and Friday, Blackberry Farm dinner on Saturday and Anne Quatrano's closing supper on Sunday, plus access to the connoisseur lounge on Friday, Saturday and Sunday ($1,500 now/$2,000 later). Ticket specifics and purchasing information are on the website.
Atlanta Food & Wine Festival donates a portion of its proceeds to Atlanta History Center, Les Dames d' Escoffier International, Oxford American, Wholesome Wave Foundation and James Beard Foundation. In 2011, the festival contributed more than $150,000 in tickets to nonprofit organizations. Follow along on Facebook and Twitter.
Lovin' The Spoonfuls On Our Valentine's Link
Looking to fill up that love tank? Atlanta restaurants are pouring on the love with special Valentine's menus for singles, couples and BFFs -- follow this heart-y link to our blog for more details and consider a couple more below.
Spin the bottle is too chancy. Smashburger shakes are a sure thing, especially with two straws. Chocolate, vanilla or strawberry Häagen-Dazs ice cream is handspun into a dreamy concoction...and the limited-time coffee flavor could pass for coffee and dessert in one tall cup.
Love Valentine's Day at Ormsby's where the holiday's three-course dinner menu is only $35 per person (not including tax or gratuity). Choose from four appetizers including a citrus spring mix salad, oysters Rockefeller, crab and avocado salad and fennel and leek soup. Heartwarming entrée choices are chicken Marsala with butternut squash polenta cakes and wilted mustard greens; filet mignon Oscar style with au gratin potatoes and asparagus; and lobster tail with garlic red bliss mashed potatoes and a veggie medley. Follow up with one of three desserts: red velvet cake lollipops, red wine-poached pear tartlet or chocolate covered strawberries. Ormsby's combines flowers and spirits in two sweet cocktails ($10 each) -- "The Only Bee in My Bonnet" with Jack Daniels Tennessee Honey and lavender undertones and "Blushing Cupid" marrying Adami Prosecco and hibiscus syrup plus a smatter of edible flower petals. Wine specials include sparkling Gruet Blanc de Noir ($40 bottle), The Crusher Chardonnay ($8 glass/$28 bottle) and Colio Chianti ($7 glass/$24 bottle). Remember, Ormsby's has games for good times after dinner...or go home and make up your own.
Marlow's Tavern Bayou 'N Bourbon Menu Celebrates Mardi Gras Season
This year's Bayou 'N Bourbon menu at Marlow's Tavern brings Mardi Gras flavors to your table. There's no cutesy masquerading here -- these dishes are Louisiana through and through for you and your "crewe" from February 15 through March 26. "Mo' Betta Specials" feature chicken and shrimp gumbo; fiery crawfish fondue (pictured); bayou flatbread topped with andouille sausage, fresh spinach, chopped peppers, Swiss cheese and Creole rémoulade; a N'awlins-style po' boy; the bayou burger jazzed with andouille sausage, craw daddies, cheddar cheese and Creole mustard; and the sweet Bourbon St. ribeye ($7-$26). Returning favorites are Marlow's "deconstructed" jambalaya joining grilled chicken and andouille sausage with house-made dirty rice and crawfish Creole sauce ($14) and the honey bourbon bread pudding splashed with Jack Daniel's Honey ($7). Hold onto your beads as you toast Bourbon Street with a few "Mo' Better Drinks": "Pat's" Marlow's hurricane, Ramos gin fizz, Bourbon St. lemonade, Cajun cosmo and Abita Jockamo ($5-$9). Marlow's regular menu is also available. And, while those colorful doubloons are not accepted as currency, Marlow's Tavern gift cards are available and redeemable!
Only A Few Days Left To Buy Tickets To The February 19 Atlanta Chef's Expo
On the afternoon of Sunday, February 19, the Atlanta Chef's Expo will showcase Atlanta's food talent as local chefs prepare tastings and lead demonstrations to benefit Susan G. Komen for the Cure of Greater Atlanta. Marlow's Tavern, Aqua blue, Aqua blue Catered Events, Market Street Café and Sterling Spoon Catering are all participating in the family friendly event that turns the spotlight on some of the unsung heroes of the epicurean world such as caterers and pastry chefs. Guests, chefs and media celebrity judges will find their nosh niches along Catering Alley, The Sugar Shack, Restaurant Row, The Chef's Table and other food-sampling byways at the 1:30 - 5:30 p.m. event. The over-21 crowd with IDs can enjoy cocktails from presenting sponsor ABSOLUT Vodka. There's also musical entertainment by Joel Rabe of Lethal Rhythms. General admission tickets are $25 each and may be purchased online.
Bourbon Street Detours To Peachtree As Atlanta Restaurants Mark Mardi Gras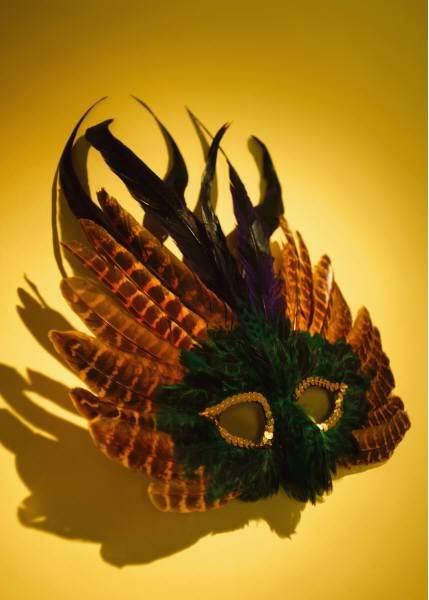 Mardi Gras has no borders. Right here in the ATL, several fun-loving restaurants are throwing beads and bashes right along with the best of Bourbon Street. On Fat Tuesday, February 21, RA Sushi suggests you don your beads and favorite Mardi Gras apparel to whoop it up with DJ beats, $8 Southern juleps and HurRAcanes along with other lively libations. Asian-Cajun treats include the spicy chicken and shishito peppers ($7), chili shrimp roll ($8) and spicy kalbi beef ($9). Festivities run 7 p.m. to close.
In Smyrna, Atkins Park Tavern launches a five-day Mardi Gras Oysterfest on Friday, February 17. New Orleans-style fare, live music and entertainment for children and adults lay on the lagniappe through Fat Tuesday, February 21. Oyster specials roll as oyster beignets, po'boys, Rockefeller style as well as grilled, raw and fried. The Patrick Scott Band plays on Friday night. On Saturday, there's brunch from 11 a.m. - 3 p.m. The musical lineup begins at 2 p.m. with Wesley Cook, Soul Hound with blues and soul outside at 6 p.m. and Todd Wells from 10:30 p.m. - 2:30 a.m. Saturday cover is $10 advance/$15 at the door and includes a ticket for Sunday's events. Sunday's "Cure-All" hangover brunch hours are 11 a.m. - 3 p.m. with more great live music in the afternoon. Monday focuses on a celebration of New Orleans faves and entertainment for all ages from 5 - 10 p.m. Tuesday parties on with beads, beer and The Andrew Black Band from 9:30 p.m. to close at 2:30 a.m. Free admission on Monday and Tuesday.
Fat Tuesday is king on February 21 at Atkins Park Tavern in Virginia Highland. Stop by for a full day of fun with beers such as Restoration Pale Ale, hurricanes, gumbo, po' boys, oysters and king cake. The band Homefront plays at 10 p.m.
Downtown, Ray's in the City pleases with New Orleans-inspired specials beginning at 11 a.m. on Fat Tuesday. It's a full-fledged party from 5 - 7:30 p.m. complete with live music, specialty cocktails, Ray's famous gumbo, peel-and-eat shrimp, oysters on the half shell and a Low Country boil-style buffet.
From Italy To Sandy Springs: Don't Miss A Pour From Terredora di Paolo At Double Zero Napoletana
If you have more of a taste for "rock-star wine" than a Bourbon Street-style hurricane on Fat Tuesday, Double Zero Napoletana is welcoming Lucio Mastroberadino, owner of Terredora di Paolo Winery, on Tuesday, February 21 for a top-notch wine dinner at 7 p.m. Kudos from around the world and accolades from the Wine Advocate have made this winery one of the most elite in the world. Wine dinner guests will be tasting some of Terredora's highly rated wines, including their Falanghina, Greco di Tufo, Aglianico d'Irpinia and Taurasi while enjoying veal hangar steak, braised lamb cheeks and much more. The cost is $59 per person excluding tax and tip; full menu details can be found on Facebook. Spots are sure to go quickly for the dinner and can be reserved at 404-991-3666.
Uncle Julio's Reveals New Drink Menu The Night Before Fat Tuesday
Mardi Gras one up-man-ship? No way. Uncle Julio's knows a few new 'ritas can turn any event into a party. On Monday, February 20, Uncle Julio's Fine Mexican Food locations in Buckhead and Sandy Springs will shake up some new cocktails ($8.50-$9.95). Cruise in for Julio's Skinny Guava-Rita (coming in under 130 calories); the Patron Cosmo-Rita that marries Patron Silver with fresh lemon/lime sour and a splash of cranberry juice; the Mango Passion Rita that blends 1800 Reposado, peach schnapps and a fresh mango-passion fruit blend; and the Cuervo Gold-laced Mexican mojito.
Join Us In Signing The Georgians For Pastured Poultry Pledge
Last week, we told you about the poultry industry's impact on the state and the newly launched group Georgians for Pastured Poultry. Founding member and White Oak Pastures Owner Will Harris has long been an advocate and follower of the sustainable practice of pastured poultry, and we're hopping on the bandwagon. If you believe in promoting pasture-raised chicken as a fair, humane and sustainable alternative, we encourage you to join us by signing the Georgians for Pastured Poultry pledge. In doing so you pledge to support pastured poultry and to eat pastured poultry wherever it's available and ask for it when it's not. This effort is sure to make positive change in the welfare of chickens, the environment and the health of poultry industry workers and you.
Appetizing Aperture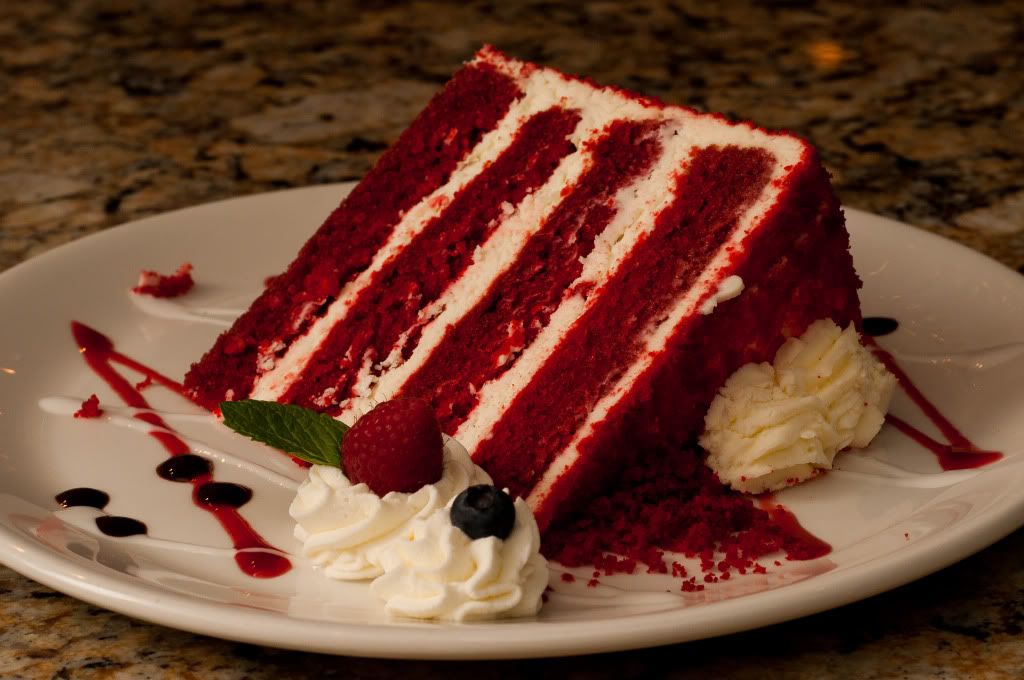 It's no secret that we at MLA have a passionate love for uber-indulgent red velvet cake. So we're hoping our significant others see this Valentine's Day hint. We'd love for this slice of red velvet from Alpine Bakery & Trattoria to magically appear! Cupid, the ball's in your court...
Eat It And Tweep: When Soaps Get In Her Eyes, She Tweets About It
Atlanta's own soap opera sultress, Evelyn Mims (@Elle1955), tweets about these melodramas and more as the "Ultimate Social Connector/Community Relations Specialist for 11-Alive and producer for Atlanta & Company." Tag along with Evelyn and stay in the know.
Sample Tweet:

MC for LIFT a FORK fundraiser for Project LIFT

Suites hotel on Haynes Bridge Road great cause for great kids. Come by