ABOUT THE DISH
Looking for the latest restaurant openings, weekly wine tastings and drink specials or other culinary happenings?
Whatever makes your mouth water,
Melissa Libby & Associates
will point you in the right direction.
up-to-date on new and ongoing restaurant events around Atlanta!




Taste Of Dunwoody Helps Kids Heal At Children's Healthcare Of Atlanta
Hold the JELL-O -- Taste of Dunwoody is coming up STAT at the Atlanta Perimeter Hotel and Suites. On Friday, February 3, talented chefs from Fleming's Prime Steakhouse & Wine Bar, Aqua blue, Uncle Julio's Fine Mexican Food and about 30 other top-end perimeter restaurants will be the ones serving up delicious doses of their specialties to fork-wielding guests at the 9th annual fundraising event for Children's Healthcare of Atlanta. A cash bar will handle the shots, cocktails and wine (medicinal properties, you know), and silent auction suspense will keep your heart rate up. If history repeats, the fundraiser promises to top the preceding year's donation to the not-for-profit hospital. For those of you who feel sick over missing out on tickets to the annual sell-out event, cheer up. There's a seat for you at these terrific Dunwoody and Roswell restaurants.
Tasting, Tweaking, Toasting - A Lot Of Work Goes Into The New Cocktail Menu At Fleming's
Some lucky people had to research, create and verify the deliciousness of the new cocktails spilling off the bar menu at
Fleming's Prime Steakhouse & Wine Bar
. Pity it wasn't us. Still, we can all indulge in the fruits of their labor. The new menu is divided into three categories: Retro Chic, which puts a contemporary spin on the classics; Modern Martinis with their exotic takes on the American martini; and Couture Cocktails that use seasonal ingredients and signature spirits. You may turn your back on the traditional margarita after trying the new Mad Milagro margarita with Milagro Silver Tequila, fresh lime juice and muddled fresh cucumber, topped with a perky touch of cilantro and a spicy jalapeño. Fleming's Limoncello martini tastes of pure luxury, made with Hangar One citron "Buddha's Hand" Vodka, smooth Luxardo Limoncello and house-made lemon-thyme simple syrup. For those living lightly, Skinnier Cocktails are still on the menu to fill your glass with less than 99 calories of hardcore flavor.
Strong Men, Strong Drinks - Fadó Is The Only Place In Town To See The Entire
6 Nations Rugby Tournament
England, France, Ireland, Italy, Scotland and Wales take it to the field for the 6 Nations Rugby Tournament February 4 - March 17. Atlanta rugby fans can catch every moment live via satellite at Fadó Irish Pub & Restaurant in Buckhead -- the only place in town that will broadcast all of the games. Fadó has already posted its viewing schedule online. There is no cover charge to watch any of the games shown on BBC America; otherwise, a $20-per-person cover charge will apply. Tournament games are all set, and the winner is determined through a point system so we can confidently relay that the final game of Ireland vs. England falls on St. Patrick's Day. Several weeks of 6 Nations play affords plenty of time to try all of the new libations on the winter drink menu running through February 29. Along with downing Fadó's Irish coffee, Bailey's and coffee, and hot apple cider with Bushmills Irish Whiskey ($7.50), fans can tilt back whiskey favorites such as Fadó's famous Pickleback, Red Breast, Black Bush and Jameson 12 ($7.50-$10.50) and seasonal bottles of Sam Smith Winter Welcome, West Malle Tripel, Avinger Celebrator Doppelbock, Guinness Foreign Extra Stout or Guinness Black Lager ($5.50-$9). Novices, here's a website where you can brush up on rugby rules before you head out to Fadó.
Patriots 7, Giants 5. Super Bowl XLVI Is
February 5
We're not predicting the score - that's the number of times each team has been to the big bowl (counting their previous pair up in Super Bowl XLII). What brings you back? The team showdown, clever commercials, halftime antics, sideline socializing, deciphering the Roman numeral or food and beverages? Atlanta restaurants are ready with in-house viewing and specials plus parties-to-go. Atkins Park Tavern in Smyrna kicks off a roster of appetizer and drink specials for the night's viewing, and there are plenty of screens handy to cover that aspect. Eat like an NFL champ at Fleming's Prime Steakhouse & Wine Bar. Their "5 for $6 til 7" bar menu featuring five appetizers, five premium cocktails and five wines by the glass - all priced at $6 - will be offered all day, and February 5 is the last day to snap up the $29.95 three-course prime rib special.
For viewers playing it up at home, RA Sushi in Midtown is offering five sushi platter take-out options (pictured above) sized for small or large crowds. "House" platter choices are the basic ($60) option with eight nigiri pieces and 44 sushi pieces and the vegetarian combo ($50) with 54 sushi pieces. The "Block" option consists of the Harajuku combo ($120) with eight nigiri pieces and 111 sushi pieces. Wasabi, ginger, soy sauce and chopsticks garnish all, and customized platters also are available. Call 404-267-0114 in advance to order your party platters. Guacamole is another game-day staple, and Uncle Julio's Fine Mexican Food is generously sharing the recipe for their pineapple bacon guacamole so hosts can add some green to their screen-side training table. Scroll down for photo and recipe.
Beyond The Bowl, Smashburger Unleashes Coffee Häagen-Dazs Shake On February 6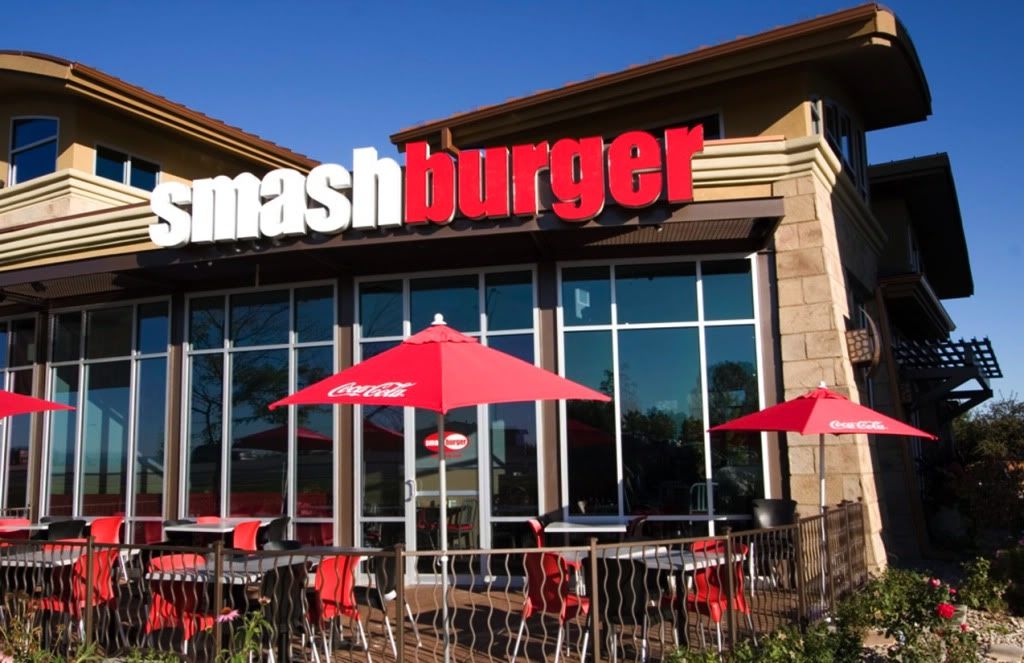 Scenario is you stayed up too late watching the game, and now you're paying for it and feeling a little tired and fuzzy. Atlanta-area
Smashburger
locations have the ultimate pick-me-up in a cup: the coffee shake. New to the menu on Monday, February 6, this java-nated treat is hand-spun using Häagen-Dazs ice cream and a jolt of the strong stuff. The $4.29 shake will be on the menu through March 25.
Enjoy Bottomless Bloody Marys At
Ray's On The River
Sunday brunchers can fill their veggie quota at Ray's on the River's Bloody Mary bar, where $15 buys a bottomless glass during brunch hours of 9:30 a.m. - 3 p.m. Brunch boasts mouthwatering solid sustenance such as freshly made salads, peel-and-eat shrimp, a prime rib carving station, a made-to-order omelet station and a plethora of breakfast items and homemade desserts.
JCT's Cobbie's Sauce And Sliders Fundraiser Sends Cash To Shepherd Center For
Spinal Cord Research
Thanks to everyone who slid into
JCT. Bar
on January 19 for the
Cobbie's Sauce
fundraiser with Betty and Billy Hulse, the makers of Cobbie's Sauce. The finger-licking event raised approximately $675 for the
Shepherd Center
, a private non-profit hospital that specializes in medical treatment, research and rehabilitation for people with spinal cord and brain injuries. The gift will go toward spinal cord research, according to Bonnie Hardage, director of major gifts at Shepherd Center Foundation. "We have the best minds working to solve the problems caused by paralysis. We couldn't do this good work without support from the community," she says appreciatively. You can still help out by purchasing Cobbie's Sauce at
retail locations
around Atlanta or
online
.
White Oak Pastures Named To Bulldog 100 Of Fastest-Growing Bulldog Businesses, Proving Even Grass-Fed Beef, Lamb And Free-Range Poultry Can Be Hot Dawgs
Two things are really significant about White Oak Pastures receiving this honor on January 21. One, the Bluffton, Ga. farm is the only farm or farm-related business to be chosen by the UGA Alumni Association for the Bulldog 100: Fastest Growing Bulldog Businesses Class of 2012. Two, it ranks as this year's fourth fastest-growing Bulldog business. White Oak Pastures top Dawg Will Harris is a 1976 UGA graduate and a fourth-generation cattleman on the same land his great grandfather settled in 1866. Nearly 800 nominations were submitted to the UGA Alumni Association for this year's rankings, representing companies all across the U.S. Criteria includes being in business for at least five years with revenues of $100,000 or more for calendar year 2008, being owned or operated by a former UGA student who owns at least 50 percent of the company or who is the CEO, president or managing partner. The program recognizes the fastest-growing businesses regardless of size by focusing on a three-year growth rate average. Congrats to Will Harris and his White Oak Pastures team!
Don't forget that today is the last day to save some green during the White Oak Pastures sale. Some of their most popular poultry and grass-fed beef items are offered at special prices online only.
Who's Our Hometown Hottie? Nominate Now For Eater's Hottest Chef Competition
Who's hot both inside the kitchen and out? Find out when the results are revealed in Eater's Hottest Chef Competition. Nominations are being accepted through the end of this week. Email your pick along with a photo or photo link to Atlanta@eater.com. Might we suggest: EJ Hodgkinson, Chrysta Poulus and Kevin Gillespie from Woodfire Grill, Craig Richards from Ecco or Justin Balmes. The winner will go on to compete nationally against chefs from Portland, Chicago, Miami, San Fran, Austin and Los Angeles.
Eat It And Tweep: @MotherNatureNet Tweets On Planet Earth
Usually Twitter profiles include just one city where the tweep resides, but Mother Nature Network (@MotherNatureNet) thinks more globally and declares their home as Planet Earth. Connect for environmental news, local foods, innovations and green inspirations. Recent exposures include "Think positive!" and "Natural remedies for seasonal affective disorder." Winter-worthy topics to brighten a cold or cloudy day! Read more on the Mother Nature Network website.
Sample Tweet: The best picture of the Earth. Ever. Not kidding http://is.gd/eluQ9w (and come back to tell us we were right :)
DIY: Uncle Julio's Pineapple Bacon Guac Recipe
Prepare to share. Fix Uncle Julio's pineapple bacon guacamole for Super Bowl Sunday, and you're sure to be bombarded with recipe requests for this playoff of fresh, sweet pineapple, crisp bacon and creamy/chunky avocados. Because Uncle Julio's Rio Grande Café guacamole is a major ingredient, we've included the recipes for both.
Uncle Julio's Pineapple Bacon Guacamole
Ingredients:
1 cup Uncle Julio's Rio Grande Café guacamole
2 tbsp. diced pineapple (¼" dice)
2 tbsp. chopped, cooked bacon (½" pieces)
½ tsp. diced red bell peppers
For Garnish:
1 piece green leaf lettuce
1 tbsp. chopped, cooked bacon (½" pieces)
2 tsp. queso fresco
1 tbsp. diced pineapple(¼" dice)
1 lemon wedge
Directions:
Place guacamole in mixing bowl. Add pineapple, bacon and red bell pepper and fold into guacamole carefully. To serve, top lettuce with guacamole, sprinkle with bacon and queso fresco and side dress with diced pineapple and a lemon wedge to squeeze on guacamole. Serve with tortilla chips. Serves 2-3.
Uncle Julio's Rio Grande Café Guacamole
Yield: 6 cups
Ingredients:
6 Haas avocados
Guacamole oil ( ¼ cup olive oil infused with 1 peeled and minced clove of garlic)
Juice of 2 lemons
1 tsp. salt, to taste
½ cup tomato, chopped
¼ cup white onion, chopped
Directions:
Halve and pit the avocados. With a tablespoon, scoop out the flesh into a bowl. Mash the avocados using either a fork or potato masher, leaving them a bit chunky. Stir guacamole oil into avocado. Add remaining ingredients and mix well. Salt to taste. Lay a piece of plastic wrap tight on any remaining guacamole so it doesn't brown and refrigerate. To serve, scoop onto a green leaf lettuce leaf, sprinkle with ¼ oz. white and yellow cheese and garnish with a lemon wedge.