ATLANTA RESTAURANTS HAVE WISE ANSWERS TO HOLIDAY QUESTIONS OF WHERE TO GATHER, WHAT TO GIVE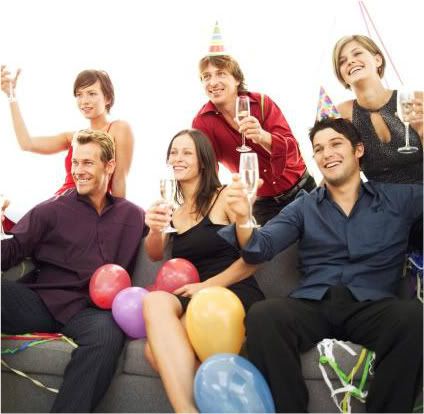 It happens every year. The grateful calm of Thanksgiving gives way to Black Friday retail frenzy. Then lo and behold, the holiday party and gifting season is here. Whether or not you are an advance planner, Atlanta restaurants are ready to help out with warm and friendly seasonal settings, large and small spreads, private dining options and generous gift card promotions.
In Virginia Highland, lively Atkins Park Tavern has historical charm -- and a room upstairs ready to host 30 guests for a sit-down dinner or 50 guests for cocktails. To reserve, call 404-876-7249.
Fabulous global cuisine, personalized menus and lots of space are yours in Roswell at Aqua blue. A semi-private back room accommodates 60 guests, and up to 200 guests can party in the main bar. Available for bookings seven days a week for lunch and dinner; call 770-643-8886.
Marietta's Chicken and the Egg serves up modern farmstead fare and can throw a Southern dinner party with ease. Host an intimate chef's table for up to 28 guests in a separate corner of the restaurant -- guests will love the chef's table menu of Chicken and the Egg specialties. Contact Elizabeth Taft at 678-388-8813.
Across Midtown and into Vinings, Fifth Group Restaurants gives a wide variety of options for private and group dining. At 7th and Cypress streets in the heart of Midtown, Ecco offers seasonal, European-inspired dining seven nights a week. Go posh and seat up to 60 guests in the chic private dining room or up to 75 on the patio. For an evening of contemporary Southern fare, book South City Kitchen Vinings. Host up to 35 guests in the semi-private dining area, up to 66 guests in the main dining room or rent the whole place for a large corporate event. More Fifth Group possibilities include South City Kitchen Midtown, La Tavola Trattoria and The Original El Taco. Bold American and Studio 887 offer off- and on-premise upscale catering for other event options. For group party planning assistance, call 678-302-3264. For more information, visit the company's private dining page.
In Dunwoody, special occasions call for Fleming's Prime Steakhouse & Wine Bar. Book your party by Thursday, December 1 and receive a $50 gift card for every $500 you spend. Thrifty gifters, receive a $20 bonus card for every $100 gift card purchased from now until December 31 (bonus card valid on food and beverage only, January 1 through February 10). Call 770-698-8112.
The Westside party "junction" is JCT. Kitchen & Bar at Howell Mill and Huff roads in Atlanta's Westside Urban Market. Up to 200 guests can celebrate on its 2,000-square-foot skyline terrace that looks out over the historic neighborhood; up to 165 people can dine downstairs in the main dining room. Discuss private event options with Valerie Mosley, 678-536-6506.
Whether you're looking for the perfect gift for a pal OTP or ITP, there's sure to be something on the menu they'll love at one of the 8 locations all over town of Marlow's Tavern or at Roswell's Aqua blue. Both restaurants are offering a complimentary $20 gift card when you buy $100 worth of gift cards.
Don't overlook your lunch spot when looking for a dinner party venue. Market Street Café in Buckhead can seat up to 125 people for dinner inside and 75 guests on the patio. Or, for cocktails and hors d'oeuvre, host up to 250 inside and 100 guests on the patio. Need more? Rent the whole place after 4 p.m. weekdays and anytime on weekends. For private event information, contact Sabrina Rosenberg or Lauren Hradek at 770-643-5990.
Reindeer games in West Midtown's White Provision complex? Not quite, but Ormsby's lounge space with its comfy couches, cocktail tables and game room access is ideal for up to 40 grownups. Better snatch it up by calling Leslie Battle at 404-968-2033.
Wildly fun RA Sushi in Midtown can seat up to 10 guests in its semi-private dining space and host up to 100 guests in its upstairs area. The sushi spot simplifies gifting: every $50 in gift cards purchased through December 31 comes with a complimentary $10 bonus card, valid from January 2 through March 31. Call 404-267-0114.
From downtown to the Chattahoochee to Alpharetta, Ray's Restaurants provides three unique party settings and a variety of menu options. Ray's on the River (770-955-1187) can accommodate parties of up to 200 guests and offers semi-private banquet facilities in addition to a permanent tent that accommodates up to 200 people. Ray's Killer Creek in Alpharetta (770-649-0064) has several different room options and accommodates parties of up to 300 people. For intimate gatherings in town, look into private and semi-private spaces for up to 45 people at Ray's in the City (404-524-9224). Gift tag: Ray's is giving a bonus $10 gift card with every $50 gift certificate purchased through December 31.
The Renaissance Atlanta Midtown Hotel epitomizes Atlanta with its modern design and Southern hospitality. Host guest lists from 30 to 400 in the hotel's three ballrooms. Up to 300 guests can sip cocktails and admire the skyline view (star or Santa?) at Rooftop 866, the chic rooftop bar adjacent to the hotel. Briza, the hotel's signature restaurant,also can be reserved for private events seating up to 110 guests or 200 for cocktails and hors d'oeuvre. Call 678-412-2400.
Here's a smashing gift idea! At Smashburger, receive $5 Smashbucks for every $25 gift card purchased through December 31. Smashbucks expire on January 31. There are three metro-Atlanta locations with a fourth opening in Kennesaw on November 30.
Go for a glamorous midday or evening event at the W Atlanta-Midtown Hotel's Spice Market restaurant. Spice Market's Pond Room, Trellis Room and main dining room are three options, and the entire restaurant space accommodates up to 200 for a seated dinner and 350 for cocktails and hors d'oeuvre. For private event information, contact Cristina Perry at 404-724-2550.
Atlanta's trend-setting farm-to-table restaurant, Woodfire Grill, houses multiple private dining spaces from "The Mezzanine," seating 50 or divisible into three private rooms; "The Loft," a cozy upstairs hideaway for up to 16 people; and a covered patio where up to 75 guests can gather for cocktails or 30 can sit down for dinner. Call Rick Blumberg at 404-347-9055 for more information.